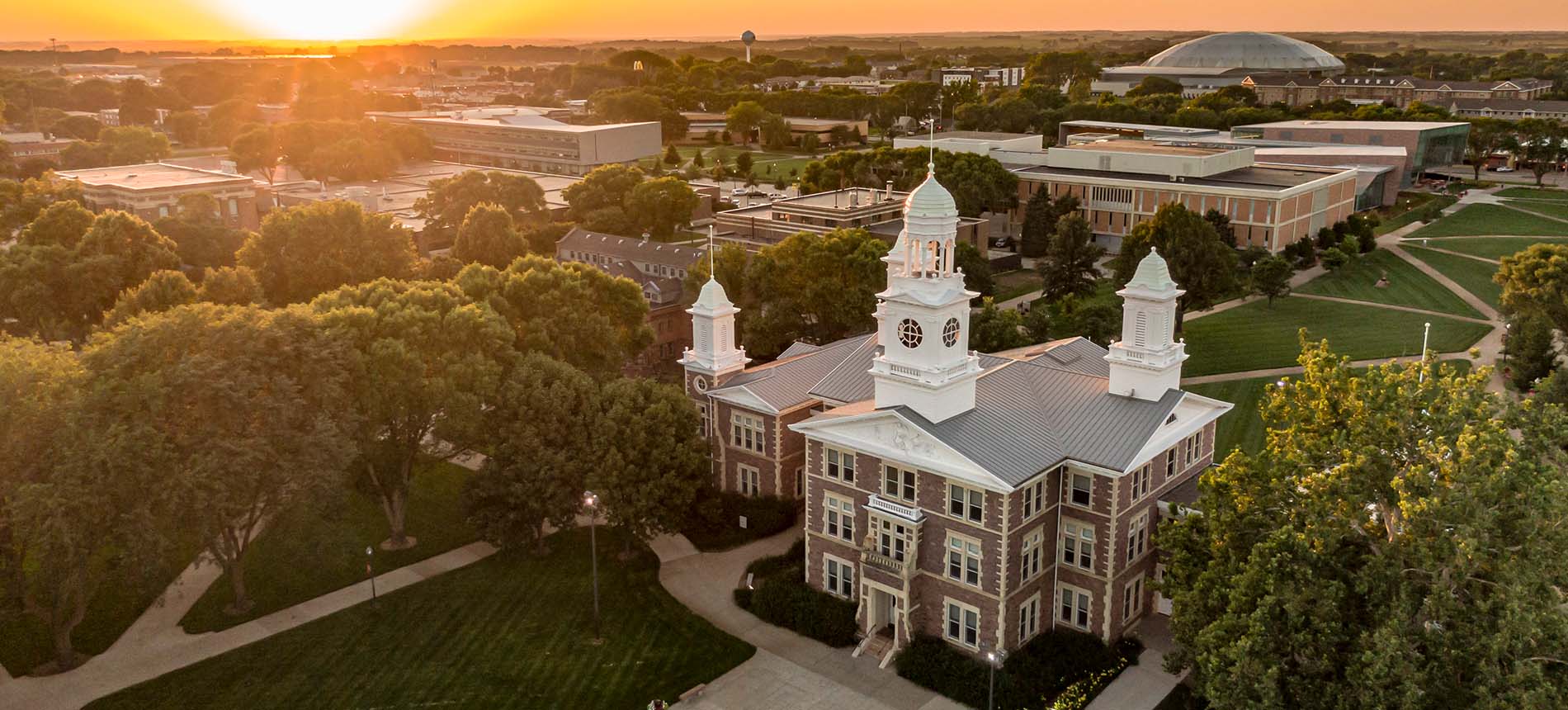 University Police
Office
Ensuring a safe and secure environment for the students, staff and the university community.
University Police
Davidson Building
414 E. Clark St.
Vermillion, SD 57069
Office Hours
Monday - Friday
8:00 a.m. - 5:00 p.m.
The University Police Department operates 24 hours a day, seven days a week and is located in the Davidson Building.
The University of South Dakota Police Department is the official law enforcement authority for the university. UPD is comprised of 13 certified, police officers; three dispatchers; and numerous student workers who assist in areas of parking enforcement and special events.
All UPD police officers are full-time, deputized as Vermillion City Police Officers, and obtain all certification requirements consistent with the South Dakota Law Enforcement Standards and Training guidelines. Officers receive routine training throughout the year in areas such as criminal investigations, sexual assault response, active shooter deployment, firearms, domestic violence investigations, and numerous other areas related to law enforcement work. UPD works closely with the Vermillion Police Department, as well as other area law enforcement agencies and social service agencies, to provide the university community with a safe environment.
Important Phone Numbers
Police, fire, medical emergencies (from campus phones): 911
Non-emergencies: 605-658-6199
Bryant Jackson, Chief of Police
Email: Bryant.Jackson@usd.edu
Telephone: 605-658-6199
Major Emergency Guidelines
The safety of our students, faculty, and staff is paramount to the university. We have emergency procedures in place to ensure the effective management of emergency efforts involved in preparing for and responding to situations associated with emergencies.
ALICE Response Plan
In the event of an active shooter emergency, the university has adopted the ALICE response plan to assist you in determining the best options available to survive an attack. The ALICE response does not follow a set of prescribed actions, and you may not need to utilize all of the five steps when confronting an active shooter. Your survival is the most important outcome.
Alert
Any number of things can alert you to a shooter situation:


Gunfire
Witnesses
Unusual commotion on campus
Phone/Text alerts
Lockdown
A lockdown is a semi-secure starting point from which to make your survival decisions. If you decide not to evacuate, secure the room.


Lock the door.
Cover any windows in the door if possible.
Tie down the door if possible using belts, purse straps, shoe laces, etc.
Barricade the door with anything available (desks, chairs, file cabinets.).
Look for alternative escape routes (windows, additional doors).
Call 911
Move out of the doorway in case gunfire comes through it.
Silence or place cellphones on vibrate.
Once secured, do not open the door for anyone. Unfamiliar voices may be the shooter attempting to lure you out. Police will enter the room when the situation is over.
Gather weapons (coffee cups, chairs, books, pens, etc.) and mentally prepare to defend yourself or others.
Put yourself in position to surprise the active shooter should they enter the room
Inform
Use any means necessary to pass on real time information


Use plain language
Derived from 911 calls, video surveillance, etc.
Who, what, when where and how information
Helps people in or around the areas area to make common sense decisions
Can be given by Flash Alerts, PA Announcements, police radio speakers
Counter
Use of simple, proactive techniques should you be confronted by an active shooter


Anything can be a weapon
Throw things at the shooter's head to disrupt his aim
Create as much noise as possible
Attack in a group (swarm)
Grab the shooter's limbs and head. Take the shooter to the ground and hold him there.
Fight dirty: Bite, kick, gouge eyes, etc.
Run around the room and create chaos
If you have control of the shooter call 911 and tell the police where you are and listen to their commands when officers arrive on the scene,
Evacuate
Remove yourself from the danger zone as quickly as possible


Decide if you can safely evacuate.
Run in a zigzag pattern as fast as you can.
Do not stop running until you are far away from the scene.
Bring something to throw at the shooter should you encounter him
Consider if a fall from a window will kill you
Break out windows and attempt to quickly clear glass from the frame
Consider using belts, clothing or other items as an improvised rope to shorten the distance you would fall.
Hang by your hands from the window ledge to shorten your drop
Attempt to drop into shrubs, mulch or grass to lessen the chance of injury
Do not attempt to drive from the area
What to Expect from Responding Police Officers
Police are trained to proceed immediately to the area in which shots were last heard. Their purpose is to stop the shooting quickly.
Responding officers will normally be in teams. They may be dressed in regular patrol uniforms, or they may be wearing external bulletproof vests, kevlar helmets, and other tactical equipment. The officers will be armed with guns. Regardless of how they appear, remain calm, do as the officers tell you, and do not be afraid of them.
Put down anything you may be carrying and keep your hands visible at all times.
The first officers will not stop to aid injured people. Other officers and emergency medical personnel will follow to remove injured persons.
Keep in mind that after you have escaped to a safer location, the entire area is still a crime scene.
Police will usually not let anyone leave until the situation is fully under control and all witnesses have been identified and questioned.
Until you are released, remain where authorities designate.
About Bomb Threats
Bomb threats are usually received by telephone, sometimes by note or letter.
Most bomb threats are intended to create panic - but all such calls must be taken seriously.
Bomb threats are assumed to be real and considered a threat to the university and its operations.
Campus Buildings
Campus buildings will be evacuated if a bomb threat is reported.
If You Receive a Bomb Threat
If you are on campus and receive a threat of any kind, immediately call 9-911.
If possible, get a coworker to call while you talk with the caller. Permit the caller to say as much as possible without interruption.
Then ask questions:


Where is the bomb?
When is the bomb going to go off?
What kind of bomb is it?
What does the bomb look like?

Take notes on everything said and your observations about background noise, voice characteristics, caller's emotional state, etc.
Use the Bomb Threat Checklist to document your observations.
Public Safety will advise if evacuation is necessary.
If there has been a threat, and you see a package or foreign object, do not touch it. Immediately call 9-911.
If an explosion occurs at any time, report it immediately.
False reporting of a bomb threat is a Class 6 Felony.
Prepare in Advance
Know locations of exits.
If your work station is located within an office, know exactly how many doors you will pass to reach the nearest exit. In heavy smoke, exit signs may be invisible but you can count the number of doors you pass.
Know locations of fire alarms and fire extinguishers.
Know where the general assembly area is located outside of the building.
Do not leave assembly area or re-enter building until instructed by institutional authorities or emergency personnel.
Fire on Your Floor
Activate the fire alarm. Alert others. Move everyone away from the area.
Immediately call 9-911 (or 911 from a cell phone) and report location of the fire.
Use fire extinguisher on small (wastebasket-size) fires only if it is safe to do so.
If you attempt to extinguish the fire, use the PASS method:


Pull the Pin

Aim at the Base of the Fire

Squeeze the Top Handle
Sweep from Side to Side.

For larger fires, GET OUT. Close the doors to confine the fire as much as possible.
If your clothing catches on fire, STOP…DROP…ROLL.
Follow directions of institutional authorities and emergency personnel.
When a Fire Alarm is Activated in your Building
Proceed to the nearest exit.
Feel the door, top and bottom, for heat (use back of hand).
If door is hot, do not open. If door is not hot, open slowly.
Stand behind the door and to one side; be prepared to close it quickly if fire is present.
Use the stairway for exit; do not use the elevator. Close the stairwell door behind you.
Stay low when moving through smoke; walk down to the ground floor and exit.
Do not return to the area until instructed to do so by emergency personnel.
If Trapped in a Room
Place cloth material around/under the door to prevent smoke from entering.
Retreat. Close as many doors as possible between you and the fire.
Be prepared to signal from window but DO NOT BREAK GLASS unless absolutely necessary.
If caught in smoke - drop to your hands and knees and crawl or crouch low with your head 30 to 36 inches above floor, watching the base of the wall as you go.
Hold your breath as much as possible; breathe shallowly through your nose using shirt as filter.
If forced to advance through flames - hold your breath. Move quickly and cover head and hair.
On-Campus Housing
In case of fire, sound the fire alarm. Call 9-911 (or 911 from a cell phone)
Notify a residence hall staff member.
Evacuation procedures are posted on the back of residence hall room doors.
Familiarize yourself with this information.
You must leave the building when the fire alarm sounds. Staff will check rooms for violators.
Failure to comply with emergency evacuation procedures will be documented and students will be subject to sanctions.
Terms:
Tornado Watch means conditions are favorable for tornadoes. Listen to local radio and TV stations for further updates.
Tornado Warning means a tornado has been sighted or radar indicates rotation in the clouds. TAKE SHELTER!
Civil Defense Sirens:
Sirens are designed for persons who are outdoors.
Persons indoors are expected to be aware of the weather and to listen to media for further information.
If the siren has sounded and stopped, it should not be construed as an all-clear. Wait for the media to issue the all-clear.
Sirens:
Tone For Three (3) Minutes - Severe weather. Seek shelter immediately.
Alternating high/low tones - Firefighter notification. No immediate danger to general public.


Siren Activation:

Sirens will be activated for imminent emergencies that require citizens to seek immediate shelter.
Sirens will

not

be activated for severe thunderstorm warnings.
Sirens will be activated for tornado warnings affecting the Vermillion or Wakonda areas.
Sirens will be activated by spotter request if they feel the situation is dangerous to the general public.
Sirens will be activated when The National Weather Service or The Office of Emergency Management provides direct information of immediate danger.
There will

not

be an all-clear sounded once the danger has passed.

Listen to KVHT Radio 106.3 for current updates and situation reports.
If a Tornado Warning is Issued:
If inside, go to a safe place in the building - normally basement areas, interior hallways, and locations away from windows.
If outside, go to the basement of a nearby sturdy building. Take shelter in a ditch, creek or other depression if close.
If in a motor vehicle, get out immediately and head for safety. Vehicles are not safe in tornadoes. Do not take shelter under a bridge or bypass structure.
Tornado Shelter Procedures:
If you are off campus and in Vermillion, the following locations have been identified as shelter locations.


Vermillion Fire & EMS Station - 820 North Dakota Street
National Guard Armory - 603 Princeton Street
After a Tornado:
Remain in safe areas away from broken glass and other sharp debris, and away from power lines, puddles containing power lines, and emergency traffic areas.
While waiting for emergency personnel to arrive, render aid to those injured.
Keep everyone out of damaged parts of buildings.
Ensure nobody is using matches or lighters, in case of leaking natural gas pipes or fuel tanks nearby.
On-Campus Housing
When a tornado is sighted in the Vermillion area, the city alarm will sound a solid tone for three (3) to five (5) minutes, alerting the public to the emergency.
All room doors should be closed.
Stay away from all windows, doors, and outside walls.
When the danger has passed, an all-clear signal will be announced by hall staff.
Failure to comply with emergency evacuation procedures will be documented and students will be subject to sanctions.
SHELTERS: All residents will go to the lowest level possible of the building. You must leave your room when the tornado siren sounds. Staff will check rooms for violators. Students are discouraged from leaving the building area during a tornado warning.
Hazardous Materials
Includes fuels, janitorial supplies, chemicals, and other items and materials such as fluorescent lights, batteries, asbestos, and paints.
For Spills and Accidents
Notify your supervisor and contact Public Safety immediately.
If spilled chemical is flammable, extinguish all nearby sources of ignition.
If a person has been splashed with a chemical, wash them with plenty of water for at least 15 minutes, remove all contaminated clothing, and get medical attention.
If a person has been overexposed by inhalation, get the victim to fresh air; apply artificial respiration if necessary, and get medical attention.
In other cases of overexposure, get medical attention and follow the instructions of the medical professional.
Guidelines for using AEDs
Remain calm
Send someone to call 911 or University Police, 677-5342
Emergency Responders need:


Victim information
Address/location

Remove AED from cabinet and take to patient's side
Use tubular key in cabinet to turn off alarm if needed
Lift black cover and press yellow button to open AED and turn unit on
Pull red handle to remove patches from package
Attach patches to patient's bare chest according to the diagram
Follow voice prompts – see inside cover of device for further instructions
Locations of AEDs on campus
| | |
| --- | --- |
| Building | Location |
| Beacom Business School | 1st Floor Lobby |
| Burgess-Norton Residential Hall | Burgess Lounge |
| Churchill-Haines Laboratories | By the Biology Office |
| Center for Continuing Education | West Entrance |
| Coyote Village Residential Hall | Main Entrance Lobby |
| DakotaDome | Arena Floor SW Corner |
| DakotaDome | Arena Floor East Wall |
| DakotaDome | Concourse Section F |
| Delzell Education Center | 1st Floor East Hallway |
| Dental Hygiene Clinic | Emergency Station |
| Fine Arts Center | Art Gallery Entrance |
| I.D. Weeks Library | Main Entrance |
| Law School | 1st Floor North Hallway |
| Lee Medical Building | 3rd Floor South Atrium |
| Lee Medical Building | 2nd Floor South Atrium |
| Lee Medical Building | 1st Floor South Atrium |
| Lee Medical Building | Lower Level by Room 15 |
| McKusick Technology Center | 1st Floor Lobby |
| Muenster University Center | By Information Desk |
| Neuharth Media Center | West Common Hallway |
| North Complex | South Breezeway Corridor |
| Noteboom Hall | 1st Floor by Stairs |
| Sanford Coyote Sports Center | 1st Floor by Stairs |
| Sanford Coyote Sports Center | By West Vomitorium |
| Sanford Coyote Sports Center | Northeast Entrance |
| Sanford Coyote Sports Center | OT/PT Rehab Clinic |
| Sanford Coyote Sports Center | Upper Northeast Concourse |
| Slagle Hall | 1st Floor West Corridor |
| Vucurevich Childcare Center | Central Back Hallway |
| Wellness Center | Front Desk |
| Wellness Center | 2nd Floor Information Desk |