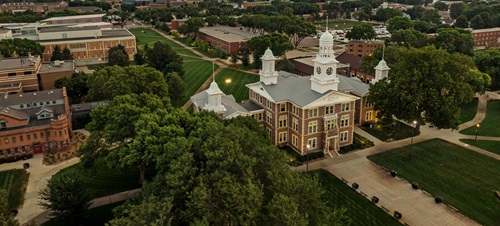 Accreditation & Consumer Information
Institutional Accreditation:
Institutional accreditation by the Higher Learning Commission (HLC) provides assurance to prospective students, parents, and others that an institution of higher education meets the agency's clearly stated requirements and criteria. Institutional accreditation is the standard against which colleges and universities are evaluated as a whole for the quality of their education activities. The HLC is an independent organization founded in 1895 as one of six regional institutional accreditors in the United States.The University of South Dakota has been accredited by the HLC since 1913.
Institutional accreditation is an ongoing process consisting of the Assurance Review, the Quality Initiative, and the Comprehensive Evaluation. The next review will be USD's Comprehensive Evaluation, scheduled for 2030-31. Please visit the Higher Learning Commission website for more information on the institutional accreditation process.
Professional Accreditations:
Individual schools, departments and programs have received additional specialized accreditations from their appropriate professional organizations.
2020 Comprehensive Evaluation Documents
HLC Letter of Accreditation
Report of HLC Comprehensive Evaluation Visit
2020 Assurance Argument
Note: Due to the nature of HLC's Assurance System which generates the links to evidence documentation in the Assurance Argument, hyperlinks will not be active. If you have any questions about the document please contact HLC@usd.edu.