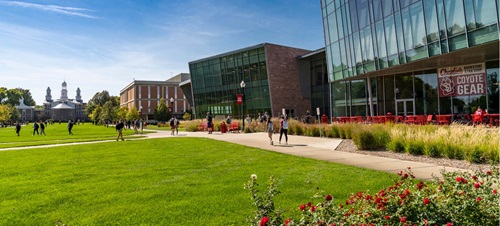 USD At a Glance
As the state's most historic university, we're rooted in tradition. But we're also looking toward the future, providing you with the new skills and flexible learning methods you need to navigate an increasingly complex world.
Get to Know USD
Founded in 1862 in Vermillion, South Dakota
Campus locations in Vermillion and Sioux Falls
Led by President Sheila Gestring since 2018
Total enrollment of 9,464 students, as of fall 2021
15:1 student-faculty ratio
More than 70,000 alumni


Campus and Community
USD's beautiful 274-acre campus in Vermillion sits along the bluffs above the Missouri River in southeast South Dakota. From the historic beauty of Old Main to the cutting-edge technology housed in the Lee Medicine & Science Building, you'll experience a mix of the traditional and contemporary on the University of South Dakota campus.
Since its inception in 1862, USD has called the small, safe city of Vermillion home. As both grow in size and population, the campus and the city continue to enjoy a mutually beneficial relationship that helps foster innovation and creates exciting opportunities for both students and residents.
USD offers a number of premier programs in Sioux Falls, designed to meet the growing needs of South Dakota's largest and fastest growing communities. Here you'll find USD – Sioux Falls and the Sanford USD Medical Center.
Statistical Highlights
Accreditation: Continuously accredited by the North Central Association of Colleges and Schools since 1913.
Enrollment (Fall 2021)
Total Enrollment: 9,464
Undergraduate: 6,987
Graduate: 1,980
Medicine: 270
Law: 227
Academic Programs
Student Organizations
There are more than 200 organizations and clubs, including social, sports, religious, pre-professional and hobby groups
On-Campus Housing
84% of new freshmen live on campus
34% of all undergraduates live on campus
Financial Aid Profile
Undergraduates receiving aid: Approximately 81%
Top Undergraduate Fields of Study
Nursing, Business, Health Sciences, Elementary Education, Kinesiology & Sport Management, Biology/Medical Biology, Criminal Justice, Psychology, Accounting and Media & Journalism
Faculty
Total Faculty: 431
With Highest Degree in Field: 75.2%
Student-Faculty Ratio: 15:1
Alumni
More than 70,000 alumni
Finances (2017)
The University: $147.7 million
Medical School: $54.6 million
Homecoming Celebration
Athletics
NCAA Division I ; Coyote Athletics website
Mascot: Charlie Coyote
Colors: Red and white
Men's Sports
Basketball, Cross Country, Football, Golf, Swimming & Diving, Track & Field
Women's Sports
Basketball, Cross Country, Golf, Soccer, Softball, Swimming & Diving, Tennis, Indoor and Outdoor Track & Field, Triathlon, Volleyball
Colleges & Schools