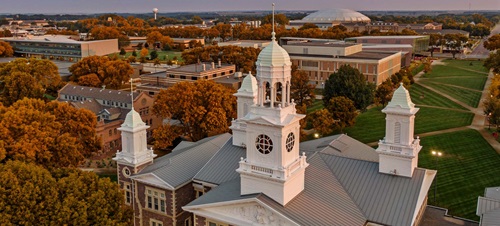 Vermillion Campus & Community
Get to know our campus and community in Vermillion.
Welcome to USD's campus in Vermillion!
Look across South Dakota and you'll find the Coyote community everywhere, with students, alumni and friends learning and serving in the rural areas of our state and our largest cities. When we say "We are South Dakota," we mean it.
This strong presence in our state has emerged from Vermillion, South Dakota – USD's first and main campus location. Vermillion is a small community nestled along the bluffs above the Missouri River in the southeast corner of South Dakota. Our Vermillion campus is home to state-of-the-art facilities, hundreds of academic programs, a vibrant arts scene, NCAA Division I athletic teams and countless opportunities to learn and grow.