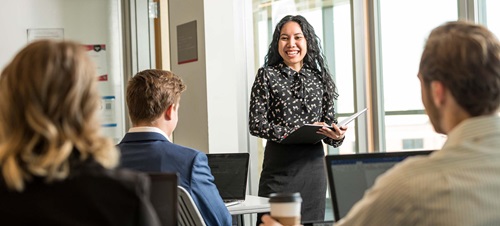 Faculty & Staff
Your quick access to resources, services and support for faculty and staff at the University of South Dakota.
Additional Resources
Discover the many resources and perks available to USD faculty and staff.
Five graduate students in the University of South Dakota Beacom School of Business received scholarships through the Institute of Management Accountants' CMA Scholarship Program.  
The University of South Dakota is proud to announce that 12 students received 2024 Undergraduate Research Awards for excellence in creative scholarship and research.
Five students in the University of South Dakota College of Fine Arts – Abigail Van Osdel, Cailey Schendel, Cassie Heintz, Jaclyn Laprath and Taylor Titze – are presenting a Bachelor of Fine Arts graduation exhibition, "The Road Less Traveled," now through Dec. 8 in the John A. Day Gallery in the Warren M. Lee Center for Fine Arts.
Supporting Your
Professional Goals
At USD, we support your efforts to grow in your career. From supporting research and creative scholarship endeavors to helping you develop new skills and interests, USD helps you get there.
Departments & Facilities
Explore the related departments and facilities that contribute to your success.