Business & Entrepreneurship Research
Unlock your potential in business and entrepreneurship through impactful research, gaining critical skills and resources to excel as a leader and innovator in the dynamic business landscape.

The University of South Dakota has built a strong reputation for its research in business and entrepreneurship, making significant contributions in these fields through faculty expertise. Immersive research projects and experiential learning foster essential skills like critical thinking and problem-solving. The university provides access to advanced technologies and collaborative spaces, promoting an innovative environment. This research focus equips graduates with the knowledge and abilities to excel in a dynamic business landscape, enabling them to contribute as leaders, innovators and entrepreneurs in the long term.
Making an Impact
With expert faculty, incredible research opportunities and strong regional partnerships, USD's research centers foster academic excellence and spur economic growth.
Carnegie Classification: Doctoral University – High research value.

Graduate research programs have had a significant impact on the economy of South Dakota, through grants, business creation, and innovative science.

Of research investment in South Dakota over the past 5 years.
Departments & Facilities
Explore the offices, facilities and centers that contribute to research in the areas of business and entrepreneurship.
Five graduate students in the University of South Dakota Beacom School of Business received scholarships through the Institute of Management Accountants' CMA Scholarship Program.  
The University of South Dakota is proud to announce that 12 students received 2024 Undergraduate Research Awards for excellence in creative scholarship and research.
Five students in the University of South Dakota College of Fine Arts – Abigail Van Osdel, Cailey Schendel, Cassie Heintz, Jaclyn Laprath and Taylor Titze – are presenting a Bachelor of Fine Arts graduation exhibition, "The Road Less Traveled," now through Dec. 8 in the John A. Day Gallery in the Warren M. Lee Center for Fine Arts.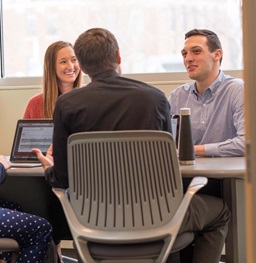 Research Opportunities
Find out more about the variety of research opportunities and resources available to students, faculty and staff.