Graduate Research
Research or creative scholarship may be the cornerstone of your graduate education. Study what interests you most at a university dedicated to graduate student research.
Your Research is Our Priority.
Through research and creative scholarship, you can maximize your educational experience and create meaningful contributions to your field of study. This is your opportunity to make your mark.
At the University of South Dakota, you'll have the support you need to follow your curiosity and find answers to your questions about the world. Faculty and students pursue research in virtually all academic departments on campus, and in many cases, research or creative scholarship is a required portion of a graduate degree program. Whether you are on a research team, leading your own project or contributing your skills to a mission-oriented institute, you'll gain invaluable experience and have opportunities to share your findings with the larger research community.
Make a difference and pursue your passion through research and creative scholarship at USD.


Leaders in Research
Through strong partnerships and support of bright minds, USD's research centers foster academic excellence and spur economic growth.
$35 million
Graduate research programs have had a significant impact on the economy of South Dakota, through grants, business creation, and innovative science.
Carnegie Classification: Doctoral University – High research value.
$144 million
Of research investment in South Dakota over the past 5 years.
Two undergraduate students and one graduate student received awards for their papers during the 58th annual Student History Conference held on March 20 at the University of South Dakota.
Melissa Dittberner, Ph.D., a lecturer in addiction counseling & prevention at the University of South Dakota, recently announced the Straight Up Care peer specialist grant program to increase the peer specialist workforce in South Dakota.
The University of South Dakota School of Health Sciences, in partnership with Sanford Research, will begin offering a Clinical Research Coordinator Certificate program, a 12-credit undergraduate certificate that prepares students for careers as clinical research coordinators (CRC).
Departments & Facilities
Our faculty and staff are dedicated to helping you access your research goals. Check out the departments and offices focused on supporting graduate research at USD.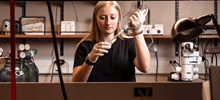 The Office of Research and Sponsored Programs supports and expands competitive research and creative scholarship at USD. The office oversees USD's research function, assisting faculty and researchers, generating student opportunities, and establishing and administering policies governing the conduct of research and overseeing the management of research programs.