Graduate Research
Research or creative scholarship may be the cornerstone of your graduate education. Study what interests you most at a university dedicated to graduate student research.
Your Research is Our Priority.
Through research and creative scholarship, you can maximize your educational experience and create meaningful contributions to your field of study. This is your opportunity to make your mark.
At the University of South Dakota, you'll have the support you need to follow your curiosity and find answers to your questions about the world. Faculty and students pursue research in virtually all academic departments on campus, and in many cases, research or creative scholarship is a required portion of a graduate degree program. Whether you are on a research team, leading your own project or contributing your skills to a mission-oriented institute, you'll gain invaluable experience and have opportunities to share your findings with the larger research community.
Make a difference and pursue your passion through research and creative scholarship at USD.
Leaders in Research
Through strong partnerships and support of bright minds, USD's research centers foster academic excellence and spur economic growth.
$35 million
Graduate research programs have had a significant impact on the economy of South Dakota, through grants, business creation, and innovative science.
Carnegie Classification: Doctoral University – High research value.
$144,000,000
Of research investment in South Dakota over the past 5 years.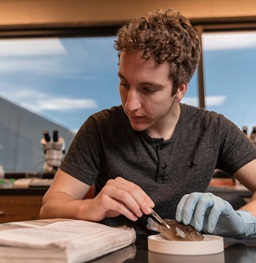 Let's Hear Your Research Question
You have questions worth exploring. We're here to help you answer them.
Join a vibrant research community at USD that supports your ambitions. From grants to state-of-the-art facilities, we've created a rich research environment to help you pursue your unique questions about our world through Graduate Research and Creative Scholarship Grants.
Learn How To Apply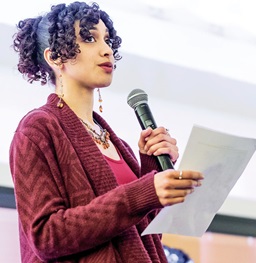 Share Your Discoveries
Graduate students are encouraged to participate in the annual Three Minute Thesis (3MT®) competition, which is an opportunity to communicate the significance and impact of your research project to a non-specialized audience in just three minutes. You can also present at IdeaFest or other conferences around the country.
Your research can have an impact beyond our campus. Conduct research at sites around the world, connect with other scholars and share your voice as a student at USD.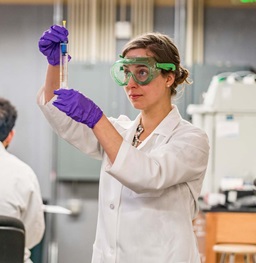 Mentorship & Learning
USD is home to nationally- and internationally-recognized faculty who are making a difference through their research. You'll have the opportunity to learn from experts in your area of study and get involved in faculty-led research projects.
Here are just a few examples of the research and creative scholarship activities our faculty have been involved in:
Using NASA Space Grant funding to study how virtual reality (VR) systems can support STEM education.

Contributing to a momentous study on one of the world's rarest chameleon species.

Devising mathematical models to predict the spread of viruses and anticipate resource needs.
Meet Our Faculty
The University of South Dakota is pleased to announce Jean Caraway, Ph.D., professor of psychology, and Beth Boyd, Ph.D., professor and director of Clinical Psychology, received funding for the new Graduate Psychology Education Program (GPEP) to train doctoral health service psychology students to provide quality behavioral health services in community-based primary care settings in high-need and high-demand areas throughout South Dakota.
This summer the University of South Dakota participated in the Young Southeast Asian Leaders Initiative Professional Fellows Program (YSEALI PFP) program and hosted three participants who engaged in enriching professional development opportunities in the Vermillion community through exposure to the U.S. public and non-profit sectors.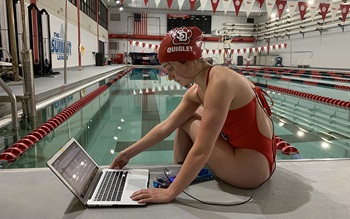 During a 2019 team bonding exercise, University of South Dakota women's swimming team member Kristen Quigley '22 was accidentally concussed during the height of the season.
Departments & Facilities
Our faculty and staff are dedicated to helping you access your research goals. Check out the departments and offices focused on supporting graduate research at USD.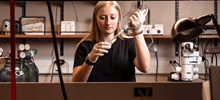 The Office of Research and Sponsored Programs supports and expands competitive research and creative scholarship at USD. The office oversees USD's research function, assisting faculty and researchers, generating student opportunities, and establishing and administering policies governing the conduct of research and overseeing the management of research programs.