Public Service & Law Research
Engage in impactful research, addressing critical issues, analyzing legal frameworks and making a lasting change in public service and law.
The University of South Dakota excels in public service and law research, driven by its commitment to addressing pressing societal challenges and advancing the field of law. Researchers at the university explore critical issues and analyze legal frameworks, contributing to an informed understanding of public service and law and making a lasting impact on the evolving economic landscape, careers, communities and beyond.
Making an Impact
With expert faculty, incredible research opportunities and strong regional partnerships, USD's research centers foster academic excellence and spur economic growth.
Carnegie Classification: Doctoral University – High research value.

Graduate research programs have had a significant impact on the economy of South Dakota, through grants, business creation, and innovative science.

Of research investment in South Dakota over the past 5 years.
Departments & Facilities
Explore the offices, facilities and centers that contribute to research in the areas of public service and law.
Five graduate students in the University of South Dakota Beacom School of Business received scholarships through the Institute of Management Accountants' CMA Scholarship Program.  
The University of South Dakota is proud to announce that 12 students received 2024 Undergraduate Research Awards for excellence in creative scholarship and research.
Five students in the University of South Dakota College of Fine Arts – Abigail Van Osdel, Cailey Schendel, Cassie Heintz, Jaclyn Laprath and Taylor Titze – are presenting a Bachelor of Fine Arts graduation exhibition, "The Road Less Traveled," now through Dec. 8 in the John A. Day Gallery in the Warren M. Lee Center for Fine Arts.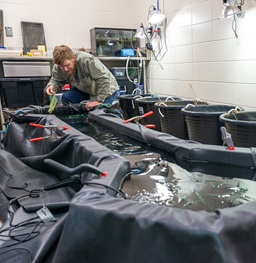 Research Opportunities
Find out more about the variety of research opportunities and resources available to students, faculty and staff.


Learn More