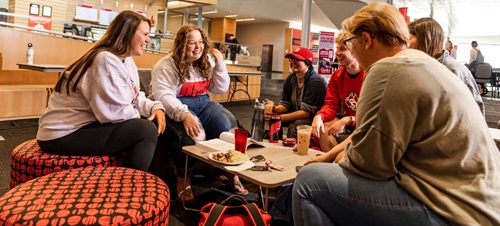 Signature Programs
Your USD experience extends beyond the classroom. We offer unique programs and exciting opportunities so you can make the most of your USD education, experience new adventures and create lifelong memories with friends in your community.
Find Your Passion, Find Your People
Explore some the signature programs that can enrich your experience at USD.
Honors Program
The Honors Program at USD isn't about courses that move faster and cover more material; it's about developing you into a person who's passionate about contributing to society and preparing for a rapidly changing world. In this program you can take unique, interdisciplinary courses, meet other motivated students, live in a community of Honors students in the residence halls, get involved in fun activities outside the classroom and challenge yourself with new opportunities.
Service Learning
Travel, explore new opportunities and serve your community by taking part in the service-learning program. Some examples of experiences you can look forward to include service-learning courses, alternative break trips, National Days of Service or volunteer opportunities in our local community. You can learn and get hands-on experience in an area of interest through service learning.
First-Year Experience
Our first-year experience program allows you to transition into the college setting with ease. By enrolling in a FYE seminar or USD 101, you can meet other new students, engage with faculty, develop your network early and grow into life on campus. Enjoy this program created specifically for new students.
Study Abroad
Have you always wanted to see the world or embark on a new adventure? At USD you can tailor you academic program to blend with a study abroad experience of your choosing. Hike the Andes Mountains in Chile, sip coffee in France or walk past the Colosseum in Rome as a study abroad student. Ignite your passion for travel and academia while creating a global network for life.