Learning & Leadership Research
Drive impactful research in learning and leadership, cultivating essential skills and making a positive impact in communities and the workforce as a leader.

The University of South Dakota is committed to research in the fields of learning and leadership, where our campus is exploring innovative learning approaches and the cultivation of essential leadership skills. This research focus equips individuals with valuable insights and knowledge to excel as leaders in their chosen fields, making a positive impact in the workforce and contributing to the growth and success of organizations and communities.
Making an Impact
With expert faculty, incredible research opportunities and strong regional partnerships, USD's research centers foster academic excellence and spur economic growth.
Carnegie Classification: Doctoral University – High research value.

Graduate research programs have had a significant impact on the economy of South Dakota, through grants, business creation, and innovative science.

Of research investment in South Dakota over the past 5 years.
Departments & Facilities
Explore the offices, facilities and centers that contribute to research in the areas of learning and leadership.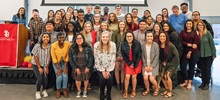 Our programs are federally funded by the U.S. Department of Education and provide opportunities for increased access and success in college.
Learn and grow in Head Start! We offer free early learning programs for expectant families and children up to age 5.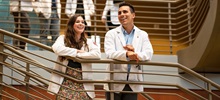 We connect students to careers, professionals to communities and communities to better health.
Five graduate students in the University of South Dakota Beacom School of Business received scholarships through the Institute of Management Accountants' CMA Scholarship Program.  
The University of South Dakota is proud to announce that 12 students received 2024 Undergraduate Research Awards for excellence in creative scholarship and research.
Five students in the University of South Dakota College of Fine Arts – Abigail Van Osdel, Cailey Schendel, Cassie Heintz, Jaclyn Laprath and Taylor Titze – are presenting a Bachelor of Fine Arts graduation exhibition, "The Road Less Traveled," now through Dec. 8 in the John A. Day Gallery in the Warren M. Lee Center for Fine Arts.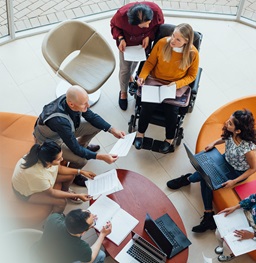 Research Opportunities
Find out more about the variety of research opportunities and resources available to students, faculty and staff.