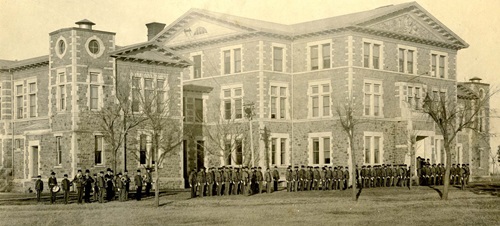 Our Mission & History
USD is the only public liberal arts college in South Dakota, as well as home to the state's only law and medical schools. These distinctions have helped us become regionally acclaimed and nationally recognized in higher education.
Our Mission
The University of South Dakota offers undergraduate, graduate and professional programs within the South Dakota System of Higher Education. As the oldest university in the state, the University of South Dakota serves as the flagship and the only public liberal arts university in the state.
Vision and Values
Student Experience Focused
Our students are engaged, thoughtful, and well-prepared for a global and complex world. The experience in and out of the classroom is robust, experiential, and practical. Lives are enhanced and changed by the breadth of experiences we provide.
Responsible Stewards
We strive to make a USD education affordable to every qualified student by operating efficiently and effectively with high quality standards to minimize financial barriers to a life-changing experience.
Transparent
We communicate frequently with our stakeholders, both internal and external. Our communication processes are informative, agile, and transparent. Our brand and identity are authentic, clear, and understood by all our stakeholders. People know who we are, what we do, and the connections we make to serve the citizens of South Dakota, members of tribal nations, the region, and the world.
Value Our Community
We are community partners and neighbors who value the strength of our community. We invest in our people and strive to achieve appropriate levels of compensation and recognition. We value our employees and invest in their professional development. All employees play an important role in creating the USD experience.
Welcoming
Community is one of our strengths. We are proud of our caring culture and embrace the uniqueness of our students, faculty and staff. We provide opportunities so all feel welcome here.
Resource Custodians
We have a process for modernizing and upgrading our facilities so they can be fully utilized by our students, faculty, staff, and community. We leverage our technology resources to provide a flexible and adaptable learning and research experience.
Highest Integrity
We are seen as a trusted partner by those with whom we collaborate and live up to the high expectations of South Dakota, tribal nations, and other stakeholders. We are optimistic and excited about the future we will create.
A Proud History
In 1862, the first Legislature of the Dakota Territory established the first postsecondary institution in the Dakotas, although classes were not held until 20 years later.
With Ephraim Epstein serving as the first president and primary faculty member, the university that would become USD began holding classes in a loaned space in downtown Vermillion. Sixty-nine students were enrolled at USD in 1883; by the time South Dakota became the 40th state in 1889, that number had grown to 500.
In 1883, the university moved into Old Main, a public board was appointed to govern it, and the first academic unit — the College of Arts & Sciences — was established.
The School of Law began offering classes in 1901; the School of Medicine in 1907; Continuing Education in 1916; the Graduate School and School of Business in 1927; and the College of Fine Arts in 1931.
Today, USD is one of six public colleges governed by the South Dakota Board of Regents, a nine-member board appointed by the governor.
Learn More about a Liberal Arts Education
USD Leadership
through the years
USD has a history of storied presidents all the way back to 1882.