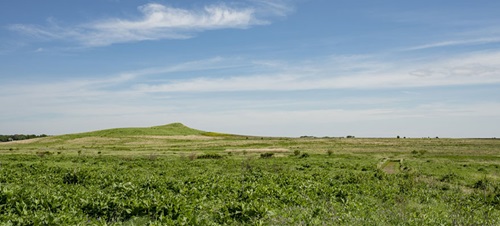 Middle West Review
The Middle West Review is an interdisciplinary, peer-reviewed journal focused on studying the American Midwest, a "lost region" which has received far less scholarly attention than other American regions.
Middle West Review is the only scholarly print publication dedicated exclusively to the study of the Midwest as a region. It provides a forum for scholars and non-scholars alike to explore the meaning of Midwestern identity, history, geography, society, culture and politics.
Overall, the mission of the Middle West Review is to join with like-minded associations, historical societies, writers and scholars to help revitalize the study of the American Midwest. The inaugural issue of the journal was published in the fall of 2014 and since 2019 Middle West Review has made the University of South Dakota its home. The journal is published by the University of Nebraska Press and you can find subscription information and other details at the University of Nebraska Press website. The journal is available electronically through Project MUSE.
Submissions / Editorial Board
The Middle West Review accepts submissions on a rolling basis. We encourage readers to contribute original content that deepens the public's understanding of the American Midwest in an accessible and thoughtful manner. Some examples of submission types include the following.
Scholarly articles or essays should run roughly 8,000-12,000 words and articulate a central thesis about an important aspect of the Midwest. These works should build upon original research or new interpretations of existing sources and advance a unique argument pertaining to the American Midwest and, when appropriate, rely on proper citations and a footnote apparatus. Authors are advised to review earlier issues of Middle West Review to better understand the type of articles published by the journal.
These projects should incorporate original photographs of or about the Midwest. We ask contributors to also include a description of each photograph and a brief written explanation (100 to 200 words) of their significance as a body of work.
Middle West Review is eager to review new books related to the Midwest and to publish review essays which discuss groupings of recent books about the Midwest. Book review inquiries should be directed to Jennifer Stinson at jstinson@svsu.edu.
Other types of submissions will be also considered. All contributions will undergo a process of peer review spearheaded by the Middle West Review editors and executive board.
Submissions will either be accepted for publication outright, returned with a request to "revise and resubmit" or rejected outright. All submissions will benefit from the comments and revisions of the Middle West Review editors and its editorial reviewers.
Authors should consult the Chicago Manual of Style as they prepare to submit their manuscripts to Middle West Review. Works should use endnotes in accordance with that manual's specifications. Please use Times New Roman 12-point font. All written submissions should be double-spaced and have one-inch margins on all sides. Manuscripts should be clear, concise and devoid of jargon. Refrain from using the first person or passive voice. Successful submissions will marshal a strong argument buttressed by adequate evidence, thoughtful analysis and lucid prose. Furthermore, in keeping with the journal's mission, manuscripts should use the Midwest as a category of analysis and seek to explain why their project matters for the study of this region.
Please feel free to submit your materials at any time to MWR@USD.edu. You can also send any questions about submissions and other matters to that address.
Editor-in-Chief
Jon K. Lauck
University of South Dakota
Jon.Lauck@usd.edu
Associate Editors
Jennifer Kirsten Stinson
Saginaw Valley State University
Christopher R. Laingen
Eastern Illinois University
Assistant Editors
Hannah Redder
New York University
David Grabitske
South Dakota State Historical Society
Book Review Editor
Jonathan Kasparek
University of Wisconsin-Milwaukee at Waukesha
Media Review Editor
Adam Ochonicky
University of Wisconsin Oshkosh
Executive Editors
Richard J. Jensen
Montana State University-Billings
Paula Nelson
University of Wisconsin at Platteville
Gregory L. Schneider
Emporia State University
Graduate Student Assistant
Zach Wattier
University of South Dakota
Editorial Board
William Barillas
University of Wisconsin-La Crosse
Megan Birk
University of Texas Rio Grande Valley
James F. Brooks
University of California-Santa Barbara
Jason Duncan
Aquinas College
David F. Good
University of Minnesota-Twin Cities
Jeffrey Helgeson
Texas State University-San Marcos
R. Douglas Hurt
Purdue University
Suzzanne Kelley
North Dakota State University Press
Sara A. Kosiba
Northeast Ohio Medical University
Gregory S. Rose
The Ohio State University at Marion
Matthew Sanderson
Kansas State University
Andrew Seal
University of New Hampshire
Jeff Wells
Dickinson State University