A Recipe for Student Success
Students at the Beacom School of Business are some of the most engaged students on campus as their involvement spans multiple clubs and groups, honor societies and volunteer activities.
This engagement is not a coincidence – it is baked into the student experience at the business school. From the day students first step on campus, they are supported by a network of faculty, advisors, peers and alumni mentors who understand the importance of pursuing professional development, practicing civic engagement and cultivating the soft skills needed to be successful after graduation.
Michaela Rotert | Accounting & Finance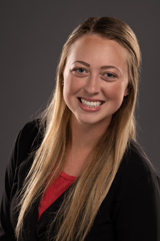 Hailing from Potter, Nebraska, Michaela Rotert enrolled at USD for three special reasons. "My mom went to school here, and my family is originally from South Dakota," she said. "I especially chose USD for its outstanding, accredited business school."
As early as sophomore year, Rotert immersed herself in a business internship with Ketel Thorstenson in the accounting services department. Former Professor Tom Davies helped connect her to the opportunity through Ketel Thorstenson Partner and USD alumnus Steve Schacht '90.
"I worked on bank reconciliations, payroll, sales tax remittances and quarterly tax returns for clients," she said. "What I learned in my principles of accounting courses was put into action throughout the internship."
In the summer of 2022, Rotert interned with Deloitte, the largest accounting firm worldwide.
"During my internship with Deloitte in their Omaha office, I worked on the Berkshire Hathaway audit by assisting in tasks to ensure the company's reporting is fair to decision makers," Rotert explained.
Rotert was recently voted president of USD's chapter of Beta Alpha Psi (BAP), which has helped her step out of her comfort zone by maneuvering a more prominent leadership position.
"I believe my communication skills have grown since becoming BAP president," she said. "I have conversations with new members to make them feel welcome, visit with speakers and successful alumni, delegate work to my executive team, write professional emails and more."
Alongside her leadership position with BAP, Rotert is involved with Coyote Capital Management and Coyote Business Consulting.
Rotert has also been recognized among USD's business students with prestigious awards and achievements, including the Accounting and Finance Top Performance Award in 2020.
Additionally, Rotert is a dean's ambassador for the Beacom School of Business, representing USD at alumni and networking events. She also serves as a peer advisor for freshman students in Beacom. Adding to her already impressive resume is a position as an office assistant at the USD Information Technology Services Office.
"I have become a more well-rounded individual from the various services provided to students at the Beacom School of Business," Rotert said. "From resume help and interview practice, to real-world experience with Coyote Business Consulting, to social involvement in clubs and organizations, I believe I will be prepared to be a professional in the business world."
Rotert is currently enrolled in the Master of Accountancy program at USD.
Meghan Jouwstra | Health Services Administration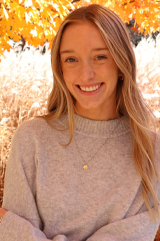 Raised in Sioux Falls, South Dakota, Meghan Jouwstra enrolled at USD for its unique health services administration (HSAD) program. "I also chose USD for the fair tuition rates and a smooth transition into graduate school," she added.
Through a connection between Jewel Goodman Shepherd, Ph.D., associate dean of graduate programs and associate professor of health services administration, and Rachel Olson '08, '10, director of clinic operations and USD alumna, Jouwstra received a paid internship that turned into a full-time employment opportunity at Sanford Vermillion.
"During my internship, I primarily spent time with leadership in the facility," Jouwstra explained. "I interacted with multiple leaders in the clinic, hospital, care center and the Dakota Hospital Foundation. This experience taught me about the various roles needed to operate a health care facility, including maintenance and dietary services."
Once she completed her internship, Jouwstra transitioned to a full-time role as a patient access representative. She plans to continue in this position as she pursues an MBA degree with a specialization in HSAD through the Beacom School of Business.
"During my time at Sanford, I have had the opportunity to learn in diverse health care settings, including the clinic, hospital and care center," she said. "Working locally has developed my passion for helping my community, and my love for Vermillion has grown."
Jouwstra was the recipient of the Timothy J. and Kathleen A. Tracy Health Services Administration Scholarship from the Dakota Hospital Foundation in 2022.
On the USD campus, Jouwstra is involved in many clubs and organizations, including Health Executives Advancing in Leadership (HEAL).
"I served as vice president on HEAL last year," said Jouwstra. "This position propelled me forward as a leader – I worked directly with health care executives in South Dakota to plan exciting events and trips for the organization."
Jouwstra is a member of Beta Gamma Sigma, an honor society for the top AACSB accredited business school students. She was also inducted into Upsilon Phi Delta, an honor society for students in the health care administration field.
Along her collegiate journey, Jouwstra has connected with many professors. Carole South-Winter, Ed.D., associate professor of HSAD, is among the top of her list as one of the most influential mentors.
"I've worked closely with Dr. South-Winter in my HSAD courses and HEAL," said Jouwstra. "She has given me many opportunities to learn from real-world situations in the health care industry.
"I never feel like my instructors and advisors don't have time to help me, whether it is for a course or to discuss my future plans," Jouwstra continued. "Both my courses and my involvement in student organizations at Beacom have prepared me to be a knowledgeable and experienced professional in health care administration."
Mary Scharpenburg | Marketing, Social Media Marketing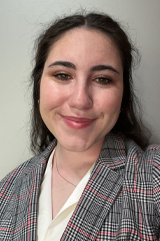 Mary Scharpenburg, an Omaha, Nebraska, native, knows that she wants to work in marketing or advertising after graduation. She became confident in this direction after she interned with the Union Pacific Railroad Company.
"I learned so much about what it takes to work for sales and for a large company like Union Pacific," Scharpenburg said.
Scharpenburg connected with USD alumna Elise Gosch '03, assistant vice president of intermodal sales for Union Pacific. "Elise loves USD, and she would tell everyone I go to school there," Scharpenburg recalled.
Scharpenburg has also been the voice behind the Beacom School of Business' and the Saint Thomas More Newman Center's social media accounts.
"Managing these accounts has helped me see if a career in social media marketing is something I would want to pursue professionally," said Scharpenburg. "Running Beacom's accounts granted me the ability to work with professors and have conversations about a future career."
In addition to her roles in the real world, hands-on experiences in Marketing Instructor Emily Quinn's classes have prepared Scharpenburg to work in the industry.
"She treats the class in a way that effectively prepares students for their future careers," Scharpenburg explained.
Scharpenburg credits Beacom's connections with the industry, as well as the networking events the school hosts, with helping her learn what life after graduation could look like.
"Beacom schedules a lot of times where we can meet leaders in the industry," Scharpenburg said. "Going to those and speaking with real life companies has really prepared me for interviews and conversations with businesses."
Scharpenburg is a Beacom School of Business dean's ambassador, which has helped her grow as a leader. "I like being a voice for the students at Beacom," she said.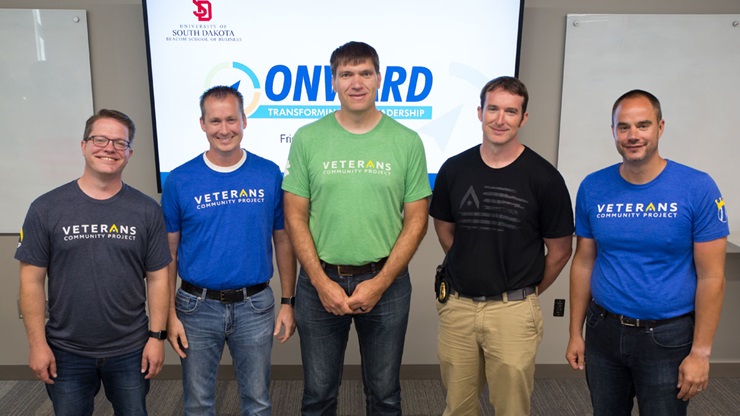 In the summer of 2022, the City of Sioux Falls, South Dakota, broke ground on a project that will build 25 tiny houses for homeless veterans. The idea for the venture -- called the Veterans Community Project -- began in an executive education program for senior staff members employed by the city and taught by Beacom School of Business faculty members.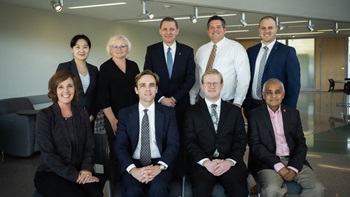 The University Beacom School of Business recently renamed its graduate program in accounting from Master of Public Accountancy (MPA) to Master of Accountancy (MAcc) and made changes to the curriculum to reflect industry standards.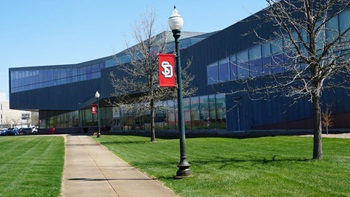 Starting in fall of 2023, the University of South Dakota Beacom School of Business is expanding its graduate program to include two new Master of Business Administration (MBA) specializations - business leadership and sustainability – and a business leadership certificate.