Amphibian Disease Research Prepares Medical Biology Student for Future in Health Care
University of South Dakota student Elizabeth Brust hopes to make meaningful contributions to conservation efforts by researching a new method of disease detection in amphibians. This research is also helping prepare Brust for a career in the health care field by providing her with problem-solving and critical thinking skills.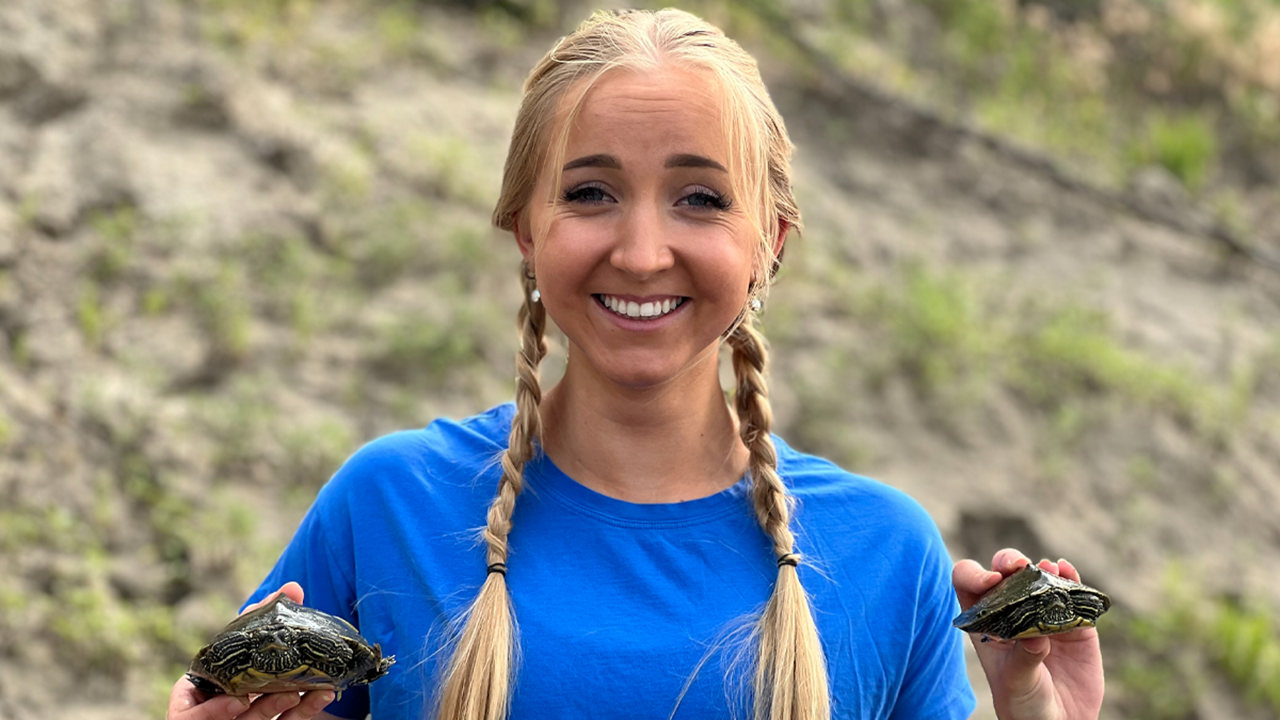 Through her research project, Brust, a rising junior double majoring in medical biology and international studies, hopes to design and optimize an investigative procedure known as a Loop-Medicated Isothermal Amplification (LAMP) to detect the presence of Batrachochytrium salamandrivorans (Bsal), a lethal chytrid fungus that infects amphibians.
Bsal is responsible for massive population declines in salamander species, posing a significant threat to biodiversity. While a LAMP assay exists for the detection of another well-known fungal pathogen that impacts frog populations, there is currently no optimized LAMP assay available for the detection of Bsal. Brust hopes her research changes that.
"An optimized LAMP assay has potential to be a valuable tool for researchers in the field due to its relatively simple protocol and high level of efficiency," Brust said. "I am hoping that the development of this assay will contribute to Bsal mitigation efforts by providing an alternative diagnostic method that can be utilized in resource-limited settings."
More broadly, Brust, who's from Northfield, Minnesota, said she hopes her discoveries will have a valuable impact on conservation efforts of amphibians across the globe.
"I am proud to be pursuing an opportunity to make a meaningful contribution to conservation efforts through this research project," Brust added. "The development and implementation of an alternative diagnostic method for Bsal has the potential to be instrumental in the mitigation of chytrid disease in amphibians worldwide."
Coursework in the Department of Biology opened Brust's eyes to the detrimental effects of disease on amphibian populations and ecosystems worldwide, and it is this realization, she said, that inspired her to complete this research project.
"Conducting this research has allowed me to pursue my passion for conservation biology," Brust said. "The supportive academic environment at USD, paired with my coursework and experiences, has given me a strong foundation for my research project."
Brust's research project is supported by funding from the UDiscover Summer Scholar Program, which provides funding for undergraduate students' research projects over the course of 10 weeks in the summer.
"The university's investment in student research empowers students to grow their research skills and contribute to the broader academic community," said Brust. "Furthermore, I have received invaluable guidance and insights from numerous faculty members throughout my academic journey."
Even before she attended USD, Brust said she knew the university would provide her with the support she needed to be successful; this was the primary reason she chose to pursue her degree at the state's flagship university.
"I was initially drawn to USD by the overwhelming amount of support and genuine interest shown to me by the university's faculty and staff, even before I had the opportunity to visit campus," Brust said. "This exceptional level of care set USD apart from other universities I considered and made me feel valued, assuring that I would have a strong support system throughout my undergraduate career."
Upon completing her undergraduate degree, Brust plans to attend the University of Minnesota School of Dentistry and go on to pursue oral and maxillofacial surgery. Her research experience has helped provide her with the skills and knowledge necessary to pursue her goals, she said.
"Research requires you to think critically, analyze data and think of creative solutions for unforeseen problems," said Brust. "These skills are applicable and essential to dentistry, as diagnosing and treating oral health issues often requires problem-solving abilities.
"Furthermore, this research has deepened my understanding of molecular diagnostic techniques, which are increasingly important in the health care field and are important for me to understand as a health care professional."