Anthropology, Biomedical Engineering and History Professors Receive Cutler Awards
The University of South Dakota College of Arts & Sciences has awarded three faculty members the 2022 Richard and Sharon Cutler Faculty Awards in Liberal Arts. This year's recipients are Zhongkui Hong, Ph.D., (biomedical engineering), Tony Krus, Ph.D., (anthropology) and Sara Lampert, Ph.D. (history). The Cutler Awards are presented annually to faculty members who advance liberal arts education through teaching and research over a three-year span.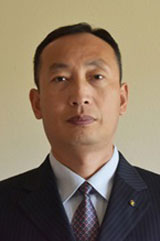 Zhongkui Hong, the recipient in the Mathematics/Natural Sciences Division, is an associate professor in the Department of Biomedical Engineering. A member of the USD faculty since 2015, Hong's research program focuses on the biomechanics in cardiovascular disease; cell dynamics, cell migration, and their clinical relevance; and biomaterials, tissue engineering, and regenerative medicine. He has earned several grants to support his research from the American Heart Association, National Institutes of Health, National Science Foundation and the S.D. Board of Regents. Hong has taught three sections of the Introduction to Biomechanical Engineering course. Other classes he teaches include Quantitative System Physiology II, Introduction to Biomechanics, and Integrated Science III–Cellular and Molecular Biology. Hong also mentors master's and doctoral level students and oversees undergraduate students as they perform summer research projects in his lab.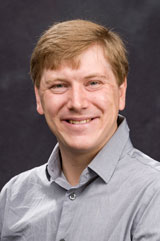 The award in the Social Sciences Division of the College of Arts & Sciences goes to Tony Krus, assistant professor of anthropology in the Department of Anthropology and Sociology. Krus joined the USD faculty four years ago. He teaches entry- and upper-level anthropology courses that include Introduction to Archaeology, World Regional Geography, South Dakota Prehistory, Anthropology of Violence and Collapse of Societies. He also heads the Susan Tuve Archaeological Field School, which is focused on the survey and excavation of several 19th century sites in Clay County, South Dakota. Krus's research focuses on the development of archaeological chronologies with computational methods, often with an emphasis on understanding the relationships between ancient societies and the environment. While at USD, he has served as principal investigator or co-principal investigator on two National Science Foundation grants.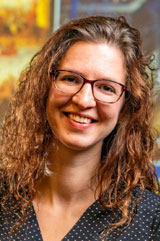 Sara Lampert, associate professor in the Department of History and coordinator of the Women, Gender & Sexuality Studies Program, is the recipient in the Humanities Division. Lampert has taught courses in American history and women, gender and sexuality studies since coming to USD in 2013. Her approach to teaching fosters engagement and analysis in the history and gender-studies classroom by emphasizing inquiry, critical dialogue and skill building. Content in her courses include experiences and perspectives of people from historically marginalized groups, and address issues of power and identity today and historically. As a researcher, Lampert studies history of women, gender, and popular culture. In 2020, she published "Starring Women: Celebrity, Patriarchy, and American Theater, 1790-1850," which examines the lives of women entertainers in an industry dominated by the interests of fathers, husbands, and male powerbrokers. She also organizes the biennial Women, Gender & Sexuality Studies Conference at USD, which welcomes scholars from around the world to present their research and creative activities around a central theme. The conference demonstrates Lampert's approach to humanities as a lifelong practice of inquiry, research, and making connections.
The Cutler Awards were endowed in 2003 by Richard and Sharon Cutler of Sioux Falls. A former member of the board of directors of Senior Companions of Sioux Falls, Sharon Cutler has been active in Sioux Falls community organizations. Richard Cutler (1941-2019) earned a B.A. in history ('63) and a J.D. ('65) at USD, and was awarded an honorary doctorate by the university in 1997. He has been chair of the USD Foundation, co-chair of Campaign South Dakota, and chair of the board of trustees of the National Music Museum. He was a founding partner of Cutler Law Firm in Sioux Falls.