Catching Up With Amy Scarmon, Child and Adolescent Forensic Interviewer for U.S. FBI
As a child in tiny Nunda, South Dakota, Amy Scarmon didn't know exactly what she wanted to do when she grew up—only that she wanted to help people. Earning a psychology degree from the University of South Dakota in 1996 was a first step in that direction.
Now a child and adolescent forensic interviewer with the FBI in Sioux City, Iowa, Scarmon fulfills her childhood mission by helping child victims of abuse.

"I've always wanted to be the helper, so this job really fills that need for me," said Scarmon, who also double majored in alcohol and drug abuse studies (now addition counseling and prevention) and earned a master's degree in counseling as well as a graduate certificate in non-profit management from USD. She started her FBI job in April after working at MercyOne Siouxland Child Advocacy Center since 2003, the last four years as the center's director.

"The work I do at the FBI is really a continuation of the work I did at the Child Advocacy Center," Scarmon said. "I have spent my whole career at the Child Advocacy Center interviewing victims of abuse, even while working as the manager. As an interviewer, we receive referrals from all levels of law enforcement—local, state and federal—to interview children related to their cases."
At the FBI, Scarmon's service area includes Iowa, Nebraska and South Dakota.

The work is challenging, Scarmon admitted.
"I don't think this kind of work is right for everybody, but for me, it's been very fulfilling," she said. "We make an important difference in the lives of the children and families we work with."
The mental health professional is no stranger to hard work. As an undergraduate student, she held a long-term work-study job at the USD personnel office. "I loved it," Scarmon said. "We had a whole group of us that started as freshmen and worked for the entire four years. We had a lot of fun. They used to send us down to the basement to work with really old musty files. They called it the dungeon."

Less moldy memories involve meeting her future husband Manny Scarmon ('96 B.S., Criminal Justice and Psychology), and enjoying her psychology classes, especially abnormal psychology. Her oldest of three children followed in her parents' footsteps and started classes in health sciences at USD in fall 2021. As Coyote superfans, the Scarmons are a regular sight at home Coyote football and basketball games.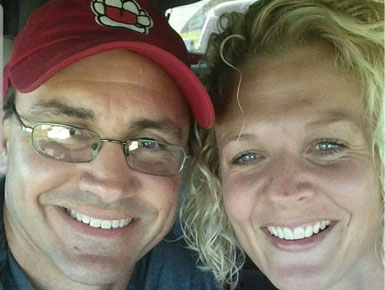 Advances in the field of child advocacy keep Scarmon on a path of continuous learning. "A more recent focus is being trauma-informed, so we don't further traumatize children," she said.

Cultural sensitivity and staying current on technology's role in abuse are other key factors in their organization's mission. "We work with levels of law enforcement all the way up to the FBI. Those federal cases tend to involve things like child pornography via the Internet," she said. "It's a lot to keep up with the different way to communicate online."

This challenging job requires the right skills and mindset, Scarmon said. "You have to embrace the fact that we get a little piece of these kids' lives and we do everything we can do right by them in that moment.