Catching Up With USD Alumnus and Famed Amateur Boxer Jeffrey LeMair
While an undergraduate student at USD in the early 1970s, Jeffrey LeMair competed as an amateur boxer on a national and international level. Early in his freshman year, he realized that traveling back and forth from Vermillion to his hometown of Sioux Falls to train had started to take its toll.
"I was able to secure a room in the basement of Brookman Hall where I could hang a punching bag," LeMair said. "Then I put up little posters around campus trying to get sparring partners."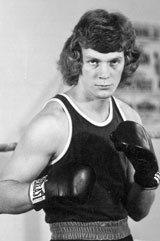 That plan worked for a while. But LeMair wasn't just any amateur boxer, he was one of the best in the region and the country. To compete at that level required training at a gym in Sioux Falls and traveling to competitions far and wide. The 1976 USD graduate with bachelor's degrees in sociology and criminal justice balanced schoolwork and boxing, going on to win honors that included nine District Golden Glove Championships, six consecutive Midwest Regional Golden Glove Championships and coming within a hair's breadth of competing in two Olympics.

LeMair accomplished much of this while working full-time as a counselor and caseworker at the Minnehaha County Juvenile Detention Center in Sioux Falls for more than 41 years. He hasn't boxed since 1980 but keeps up his athletic skills as a long-distance runner, completing 30 marathons and currently running in ultramarathons at the age of 68.

USD holds fond memories for LeMair, who admits to coming from O'Gorman High School in Sioux Falls with less-than-stellar study skills. USD's criminal justice program, which was then transitioning from a two-year associate degree to a four-year degree, seemed a good fit. LeMair had already experienced the juvenile justice system firsthand as a kid. "I had to get an exemption from house arrest to go to my first boxing practice," he said.

Under the tutelage of his beloved first coaches—Jerry Hunter at the Sioux Falls Boys' Club and his older brother Greg LeMair—boxing taught the young student discipline, which he also brought to his college classes. An internship at the county juvenile detention center, where he eventually made his career, furthered LeMair's interest in focusing on crime prevention. Course credits added up to enough to earn a degree in sociology as well as his criminal justice associate degree, so LeMair hung on to earn his bachelor's in that discipline as well.

Some of his professors were as intimidating as his opponents in the ring.
"Dr. Farber was intimidating. But I got through those classes with a lot of late nights of cramming."
Norman Heimstra, from psychology, not only was one of LeMair's professors but also a former boxer in his military days. When he saw LeMair's posters around campus, he became an ardent supporter of his student as a pugilist. With Heimstra's son competing as well, the professor traveled with the young fighters and helped them fundraise to compete in bouts in other states.

While attending USD and after graduation as a juvenile detention center staff member, LeMair worked with his brother and coach, Greg LeMair, former Golden Glove Champion. On a national level, he teamed with National Golden Gloves Hall of Fame coach Harley Cooper of Omaha. "Greg and Harley were my coaches for all six National Golden Glove Championship tournaments, including my knockout of a national champ in 40 seconds and my decking of Sugar Ray Leonard," he said. "They took me to a higher level."

One impressive honor offers a redemption story as well. "I went on to be the National Police Athletic League Welterweight Champion in 1979," LeMair said. "The same Sioux Falls Police force that supervised me on probation at age 13, sponsored me to the tournament as an adult, and I brought home the title."

LeMair came heart-breakingly close to qualifying for the 1976 Olympics in Montreal. The 1980 Olympics brought another kind of heart break when the U.S. boycotted the games in Moscow to protest the Soviet invasion of Afghanistan.

Prior to the games, LeMair had taken a leave of absence from his Sioux Falls job to take part in the Olympic Job Opportunities Program, where athletes work at full-time jobs that offer time off for training. South Dakota Sen. Larry Pressler's office offered LeMair a position through this program in the U.S. Senate mailroom. He also served as the Amateur Athletic Union's boxing representative to the Olympic Committee and was asked to the White House with other representatives the day before President Jimmy Carter announced the boycott. "Learning that the Olympics, which I trained my whole life for, were being boycotted, that was tough," LeMair said. "It was a sad day at the White House."

That disappointment was part of what led LeMair to leave boxing competition. Running became his new sport, with ultra-marathons his race of choice in recent years. In 2020, at age 66, LeMair completed his first 100 miler. He is registered for more ultra races in 2022.

LeMair has earned significant recognition for his athletic achievements, including induction into three halls of fame, but he remains most proud of his two children and five grandchildren, who call him "Grandpa BoomBoom."

His biggest regret regarding his alma mater is never taking a class with one of USD's most cherished criminal justice professors. "I got in line for registration too late to get in a class with Dr. Mike Roche," he said.