Department of Computer Science to Host Lecture on ChatGPT
On Friday, March 3, from 12-1 p.m., the University of South Dakota Department of Computer Science will host a Brown Back Lecture Series talk titled "Demystifying Transformers – The Architecture Behind ChatGPT." In this talk, Rodrigue Rizk, Ph.D., assistant professor of computer science, will explain how ChatGPT is used in simple terms.
In his presentation, Rizk will provide attendees with a clear and accessible introduction to these technologies, even for audiences who may not be familiar with artificial intelligence (AI). He will also dive into the potential implications of ChatGPT and transformers for the future of AI and human-machine communication.
"I hope that my talk will provide a useful introduction to the topic of ChatGPT and transformer models and spark the curiosity and interest of the audience in learning more," Rizk said. "Learning more about ChatGPT and transformer models can provide people with a deeper understanding of the future of AI, create new opportunities for professional development and be a rewarding personal pursuit."
Rizk has an extensive background in AI and experience in the field of natural language processing and transformers. He received his M.S. and Ph.D. degrees in computer engineering from the University of Louisiana. Some of his many research interests include AI, data science and analytics, data privacy and security, emerging technologies and more.
Rizk has also collaborated actively with researchers in several other disciplines of informatics, computer science, and engineering, ranging from theory to design to implementation, and has published several research papers in top-tier conferences and journals.
The event will take place in Patterson Hall room 117 and is free and open to the public.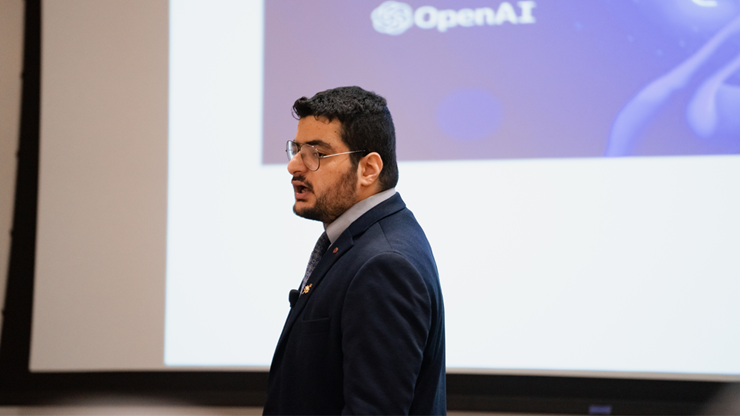 ChatGPT has quickly become the buzzword of 2023. With its ability to understand and generate natural language, it has the potential to change the way we interact with technology and shape our future.