Faculty-Led Program Connects USD Undergraduate Students with Alumni in D.C.
The University of South Dakota Department of Political Science hosted a faculty-led program with 15 undergraduate students in Washington D.C. earlier last month.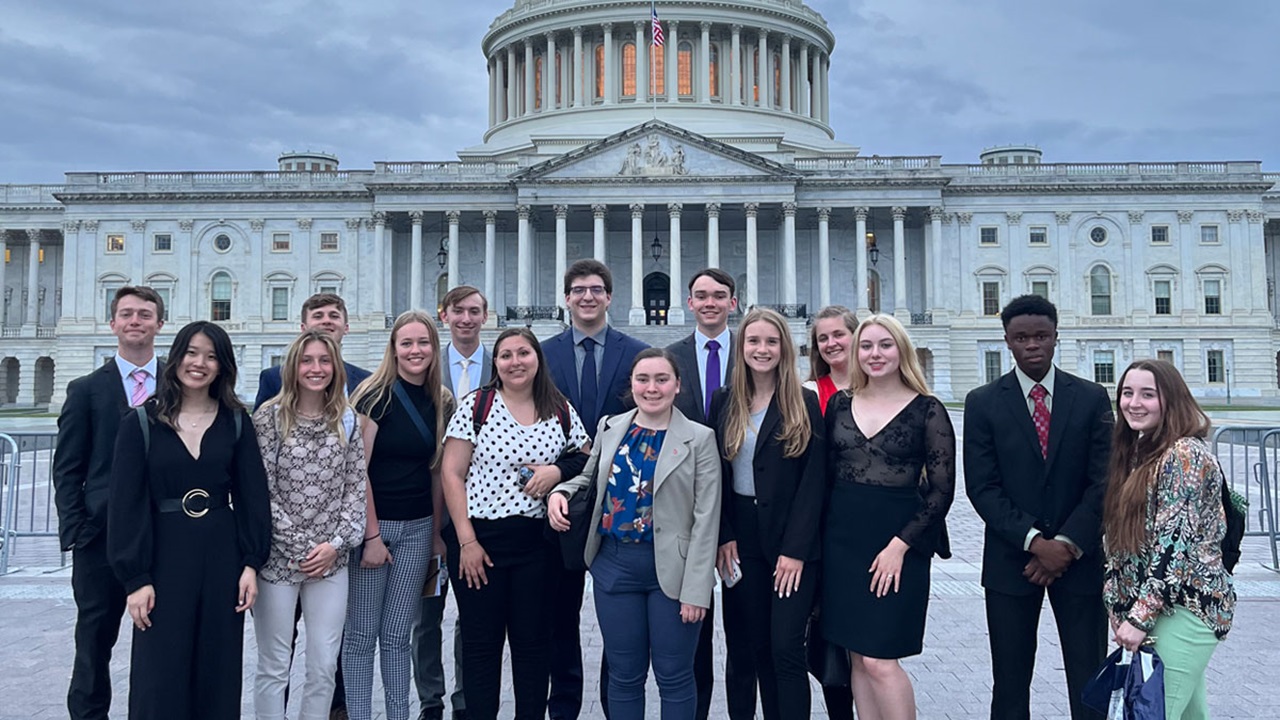 The program gave students the opportunity to connect with several USD alumni, including Josh Sorbe '20, press secretary for the U.S. Senate Judiciary Committee, Abuk Jiel '21, education coordinator at Consumer Bankers Association, Mary Sue Bissell '78, president of the U.S. Asia Institute, Logan Hollers '07, '10, director of Invariant, and Dusty Johnson '99, a U.S. representative, among others.
The program included a reception in the U.S. Asia Institute where students and alumni came together to network and celebrate their USD-based connection. The students also experienced D.C. culture and participated in team building. This year, the group attended a tour of the Capitol led by Rep. Dusty Johnson.
Host of the program, Tom Mrozla, Ph.D., assistant professor of criminal justice, said the annual program allows students to see firsthand the careers they could pursue after graduation. They also learn soft-skills such as communication, adaptability and time management.
"It helps them get their foot in the door in a very competitive environment," Mrozla said. "They are able to grow professionally and build their network of contacts."
Michael Wagenaar, a junior majoring in political science, said the program helped him get a clear picture of potential life after college. "My biggest takeaway is that there are more opportunities to work in D.C. than just on Capitol Hill," Wagenaar said. "It's a great networking opportunity to make connections if you want to intern or eventually work out in D.C. for or with alumni."
Upon completion of the program, students earn a total of 3 credit hours and are encouraged to write a paper summarizing their experiences.
"It is important for students to figure out not only what they would like to do but also why they want to do it," Mrozla said. "The D.C. program helps them answer these important questions. One day, current students will pay it forward to future Coyotes as others have done for them."