Let's Talk About the Humanities
Perhaps you finished a book such as Pride and Prejudice with a greater understanding of how even someone as likable and intelligent as Elizabeth Bennet could fall prey to her own bias against the aloof Mr. Darcy. You may even have learned from Jane Austen's 1813 novel to avoid quick judgements and question your attraction to the showy and dashing rather than the quiet and principled. But, dear reader, did you notice Austen's paltry attention to servants or agricultural workers at Longbourn? What did the Bennet daughters' desperate need to acquire husbands say about the legal institutions of Regency-era England?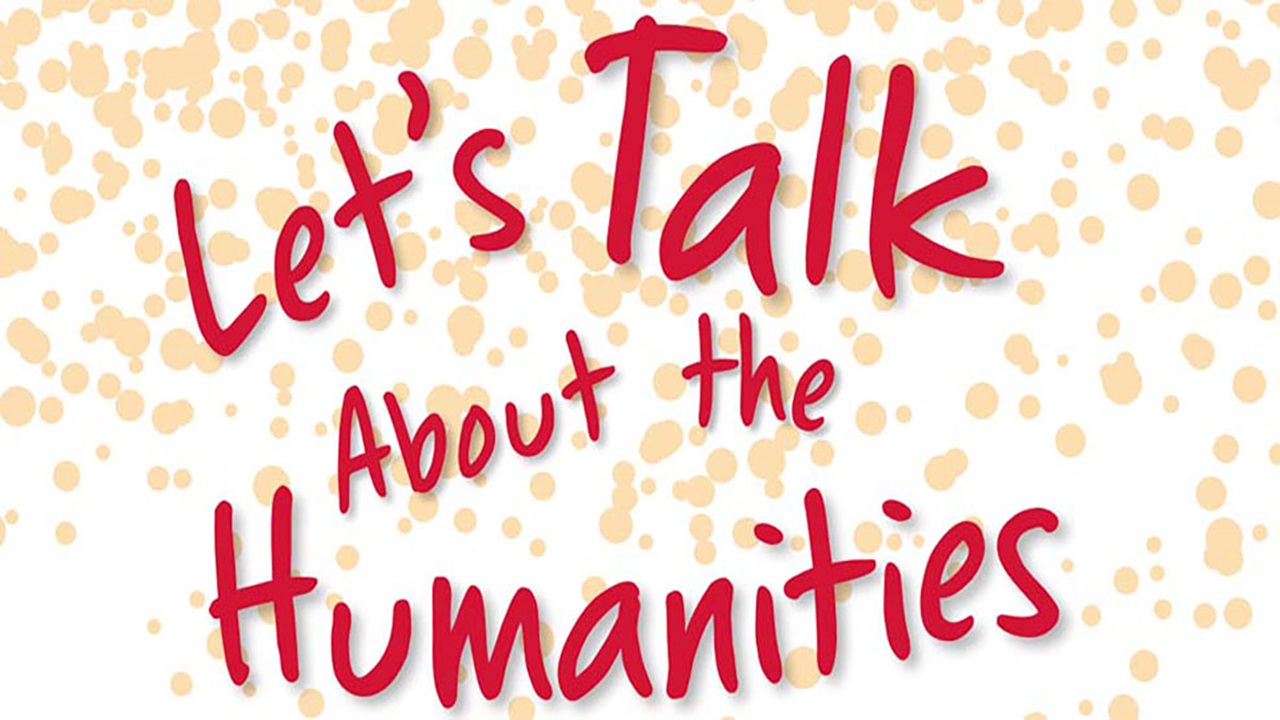 There is much to learn about ourselves and the world through studying a piece of literature, examining the worldviews and philosophies of Indigenous peoples, learning a new language or exploring rhetorical theory and criticism.
These pursuits allow us to gain insight into the human condition in all its variety and complexity, which is the ultimate goal of the academic disciplines that reside under the heading of the humanities. In the University of South Dakota's College of Arts & Sciences, the Humanities Division includes programs and courses in classical humanities, communication studies, English, history, modern languages and linguistics, Native American studies, philosophy, religious studies and women, gender and sexuality studies. These areas of scholarship are essential components of a liberal arts education and are crucial to the past, present and future of the University of South Dakota. In fact, in 1862, the legislature of the new state of South Dakota valued the educating mission of the liberal arts so highly that they established USD as the only public liberal arts university.
The humanities are woven throughout the history of USD and the College of Arts & Sciences. Just a few highlights: USD is home to the state's only doctoral program in English and graduate program in history, while also housing one of only two graduate programs in communication. Since 1963, the quarterly journal South Dakota Review has published compelling fiction, poetry, essays and other literary works. Thousands of recordings of Native Americans, Europeans and African Americans residing in the Northern Plains from as far back as the 1890s constitute the holdings of the South Dakota Oral History Center.
Recently, The South Dakotan Arts & Sciences sat down with the chairs of the four humanities departments at the University of South Dakota to discuss how the humanities are taught and researched at USD, why they remain relevant at the university and beyond, ways USD provides educational and enriching humanities to the community and—the question on the minds of so many skeptical parents and students— can humanities graduates really get jobs?
The Humanities are Integral, Relevant
We can't confine the behavior and nature of humans to any area of life or academic study. The most basic scientific inquiry takes place in a lab with scientists hoping to further enlighten others in their field and to educate or improve the lives of the larger public. Economists study the rational and irrational behavior of humans and money. Anthropologists examine the lives of present and past peoples.
"The idea of the humanities being these distinct areas that are separate from science, social sciences and other areas is really an arbitrary accident, based on the history of academic institutions, not on any fundamental absence of humanity in other fields of study. Humans are engaged in and making decisions about all scholarly investigations and inquiry," says Jill Tyler, Ph.D., associate professor and chair of communication studies. "That's one reason why it's difficult to promote the humanities—they really aren't well separated from any other field of inquiry or academic discipline."
There is little intrinsic reason to separate history, literature and philosophy from biology, psychology, anthropology or any other field of study. The methodologies used to study and teach the humanities, however, are distinct from other more empirical disciplines. Humanists examine and compare societies, cultures and languages, critique artistic and cultural production and analyze how humans interact with their environment and with each other currently and in the past. They also speculate about how humans might interact in new environments, whether those be social, technological, environmental, legal or political.
This different way of examining our world results in insights transferable to any discipline or career. David Burrow, Ph.D., associate professor and chair of history, uses his class on pirates to demonstrate the relevance of thinking outside one's own experiences to students in their professional lives after graduation.
"The humanities encourage you to think about what it's like to not be you. The chances are good that 21st-century 20-year-olds are not going to find themselves stranded on a sailing ship in the middle of the Caribbean during a mutiny," Burrow says. "Through a course like this, students learn what other people want and how they engage and that there are a lot of different ways to do both."
This awareness is applicable to any situation—a businessperson marketing a product, a lawyer persuading a jury or a doctor examining a patient. It's no surprise that "medical school curriculums now incorporate more information about interacting with patients and ethics," Burrow says. "A doctor may know the exact type of skin lesion but that doesn't tell you how to talk to a panicky patient who has one and needs to get the proper medical care."
Engaged and Responsible Citizens
A capacity for empathy, an ability to examine political issues and leaders critically, the knowledge to weigh facts and opinions— educational systems in democracies hope to foster these traits in their students. The study of the humanities gives students vital practice in using these ideas.
Rob Turner, Ph.D., associate professor and chair of modern languages and linguistics, recalls a recent discussion with his neighbor bemoaning the state of online discourse, where individuals hiding behind a screen feel like they have the right to behave in ways they would never act when face-to-face. Early 17th century Spanish dramatist Tirso de Molina explored this same phenomenon during the Golden Age of Spanish theater, notes Turner.
"A few years ago, I spoke at a Humanities Research Forum (see below) comparing Tirso de Molina to Lady Gaga as a jumping off point to talk about disguise and the power and danger of anonymity," he says. These are issues we still grapple with today.
"The humanities are oftentimes the gateway to activities or interests that students will engage with for the entirety of their lives." - Darlene Farabee, Ph.D., associate professor and chair of English
"What is your online persona versus your real self? How do you behave in front of your parents versus in front of your peers?" Turner asks. "These are things that are very pertinent and help us describe and decide who we are and who we want to be."
What greater test of our values and critical decision-making skills than a worldwide pandemic? Experiences during the 1919 influenza pandemic provide examples to follow or avoid. Reading Plato could urge us toward social cohesion and civic unity. Effective communication that allows for nuance and considers different points of view can create an atmosphere of trust.
Especially in challenging times, the humanities give us a shared space to speak to each other and work together to understand and solve problems, says Turner. "If we're locked into our own experiences, we don't have the same ability to speak across cultures and understand that the problems we face are in many ways the same problems we faced 1,000 years ago," he says. "What does it mean that different countries across different generations have the same concerns? The humanities do a really good job of allowing us to see patterns that are not visible otherwise."
Humanists also have a keen eye for vetting sources of information, an increasingly difficult task in the digital age. Several courses taught by Darlene Farabee, Ph.D., associate professor and chair of English, require students to make at least one trip to the USD Archives in the I.D. Weeks Library and receive in-depth guidance on research techniques. The past year has put extra emphasis on identifying trustworthy information, she says. "This last semester, while I was teaching a Shakespeare course and an Honors seminar, we spent a lot of time thinking about what makes a reputable but non-scholarly source and the ways you go about making those kinds of determinations."
Gateway to an Enriched Life
Students may not know what they want to study as they enter college, but the very act of pursuing higher education shows a desire to achieve greater understanding of their lives and the world. Humanities classes set the stage for lifelong learning.
"The humanities are oftentimes the gateway to activities or interests that students will engage with for the entirety of their lives," says English's Farabee. "Their humanities work provides the awareness of what kinds of possible enrichment they can get from being in a book club where they read novels, visiting someplace with a local history museum, or even traveling to a foreign space."
Beyond enjoyment of cultural and artistic pursuits, an education that probes ideas such as moral complexity, societal differences and inequality aids graduates as they face life's inevitable challenges, says Communication Studies' Tyler.
"Perhaps your child is going to marry someone from another country. The humanities will give us a way of thinking about that," she says. "Or we will have to make decisions when our child or our parent is ill. These decisions may be based on science and on our personalities, but will in large part be based on what we believe is true and moral and right. The humanities give us the language and the dispositions to think about these really hard questions that are not connected to our careers necessarily, yet are very likely to be important parts of our lives."
Ready to Work
The latest comprehensive data on employment for those with humanities degrees comes from the American Academy of Arts & Sciences' analysis of U.S. Census Bureau data from 2018. The State of the Humanities 2018: Graduates in the Workforce and Beyond project showed that humanities graduates are indeed employed and their earnings increase over time to become closer to those who graduated with degrees in fields such as engineering. Furthermore, median earnings for individuals with terminal bachelor's degrees in humanities ($58,000) were 66% higher than those of workers with only a high school diploma ($35,000).
Employers also want workers with the skills humanities graduates possess. When Forbes magazine asked 10 executives to share the top skills and abilities they will be looking for in potential hires in 2021, they listed "comfort with ambiguity," "critical thinking" and "continuous learning" among the top attributes. These abilities are precisely those emphasized through a study of the humanities, the USD humanists say.
The way a faculty member structures and delivers information in the humanities classroom encourages students to create connections, see patterns and form judgements, according to Communication Studies' Tyler.
"When you take a humanities class, there's a good chance that you are sitting and listening to a carefully crafted argument from an expert that might last 45 or 60 minutes," Tyler says. "Sustaining one's attention, hearing an argument where you are taking in and evaluating facts that have been carefully arranged, and then doing the work that ties those things together—those are three of dozens of skills one needs when thinking critically."
Modern Languages and Linguistics' Turner points out the concrete skill of students who graduate from his department. "You come out speaking another language," he says. "But the undergirding aspect of that is we teach students to understand and navigate multiple cultures and also have a broader view of what the world looks like." A doctor who treats Spanish speaking patients surely benefitted from her language studies, but so has the doctor who treats a woman from a conservative culture that espouses body modesty.
Tyler adds that STEM programs ranging from engineering to medicine have added communication components to their curriculum, largely to give their students preparation for the non-technical aspects of their future careers. "Perspective taking, complexity, persuasion, storytelling—these are the kinds of skills people will need to have in their professions."