Mandy Williams Earns Tremere Service Award
Mandy Williams, Ph.D., a speech language pathologist and an associate professor in the Department of Communication Sciences & Disorders, is the 2022 recipient of the Blair and Linda Tremere Faculty Service Award. This award is presented annually to a member of the College of Arts & Sciences faculty who has demonstrated outstanding public service to the local community or to the state of South Dakota.
Williams joined the faculty at USD in 2007 and has engaged in numerous public service projects to improve the lives of people who struggle to communicate. She took on these projects in addition to her teaching, clinical and research activities at the university.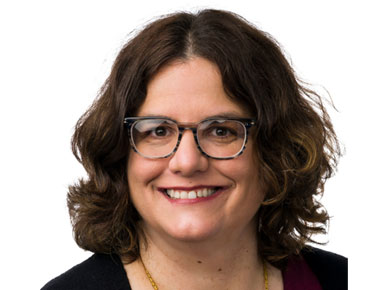 In August 2021, South Dakotan Gov. Kristi Noem appointed Williams to serve on the South Dakota Board of Examiners for Speech Language Pathology. The board of examiners protects the health and safety of the public by overseeing the licensure of qualified speech language pathologists and speech language pathology assistants. The board also serves the public by providing a forum for people to lodge complaints about negligent speech language pathology services.
"I was honored to be appointed to this role as it gives me the opportunity to serve the citizens of South Dakota and the practicing Speech Language Pathology professionals within the state," she said.
Williams also serves as a speech language pathologist ambassador representing the state of South Dakota on the American Speech-Language Hearing Association Committee of Ambassadors. In this position, she worked at the national and state legislative levels to advocate for people with communication disorders. "It is my hope that by advocating for people with communication disorders and their unique health care and educational needs, it will lead to an increase in public awareness and support of important legislation," said Williams.
Working with a USD student who stutters, Williams volunteered to co-lead a chapter of the National Stuttering Association support group, which aims to benefit people who stutter by helping them share their experiences and struggles with stuttering.
"I have been working professionally with individuals who stutter for 20 years and co-leading the support group meetings has been a rewarding way to provide support to the stuttering community," she said.
The Blair and Linda (Schuller) Tremere Faculty Service Award was established in 2011 by Blair and Linda Tremere of Golden Valley, Minn., to encourage and recognize the valuable role that Arts & Sciences faculty play in the lives of their communities and state. All tenure-track and tenured faculty in the College of Arts & Sciences are eligible to receive the award. Linda (Schuller) Tremere is a 1970 alumna from the USD School of Business (B.S., Accounting) and a native of Amherst, S.D. Blair Tremere, a Sioux Falls native, is a 1968 alumnus from the USD College of Arts & Sciences (B.A., Government/Journalism) and received his M.A. in Public Administration from USD in 1971.