Research Opportunities at USD Lead Recent Graduate to Position as Grant Projects Coordinator
Recent University of South Dakota graduate Mattie Jones just stepped into her position as a grants project coordinator with The South Dakota Network Against Family Violence and Sexual Assault. She was led to a career in this area through the research she completed at USD.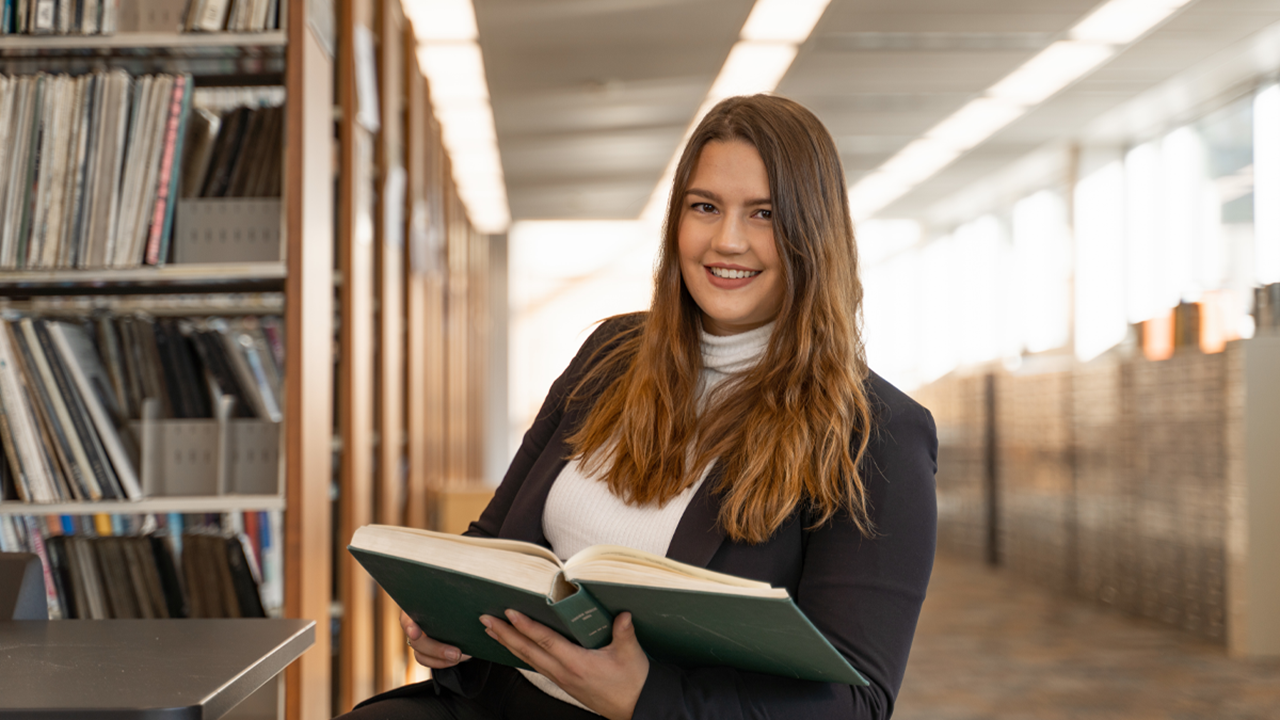 As an undergraduate researcher, Jones spent over three years researching the effects of trauma on victims of sexual assault and the importance of victim-centered and trauma-informed notification.
"My research adds to South Dakota's overall response to sexual assault," said Jones. "It encourages discussion about improving conditions and efforts for victims of sexual assault, both in the state and the country."
In the fall of 2019, Jones, alongside USD Director of Research and Innovation Bridget Diamond-Welch, Ph.D., started working on the Sexual Assault Kit Initiative (SAKI) grant. Administered by the Bureau of Justice Assistance, SAKI aims to create a coordinated community response that ensures just resolution in sexual assault cases.
"When I was a freshman in her criminology class, Dr. Diamond-Welch approached me with the opportunity to work with her on the SAKI grant," Jones said. "This opportunity started my path down research on sexual assault response."
Jones began her work on the SAKI grant by compiling an inventory of sexual assault kits that remained untested around the state. From there, she worked on research related to best practices for sexual assault victim notification, overviews of sexual assault tracking systems, analyses of mobile sexual assault exams and public releases about the progress of South Dakota's SAKI grant.
"I am very grateful for the opportunity to have worked on the SAKI grant for the past three and a half years," Jones said. "I have learned so much about the state, the research process and myself during this time. Also, I'm so thankful to Dr. Diamond-Welch and everyone who has mentored me through this research."
In addition to working on the SAKI grant, Jones has worked alongside co-researcher Brianna Zimmer, an undergraduate student at USD, to research the best practices for notifying victims of cold case sexual assault cases. The pair presented their research to major stakeholders in the state, including the Division of Criminal Investigation, Crime Lab and The South Dakota Network Against Family Violence & Sexual Assault, among others.
In the spring of 2022, Jones and Zimmer took the opportunity to present their research at USD's IdeaFest and at the Academy of Criminal Justice Sciences, an annual academic conference held in Las Vegas.
Jones has also published two academic pieces on her research. The first article reviews sexual assault kit tracking systems across the state and was published in the Sexual Assault Report. Her second article will be published in an edited volume reporting on the current knowledge around sexual assault kits.
"These two publications illustrate how Mattie's work crosses from applied to academic work," said Diamond-Welch.
To further her research, Jones completed two internships – one in South Dakota with the Department of Criminal Investigations during the summer of 2021 and one in Ireland with the Crime Victims Helpline in the summer of 2022.
"I am proud of the fact that our research serves to improve the state's response to sexual assault and adds to the discussion about improving conditions for victims of sexual assault," Jones said. "Overall, the opportunities and experiences I had as an undergraduate researcher shaped my college experience."