USD Biomechanics Researcher Tackles Everything From ACL Rehab to Exoskeletons
On any day, Lisa MacFadden, Ph.D., director of biomechanics research at the University of South Dakota, may find herself 3D printing a part for a prosthetic device, writing computer code that measures different forces on the human body or analyzing motion-capture footage of a golfer's swing.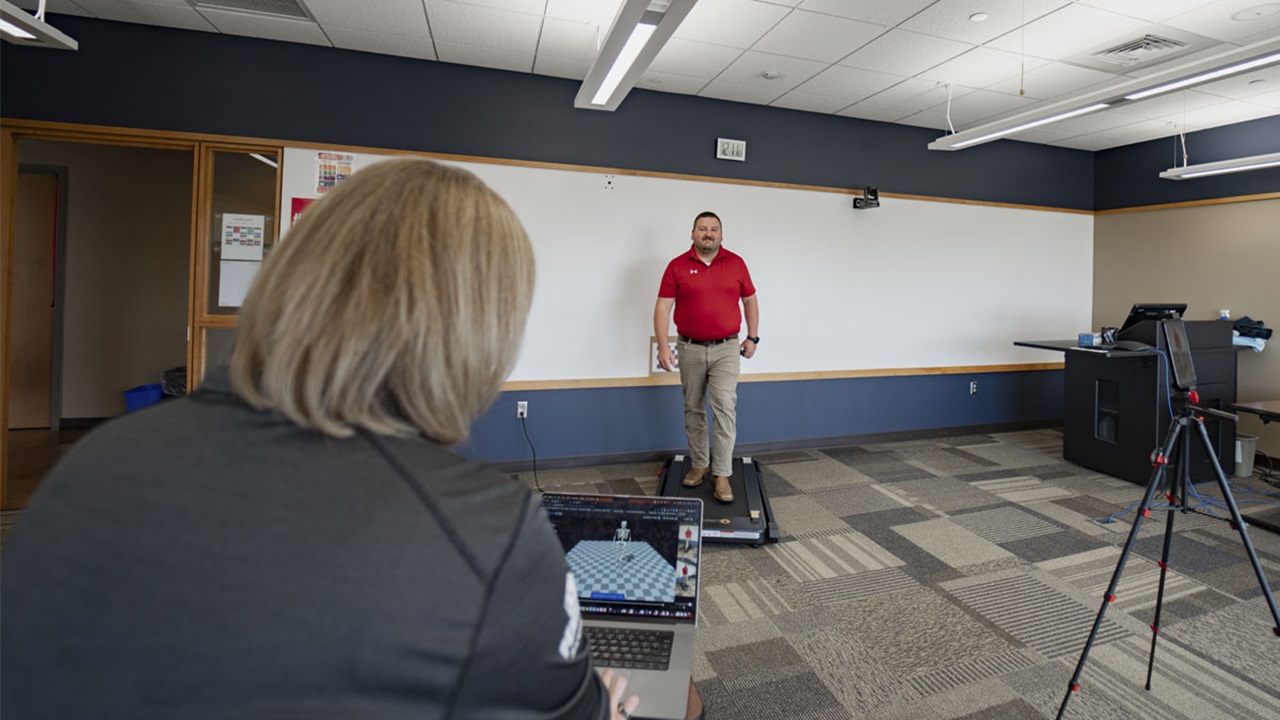 Her research plays a vital role in unraveling the complexities of human movement. Exploring how the human body moves, functions and responds to forces can help optimize performance, reduce injury risk and aid in rehabilitation.
MacFadden, who is also a professor of practice in the Department of Biomedical Engineering in the USD College of Arts & Sciences, works on biomechanics research projects with students and faculty in her own field as well as disciplines including medicine, kinesiology, physical and occupational therapy, human factors psychology and computer science.
This interdisciplinary research program suits MacFadden's approach to scientific discovery.
"What I love about biomechanics is it's so multidisciplinary and multifaceted," she said. "It really works best when you've got this team environment. Everyone brings different points of view, and everyone has different experiences."
MacFadden joined USD's Department of Biomedical Engineering as a full-time faculty member early this year after serving as an adjunct professor of biomedical engineering and kinesiology and sport management for the past six years. During that time, MacFadden was director of the Sanford Sports Science Institute in Sioux Falls, adding the title of enterprise director of engineering and applied sciences during her last two years at the organization.
While most students she currently works with are in the medical school or biomedical engineering department, USD students with an interest in human movement, injury prevention and rehabilitation, and prosthetics are also welcome in MacFadden's lab, which is located in USD's Graduate Education and Applied Research (GEAR) Center at USD – Sioux Falls.
Her students represent the varied aspects of biomechanics. "Biomechanical engineers may be very data-engineering driven, but then the physical therapy and the kinesiology side looks at the quality of movement," she said. "Medical students understand the clinical and injury outcomes."
In the summer, MacFadden worked on research projects with 12 students, many of whom used the GEAR Center's 3D printing lab.
Others may have an interest in using augmented reality and motion-capture technology to make new discoveries. Recent developments in artificial intelligence (AI) have made this type of tech-enhanced research more easily accessible to MacFadden and her students.
In the area of motion-capture technology, analysis that formerly required multiple cameras filming a moving body with numerous strategically attached markers now only requires an app and a smartphone camera.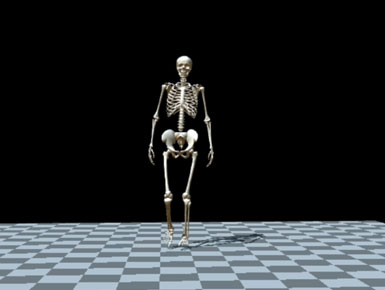 "There's a lot of technology coming out that leverages machine learning and AI and uses your smartphone or an iPad. This allows us to capture similar data at a fraction of the cost. Now you can have 3D motion-capture footage in the palm of your hand," MacFadden said. "The question is how good is that data? That's a project I'm working on with one of our medical students."
MacFadden recently collaborated with orthopedist Nathan Skelley, M.D., an associate professor in the Sanford School of Medicine and one of the team physicians for the USD athletics department. The two colleagues share an interest in exploring innovative and cost-effective approaches to solving orthopedic challenges.
Under Skelley and MacFadden's guidance, a medical research fellow and a medical student performed load testing on one of Skelley's inventions: a 3D-printed external fixator that stabilizes a broken bone. Produced in this way, a customized fixator will cost a fraction of a conventionally manufactured device.
In addition to directing biomechanics research, MacFadden teaches undergraduate and graduate students in the biomedical engineering department.
"What I really love is being able to make an impact in the world in so many diverse ways," MacFadden said. "I'm doing research while also teaching and mentoring the next generation. These people will be able to take their talents, their points of view and their unique ideas and turn those into technologies that make a difference."
The Next Generation
One of MacFadden's students who is looking to make a difference is Tommy Drazick, a fourth-year medical student who also graduated from USD with degrees in medical biology and Spanish in 2019.
A member of the Coyote swim team as an undergraduate student, Drazick said he always had an interest in anatomy and orthopedics. He quickly sought out research activities in his first year of medical school to learn more about the field and gain experience that would help him earn a residency in a notoriously competitive field. Drazick was able to access new research possibilities when he met MacFadden, Skelley and a research fellow working in 3D printing.
"I got really interested and saw how amazing 3D printing was," Drazick said. "Now I am piloting a 3D printing interest group."
The group, called 3D Printing for Medical Education and Innovative Care (3D MEDIC), is open to all medical students and currently focuses on how 3D printing can benefit orthopedic surgeons.
Drazick and other students in the group work with surgeons across the state offering their 3D printing expertise. He showcased the education project at three conferences this summer, including at an international medical education conference in Wales.
"It's a perfect opportunity for students to connect with surgeons," the medical student said.
This project would not have been possible without MacFadden's guidance, Drazick added. "Lisa has been vital to my success in medical school. She has connected me with at least five surgeons. And even if she's extremely busy, she always takes the time to hop on a Zoom call or text."
Another student working on research with MacFadden is Shania Rehmudin, who's in the biomedical engineering department's accelerated master's degree program.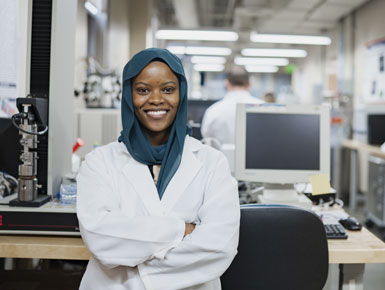 "Frankly, biomechanics was never on my radar at all," Rehmudin said. Her interest was piqued while working with MacFadden and learning about the capabilities of using motion-capture technology to create virtual environments for goals such as rehabilitation and training.
"I was like a kid on Christmas morning when I was introduced to the world of virtual reality," she said.
Rehmudin is at the beginning stages of developing a research project that may, for instance, help physical therapists work with a patient on techniques for bending and lifting as they practice the movement in the virtual world. She is open, however, to new directions her research may take her. "We'll figure out something really cool," she said. "Dr. Lisa is always so innovative. She always has new ideas, and I'm so excited to learn from her."
With newly acquired headsets and special cameras, Rehmudin will employ markerless motion-capture methods to bring a person's body movements into a virtual or augmented reality experience. The possibilities for this technology are vast and wide-reaching, she said.
"I want to use this technology to help the masses, to come up with a solution to a problem people have been trying to solve," said Rehmudin.
An Alum Takes the Field
Aaron Trunt '19, M.S., '22, Ph.D., is one of MacFadden's former students who has applied his research and classroom experiences at USD to his job as a biomechanist for the Chicago White Sox. He describes his position, which he started in February of this year, as a combination of data analytics and communication.
"We have a biomechanics lab where we record the movement of our pitchers and our hitters and look at ways they can be more efficient and, if they have an injury, get back on the field more quickly and avoid getting injured again," Trunt said. "There is a lot of data analysis and trying to figure out what information we can use on the training side with the athletes themselves, the training staff and the coaching staff."
Working on an MLB team had long been a goal of Trunt's, who earned his bachelor's degrees in math and kinesiology from Bemidji State University in his home state of Minnesota in 2017. When he researched graduate programs, USD's biomedical engineering program seemed a good fit for his combination of analytical skills and interest in movement of the human body.
His first year in the program coincided with MacFadden's inaugural year at the Sanford Sports Science Institute, and the two immediately started working together.
"They had collected some biomechanics data on golfers, and I jumped right into the research world and never looked back," Trunt said.
While earning his M.S. and Ph.D. at USD, Trunt also worked with MacFadden at the Sanford Sports Science Institute as a sports science specialist and biomechanical engineer.
The former three-sport high school athlete decided to focus on the biomechanics of baseball pitching injuries for his doctoral dissertation.
"Elbow and shoulder joints take a lot of stress from the pitch," Trunt said. Using motion-capture models of amateur and pro pitchers, his study focused on getting more accurate estimations of loads placed on the joints.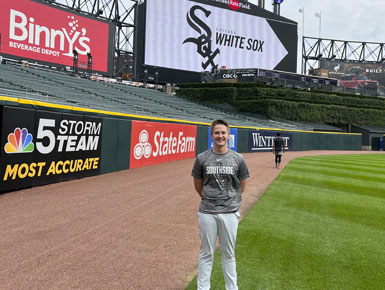 Trunt's study filled a gap in the existing research on baseball pitchers. "The way we were estimating these stresses wasn't super accurate. A small error in the estimations of those loads could lead to really big miscalculations."
At his current job with the White Sox, a new technology recently installed in all MLB stadiums gives biomechanists like Trunt even more data on which to base their decision-making. Each stadium now includes 12 high-frame rate, high-resolution video cameras that track ball and player movement.
"There is now more information from in-game biomechanics as opposed to the lab. A lot of my job this season is using that information," Trunt said. "You will never replicate exactly what players do in a game, so having that in-game data is much more valuable."
Trunt said his research conducted as a student in the biomedical engineering program at USD gave him not only the experience he needed to work at the highest level of professional sport, but also some personal insight.
"I can't stress enough how important it is to have a research project to call your own," he said. "The amount of work it takes from forming the idea to publishing a paper is beneficial for figuring out who you are as a student and how you learn."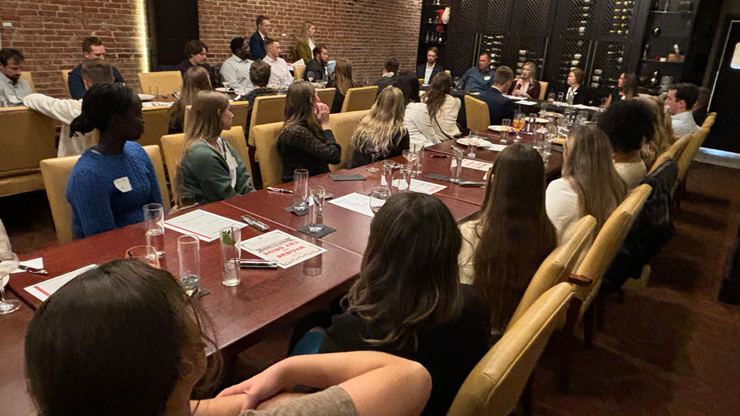 Earlier this month, the University of South Dakota Knudson School of Law's Health Law Society hosted a panel event, "Synergizing Medical and Legal Expertise for Elevated Patient Care," that brought together over 70 legal and medical professionals and students.
The University of South Dakota Knudson School of Law's Debtor-Creditor Club, a student organization established just this year, sent four students to the American Bankruptcy Institute Midwestern Conference at the University of Missouri-Kansas City last month.
Two former students of the University of South Dakota's Summer Program for Undergraduate Research in Addiction (SPURA) – Sophia Van Buskirk and Ahmed Nahian – recently had their research highlighted at the 2023 Symposium on Substance Use Research.