USD Math Professors Recall Grad Named Oklahoma Teacher of the Year
Rebecka Peterson, a math teacher from Union High School in Tulsa, Oklahoma, was named Oklahoma's 2022 Teacher of the Year this spring. Her experience as a graduate student in mathematical sciences at USD from 2010 to 2011 greatly influenced her approach to teaching, she said.
Peterson attended USD at the urging of her husband, a Sioux Falls native, after they met as undergraduate students at the University of Oklahoma. "When it came time to pursue our graduate degrees, he convinced me to venture up north, and I'm so glad we did," Peterson said. "I could not have asked for a better graduate school experience. USD prepared me both as a mathematician and as a teacher, as it was there that I taught my very first classes through my teaching assistantship."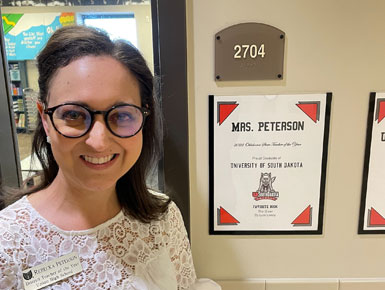 During her graduate assistantship, Peterson interacted with undergraduates in her College Algebra class and in the Math Emporium student-learning center. This work revealed an interest in helping students who approached math with apprehension.
"There was something so fulfilling in helping students through courses that they were initially intimidated by," she said. "While at the time I had no intention of teaching high school mathematics, looking back, I see how this assistantship was paving the way for what I now consider my life's joy and calling."
Peterson also remembers an interaction with math professor and chair Dan Van Peursem, Ph.D., as pivotal to framing her approach to teaching. She was one of a group of teaching assistants in the Math Emporium that once received a gentle reprimand from Van Peursem for sitting at their desks instead of walking around and asking students how they could help.
"That one talk was so revolutionary for me and is a pillar of my teaching philosophy," Peterson said. "I believe in doing math with my students, not in front of them. I believe math class should be relational and should encourage productive struggle. Once this kind of trust is built, I can convince my students that struggling in mathematics is no more the enemy than sweating is in football: it's proof you're in the game."
For his part, Van Peursem recalls Peterson as an enthusiastic student and teacher. "The thing I remember most about Rebecka was her bubbly personality," he said. "I just knew she was going to make a great teacher with her positive outlook and true passion for reaching students."
Two graduate classes that stuck out for Peterson were her Real Analysis class with Associate Professor Catalin Georgescu, Ph.D. and Biological Modeling with Professor Jose Flores, Ph.D.
These two professors return the praise.
"I can say with certainty that Rebecka was one of those students that make being an educator such a rewarding profession," Georgescu said. "She showed excellence in the classroom and had a charming personality and a real concern for her students."
Flores said he appreciated Peterson's participation in his classes. "Rebecka had that 'something,' that special spirit and dedication in mathematics that enhanced the teaching of the class," he said.
Peterson said she recognized her USD professors' passion for the discipline. "This kind of passion can't be forced. My students may or may not share my passion for mathematics, but they respect it nonetheless because I hope it's as evident to them as it was to me when I learned from the greats at USD."