USD Student Working on Various Sustainability Initiatives with City of Sioux Falls Internship
Jadyn Ford, a University of South Dakota student and Sioux Falls native, is helping drive sustainability initiatives in her hometown through an internship with the City of Sioux Falls Public Works in the Environmental division.
In her position, Ford, a rising senior majoring in sustainability and minoring in public health, works with the city's sustainability coordinator and environmental analysts. She develops communication, education and public outreach strategies aimed at engaging Sioux Falls residents in sustainability initiatives and events, including things such as assisting with the development of the city's long-term Sustainability & Climate Action Plan, the new Urban Agriculture Coalition and a future Sustainability Ambassador. Ford also assists the storm water staff with routine monitoring and data management, where she has been learning about environmental building regulations.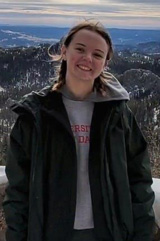 "I see the impact of this position as being a small piece to the giant puzzle that is planning a path for sustainable development in Sioux Falls and South Dakota as a whole," Ford said. "This internship has also helped me understand the city that I grew up in in a whole new way."

Ford's favorite part of her internship has been seeing and learning about the city's new green infrastructure projects, where sustainable infrastructure practices are strategically implemented in problem areas to handle weather events while also being appealing outdoor spaces to nearby residents.

While at USD, Ford has enjoyed the opportunities her major has given her, including taking courses in different subject areas like anthropology, economics, earth science and public policy, which have all been impactful to her in different ways. She has also been involved in the new Move-Out Program, which takes items like furniture, clothing, food and school supplies that would have gone to the landfill and donates them to charities in the community.

"USD, the sustainability program and Vermillion as a whole prepared me well for this internship because they taught me the importance of community," Ford said. "Sustainability work isn't always easy, but the community at USD taught me that we need each other to reach our goals and actualize the changes we want made."

While her plans after graduation are still undecided, Ford is interested in working with environmental and public health education and implementation, and her internship with the City of Sioux Falls is helping her get there.

"This internship is giving me extremely valuable experience working with each pillar of sustainability – social, environmental and economic – which is going to be useful no matter what I do in the future," Ford said. "I'm thankful to have this internship to get a practical understanding of how sustainability happens in the real world, especially in the hands of a local government."