USD to Host Third Annual AI Symposium
The University of South Dakota Department of Computer Science is set to host its third annual Artificial Intelligence (AI) Symposium on March 28 from 9 a.m. – 3:10 p.m. in person in Farber Hall, located inside Old Main, and livestreamed online.
It is free and open to the public, but registration is required.
The AI Symposium aims to unite AI and data engineering experts in academia, industry and government around current issues and areas of collaboration where AI-driven tools are in demand due to big data issues, such as in health care, cyberthreats, quantum computing, sustainable agriculture and risk management.
"In days past, our ancestors worried about improving literacy rate, but today our focus is to make everyone aware of AI tools and their potential benefits in all cases, from health care to agriculture to finance," said KC Santosh, Ph.D., chair of the Department of Computer Science and founder and co-chair of the symposium. "Meaning, AI is the dealbreaker, regardless of the sources of data."
The AI Symposium is sponsored by the USD Department of Computer Science, Department of Mathematical Sciences, Department of Physics, and College of Arts & Sciences. The symposium was organized by Santosh, Dan Van Peursem, Ph.D. chair of the Department of Mathematical Sciences, and Joel Sander, Ph.D., graduate program director in the Department of Physics.
"Mathematics is happy to help coordinate and promote the upcoming AI Symposium," said Peursem. "AI is one of the fastest growing fields in the data industry, and it is important we expose our students to what potential career opportunities are in this exciting new field."
In addition to three keynote speakers, the symposium includes a series of flash talks given by three USD professors focused on the theme "AI is the Dealbreaker."
Keynote speakers include Jyotika Athavale, Amy Roberts and Mohan S. Gundeti.
Jyotika Athavale, Institute of Electrical and Electronics Engineers (IEEE) Computer Society president elect and lead technologist – functional safety at NVIDIA, will begin her talk at 9:30 a.m. titled "Functional Safety and Soft Error Rate Modeling for Deep Learning Applications."
With over 25 years of industry experience, Athavale is currently a senior technical leader in automotive functional safety at NVIDIA, and is driving capability development, safety architectures and methodologies, system safety engineering activities and pathfinding for safety critical markets such as autonomous driving and avionics. Prior to NVIDIA, she was principal engineer (director) at Intel Corporation where she led functional safety platform architectures for automotive and avionics use cases and drove methodologies for radiation effects modeling and product qualification activities.
Amy Roberts, Ph.D., an assistant professor in the physics department at University of Colorado Denver, will begin her talk at 10:30 a.m. titled "Increasing Trust in Dark Matter Results."
At the University of Colorado Denver, Roberts listens for "dark matter" with ultra-cold detectors. Although gravitational measurements suggest this "dark matter" makes up fully 80% of the universe's mass, it has never been directly detected. Roberts is a member of the Cryogenic Dark Matter Search collaboration (SuperCDMS), which specializes in sensing the faintest possible signals from highly sensitive phonon detectors. Her work focuses on understanding detector response at low energies, novel signal analysis, and building software tools that make data and analysis accessible to all scientists.
Mohan S. Gundeti, M.D., a professor and chief of pediatric urology at the University of Chicago: Comer Children's Hospital, will begin his talk at 12:50 p.m. titled "Congenital Urological Anomalies and AI What's the Future."
Gundeti is an acclaimed innovator and pioneer in the field of pediatric robotic surgery. He is credited with some of the first procedures performed in the world. In addition to being a compassionate surgeon, he frequently shares his knowledge through worldwide surgical workshops and lectures, which have benefited thousands of patients and surgeons across the world. He is a dedicated educator and continues to teach at the University of Chicago and worldwide. He has authored and edited several manuscripts and textbooks of pediatric and robotic urological surgery to reach a global audience.
His work has received accolades from the American and European Society of Urology, including the prestigious Hans-Marberger award and the Best Doctor in Chicago award for numerous years. Alongside his brothers, he co-founded the Gundeti Foundation to provide health care to underserved populations in India.
To end the day, USD professors Dongming Mei, William C.W. Chen and KC Santosh will each give a flash talk on the theme "AI is the Dealbreaker."
Dongming Mei, Ph.D., a professor in the Department of Physics and director of CUBED, will discuss "AI-Powered for Materials Discovery." Mei joined USD in 2006 after obtaining a Ph.D. from the University of Alabama in 2003 and completing a three-year postdoc at Los Alamos National Laboratory. His research focuses on underground nuclear and particle physics in search for rare physics processes beyond the Standard Model of physics.
William C. W. Chen, M.D., Ph.D., an assistant professor in the Division of Basic Biomedical Sciences at the USD Sanford School of Medicine, will discuss "AI – A Key for Next-Generation Cardiovascular Regenerative Medicine." Prior to joining USD in 2021, Chen was a research scientist at the Massachusetts Institute of Technology (MIT). Using synthetic, systems and computational biology principles and toolkits, the Chen group at USD focuses on developing and translating next-generation diagnostic and therapeutic technologies for cardiovascular disease and regenerative medicine. Chen's research is currently supported by the American Heart Association and the Department of Defense.
KC Santosh, Ph.D., chair of the Department of Computer Science, will discuss "AI is Your Future – Active Learning, Big Data, Carbon Footprint, Sustainable AI/Green Computing." Prior to his time at USD, he worked as a research fellow at the National Institutes of Health. With over $1 million in funding, more than 220 peer-reviewed research articles and nine authored books, Santosh has demonstrated his expertise in artificial intelligence, machine learning, computer vision, data mining and big data. He serves multiple prestigious journals as an academic editor and an associate editor. Santosh is highly motivated and interested in academic leadership. Learn more about Santosh at https://kc-santosh.org.
To learn more about the AI Symposium and to register, visit link.usd.edu/AI-Symposium.
Oleksandra "Sasha" Lukina, a rising senior majoring in physics at the University of South Dakota, remembers hearing about a group's ground-breaking scientific discovery and their subsequent Nobel Prize award in 2017. Now, she's learning alongside them.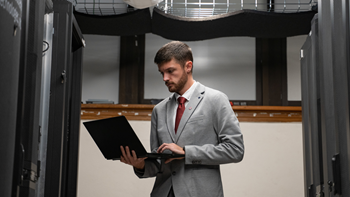 University of South Dakota student Hugo Morvan, a senior majoring in computer science and minoring in mathematics and physics, has been researching the impact of artificial intelligence (AI) in detecting COVID-19.