A Conversation with the Leader of the Band: Scott Lawrence
USD alumnus Scott Lawrence has had a rather unique journey from high school band director to president and CEO of one of the region's most successful advertising agencies.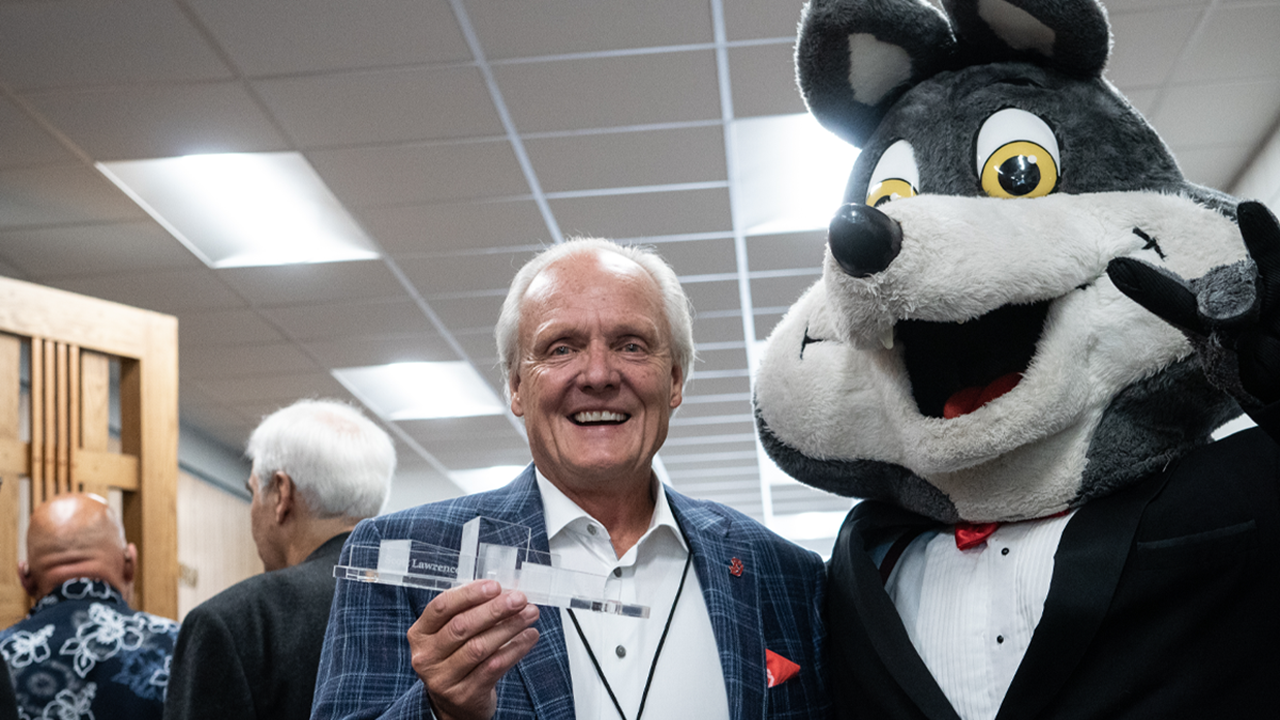 Lawrence earned his BFA in music from the University of South Dakota in 1978, and then he went on to become a highly successful high school band director for Marion and Wakonda in South Dakota. In 1984, he joined Lawrence & Schiller, where he quickly rose from an account executive to the director of account service. Then in 2002, he became agency president and CEO, leading the charge to reorganize the agency into an innovative team model that has led to higher performance and enhanced client service.
He authored a book titled "The Leader Of The Band," in 2018, reflecting on the leadership lessons and experiences he's collected throughout his life. In 2022, he was named the South Dakota Sales and Marketing Executive of the Year by Sales & Marketing Executives of Sioux Falls and was also inducted into USD's College of Fine Arts Hall of Fame.
Lawrence gives back to the state of South Dakota in many ways, serving as vice chair of the Sioux Falls Chamber of Commerce Board, the chair of the National Music Museum Board of Trustees and the former chair of the South Dakota Symphony Orchestra, a position he held for nine years.
We asked the leader of the band about his leadership philosophy, his work at Lawrence & Schiller and why he loves USD – this is what he had to say.
Q: What's your secret to being an inspiring and motivating leader?
I don't really have a secret, but I will tell you that you always must have goals and clearly lay them out for everyone to understand. You must never expect someone to do something you wouldn't do yourself – that's why I sometimes clean out the break room on Fridays.
I also strongly believe that everyone needs relevance in their work. They need to go home at the end of the day and know that they accomplished something important and made a difference. And lastly, I have always believed in fun. We spend so much time of our life at work – it's not worth it if it isn't fun.
Q: As CEO of Lawrence & Schiller, what are you most proud of in your work?
My greatest joy is growing people. Many of our employees started as interns, and to see them grow and blossom is a great thing. Several of our employees have gone to other careers in major positions, which makes me very happy to see. I believe you will always get what you want if you help others first.
Q: What experiences did you have during your time at USD that prepared you for the work you do today?
I had great professors who challenged me and always inspired me to work harder. One in particular, Dr. Lawrence Mitchell, really pushed me and made me realize that "good" is never good enough.
I also had great experiences, including choir and band tours, which gave me opportunities to meet many friends. In addition, being a member of Strollers and Phi Delta Theta opened up another world of opportunities – all these really helped shape my time at USD.
Q: Where do you see growth in the advertising/marketing industry? What are you excited about?
I see growth in the agency business revolving around higher levels of strategy, trackable digital applications and artificial intelligence. Good creative is always a given. I am really excited about the future as I see these kids come out of college and take the next step in their lives.
Q: A lot of USD alumni either intern at Lawrence & Schiller, or they land full-time jobs there. Is there something about USD grads that make them stand out?
USD has done a great job of recognizing that higher education is changing, and they provide internship programs and job training opportunities that help students adapt to a changing workplace. The faculty at USD are top notch, and they put focus on providing students with the qualities they will need when they graduate. Specifically, the journalism, graphic design, marketing, communications and business programs all do tremendous work in prepping students through real-world application.
I'm not sure how many Coyotes we have in the building right now, but there is a bunch.
Q: You are quite connected to USD – why is it important for you to remain connected to your alma mater?
When it comes to being connected to USD, probably the biggest thing is being chair of the board of trustees for the National Music Museum. I also talk to various classes about what Lawrence & Schiller does and how important it is to market yourself when it comes to the job world. I enjoy going to the College of Fine Arts building and talking to music education students about how exciting it is to change kids' lives.
I also enjoy working with the USD Foundation and reaching out to alumni to keep them involved. It is really important to stay involved with your alma mater. We need to be constantly helping shape curriculum and opportunities for present and future Yotes. The world changes quickly, and our experiences as alumni can help the future workforce.
Q: What is your 'why?'
I do what I do because I want to make a difference for other people and my family. Life is about giving back. I firmly believe that.
College of Fine Arts Hall of Fame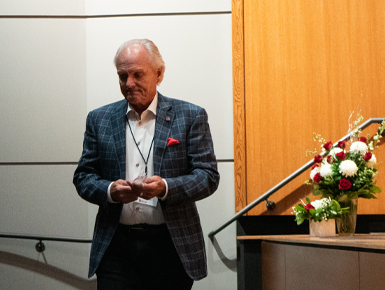 Lawrence was one of seven College of Fine Arts 2022 Hall of Fame recipients. This honor recognizes outstanding alumni, educators and friends of the College of Fine Arts who have helped establish its legacy of excellence for more than 90 years.
"I am really proud to be a member of the College of Fine Arts Hall of Fame and to be a Coyote," Lawrence said. "I often think of my time there in the College of Fine Arts, and I felt prepared to enter the workforce when I left."
National Music Museum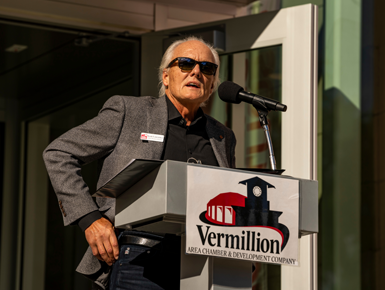 Lawrence has been on the National Music Museum Board of Trustees for 12 years, serving as the chair of the board for the previous eight. He played an essential role in securing $2 million from the South Dakota legislature for continued renovation.
"The National Music Museum is one of South Dakota's hidden gems, with a collection of instruments unparalleled anywhere in the world," Lawrence said. "The museum will celebrate its 50th anniversary in 2023, and I'm excited to say that late summer we will officially cut the ribbon on the new exhibits on the first floor, revealing a truly world-class museum worthy of the instruments housed there."