Former College of Fine Arts Student Accepts Position as Assistant Professor of Art
Working as a graduate teaching assistant (GTA) in the University of South Dakota College of Fine Arts gave Sonia PereaMorales the opportunity to navigate the classroom and experience what a future career in teaching might be like. Now that she has graduated and is taking on a position as an assistant professor, she'll get to put the lessons she learned to the test.
PereaMorales, a Sioux City, Iowa, native, graduated with her Master of Fine Arts in Painting in May and has accepted a position as an assistant professor of art and gallery director at Iowa Wesleyan University in Mount Pleasant, Iowa. In her new position, PereaMorales will teach drawing, painting, design and art history to undergraduate students. She will also be responsible for selecting shows for Iowa Wesleyan's art gallery.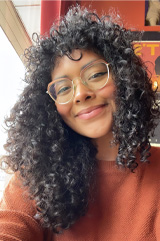 "I'm excited to take on this role," PereaMorales said. "It will be my first 'big girl' job, and it does make me nervous. However, being nervous just means I am moving forward into the unknown; something both scary and exciting."

PereaMorales was able to prepare for this role and build her teaching skills through a GTA position in the College of Fine Arts, where she was responsible for creating, grading and evaluating student assignments.

"Being a GTA was like the mini version of what my future career would be like," PereaMorales said. "I will use the lessons I learned at USD to continue improving my teaching skills."

During her time at USD, PereaMorales enjoyed taking classes with assistant professors of art Amber Hansen, M.F.A., and Lauren Freese, Ph.D., who served as mentors to her and taught her valuable lessons. She was also introduced to community artwork, from which she had some of her most memorable moments. PereaMorales is the lead artist in a mural project for the Sioux City Art Center, working with high school students. She was also part of two mural projects in downtown Vermillion.

"I didn't even know community artwork was an option before coming to USD," PereaMorales said. "I have always been in search of connection, and community art is a beautiful way to get to know other people and their stories. I will always remember climbing up scaffolding, sharing stories with others and painting to create a greater narrative in dedication to the people."
The Vermillion Community Mural Project recently completed their second installation of the indigenous-led, community-based mural project that spans across two sides of a historic building in downtown Vermillion.