The New World of Music
The University of South Dakota's new Bachelor of Science in music with a specialization in industry and technology reflects changes in the industry.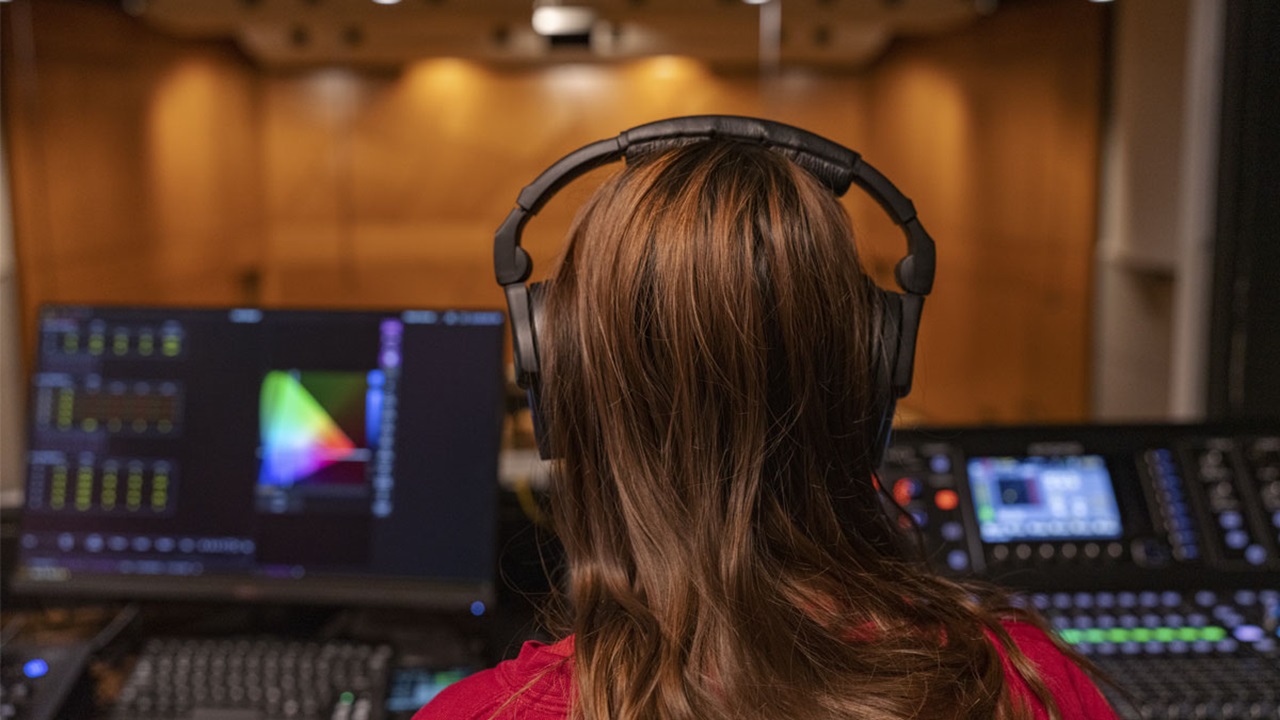 At a concert, we become mesmerized by the talented vocalists and musicians, the lighting, the outfit changes, the venue. We rarely think of the people behind the scenes ensuring that the sound we hear is balanced and of high quality. We don't think about the extensive process needed to turn an artistic vision into a perfectly engineered, marketable hit.
Behind the scenes, you'll find recording engineers and producers – the unsung heroes behind the music we love.
Recording engineers are the technical experts who work diligently to ensure that every note and beat are captured flawlessly. Their expertise in operating complex recording equipment and understanding sound dynamics is what transforms raw musical talent into professional recordings.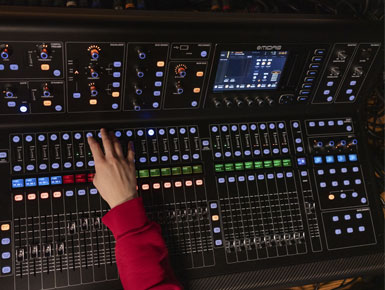 Producers play an important role, helping artists refine their sound and bringing out the best in their performances. They guide the entire music-making process, from pre-production planning to post-production polishing.
Together, recording engineers and producers elevate music to its highest potential, enriching our lives with the melodies and harmonies that resonate deep within us.
These are just two examples of career paths students can pursue after earning a Bachelor of Science in music with a specialization in industry and technology – a new degree program introduced by the University of South Dakota College of Fine Arts.
The program is aimed at students who want to pursue a career in the music industry but don't want to follow the conventional path of becoming performers or teachers.
"We designed the program so that students can take this degree in the direction of the job they want," said David Holdhusen, Ph.D., chair of the Department of Music, director of choral activities and the Douglas and Susan Tuve Distinguished Professor of Choral Music.
For Lars Kocher, a freshman from Vermillion, South Dakota, choosing to pursue a music major with a specialization in industry and technology, came out of a desire to entertain.
"I was born into a musical family and have played piano and trombone for many years," said Kocher. "I've always enjoyed playing video games, finding entertainment in these vast worlds and listening to the creative music that brings new life to the environments. I knew I wanted to create media to entertain people, so I realized that I want to work in a video game company's music department. I will be able to continue my passion for music as well as play a part in developing entertainment that has brought me so much joy."
Alma Sejmenovic, a junior from Sioux Falls, South Dakota, and an aspiring song writer, hopes a degree in music with a specialization in industry and technology will give her an edge in the competitive market of the music industry.
"I want to learn more about how to produce my music better and how to market myself before I release my own music, so I can get an audience interested in something that I've created myself," said Sejmenovic. "I'd just like to have the experience, so I can improve my own skill and knowledge of my content. I could also help other people record their own music and help produce it."
The new program reflects changes in the music industry – how music is made, how it's released, how and where it's performed, and how it's listened to. As the state's flagship fine arts institution, the College of Fine Arts is poised to adapt to these changes and train the next generation of leaders in the industry.
"This highly flexible degree program prepares our students for vibrant and sustained careers in the arts and helps fill a growing employment gap within our state and region," said Bruce Kelley, Ph.D., dean of the College of Fine Arts.
"The music world is changing, and if we don't change and adapt to what the world is doing, we get left behind," Holdhusen said. "This degree is that step forward into this new world. This degree will not only grow our majors and offer an opportunity for growth within the industry, but it's also going to help grow the college and the department as well. These students are going to bring new ideas into our ensembles, classes and recital halls. It's an exciting step for us as we're learning and growing with this program."
Students enrolled in the program will develop the skills needed for every aspect of music technology and industry, including product development, digital marketing, studio recording, and commercial music, gaining an understanding of musical styles that range from classical to contemporary.
They will still receive the Department of Music's expert training in music, music theory and music history, but students will also take courses in business, marketing, graphic design, communications, mass media, theatre tech and design, event management, and more from departments across campus.
"It was really important to us that in designing the program we partnered with several departments across campus," said Holdhusen. "Our students will benefit from this in multiple ways, including having a wider range of people who can support them as they move forward."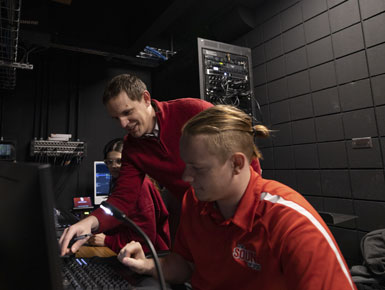 As more and more events are livestreamed, students will learn simultaneously how a production should be presented in a live space as well as in a digital space.
Additionally, in designing the curriculum, Holdhusen consulted state industry leaders, confirming that this degree program will address a specific demand in the market.
"We heard from a lot of churches and event venues that said they need someone who has the skill to run the technical side of things, but also understands what sound is and how sound works," he said.
Post-graduation, students will be well equipped to work in a variety of event venues, ranging from large spaces like the Denny Sanford Premier Center to more intimate settings such as churches, restaurants and hotels. They can work in recording studios on Nashville's Music Row or from the comfort of their own homes.
"It's a really exciting time. We're taking the knowledge of music and the knowledge of technology and melding them together," said Holdhusen. "When students graduate with this degree, the musical world is at their fingertips. Whether on stage or behind the scenes, we are creating the next generation of music industry leaders."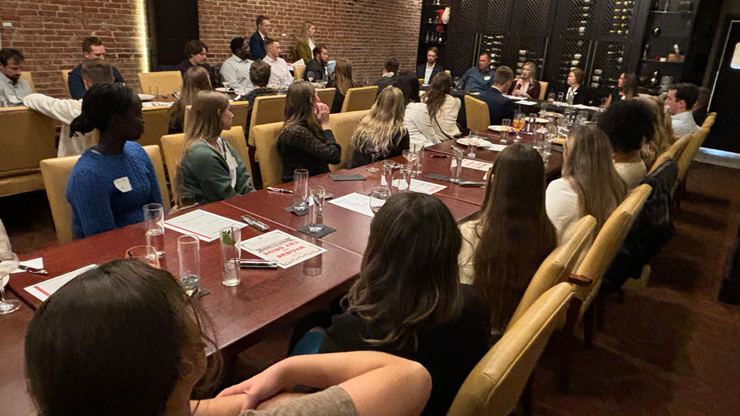 Earlier this month, the University of South Dakota Knudson School of Law's Health Law Society hosted a panel event, "Synergizing Medical and Legal Expertise for Elevated Patient Care," that brought together over 70 legal and medical professionals and students.
The University of South Dakota Knudson School of Law's Debtor-Creditor Club, a student organization established just this year, sent four students to the American Bankruptcy Institute Midwestern Conference at the University of Missouri-Kansas City last month.
Two former students of the University of South Dakota's Summer Program for Undergraduate Research in Addiction (SPURA) – Sophia Van Buskirk and Ahmed Nahian – recently had their research highlighted at the 2023 Symposium on Substance Use Research.