The SOUND of USD to Debut Electric Metallica Performance at Home Football Game Oct. 14
University of South Dakota's marching band, The SOUND of USD, upholds a 130-year tradition of bringing spirit and energy to Coyote football games, and this year, the band is taking that energy to a new level, performing a special Metallica lineup that will be entered into a national competition.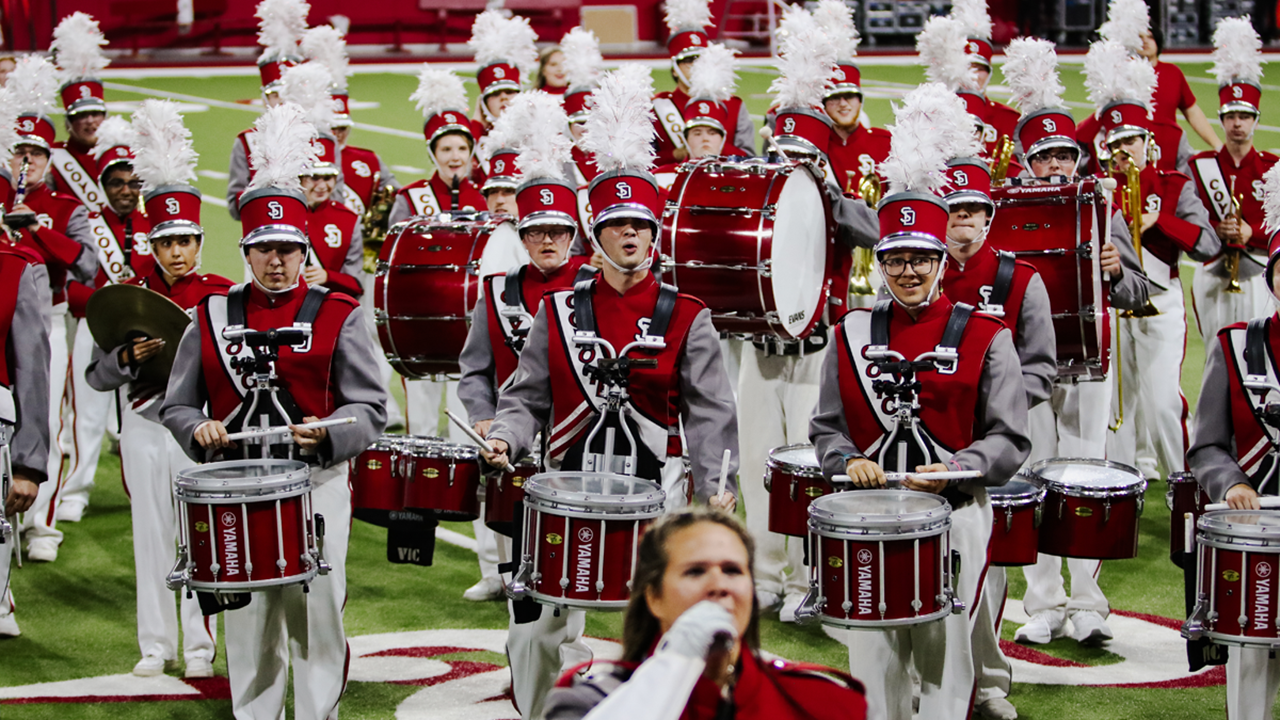 The SOUND of USD is set to perform the special Metallica show at the home football games on Oct. 14 and Oct. 28. The band will also perform the lineup during the Quad States Marching Band Competition scheduled for Oct. 21.
During each of these performances, the band will capture audio and video footage to edit and submit for consideration in the inaugural Metallica Marching Band Competition. If selected as a winner, The SOUND of USD could win $75,000 in prizes.
"We are always looking for good show ideas, and for Metallica to make their music available to us is a great opportunity for us to perform this exciting music without the huge charges for a custom arrangement that would usually accompany a project like this," said Todd Cranson, DMA, director of athletic bands and associate professor of music.
The Metallica Marching Band Competition will award winners in five categories, including two college categories, a high school category and fan favorites for both college and high school. Entries will be narrowed down to five finalists, with Metallica selecting the final prize winners in each category.
"College marching bands generally do not participate in competitions, so this is very much a rarity, and to the best of my knowledge, the first of its kind," said Cranson "The primary job of a college marching band is to entertain, so competitions are not as important as they are for high school marching bands. Metallica may have invented a new way of enticing college bands into a competition."
The SOUND of USD's performances in the DakotaDome will feature several Metallica songs, including "Fuel," "Hit the Lights," "Lux Æterna," "One," "Wherever I May Roam," "Master of Puppets," "Enter Sandman" and more. Cranson hopes this electric performance will be as exciting for the audience as it is for the band members.
"We plan to take advantage of lighting possibilities available to us in the DakotaDome, and we hope the sound of powerful electric guitars paired with our powerful marching band will be exciting," the band director said. "We're going to play good music that will hopefully resonate with audiences from multiple generations."
Entering into the Metallica competition is not the only aspect that makes this season unique for the band. In February 2024, The SOUND of USD is taking a trip to New Orleans to march in two Mardi Gras parades.
Thanks to these novel and exciting opportunities, as well as increasing enrollment numbers at the university, The SOUND of USD has seen amazing growth over the last few years, with the band currently at 109 members.
"Our season is already shaping up to be big fun with cool funk arrangements from New Orleans and the Metallica music," said Cranson. "We hope the fans get as pumped up as we are and that all this momentum carries us into the future to grow stronger and bigger with more exciting and diverse performances."