USD Chamber Singers to Conclude Italian Tour in Sioux Falls
The internationally recognized University of South Dakota Chamber Singers and their conductor, David Holdhusen, Ph.D., will participate in a concert tour of Italy during the university's spring break from March 8-18 and will conclude their tour in Sioux Falls on March 24.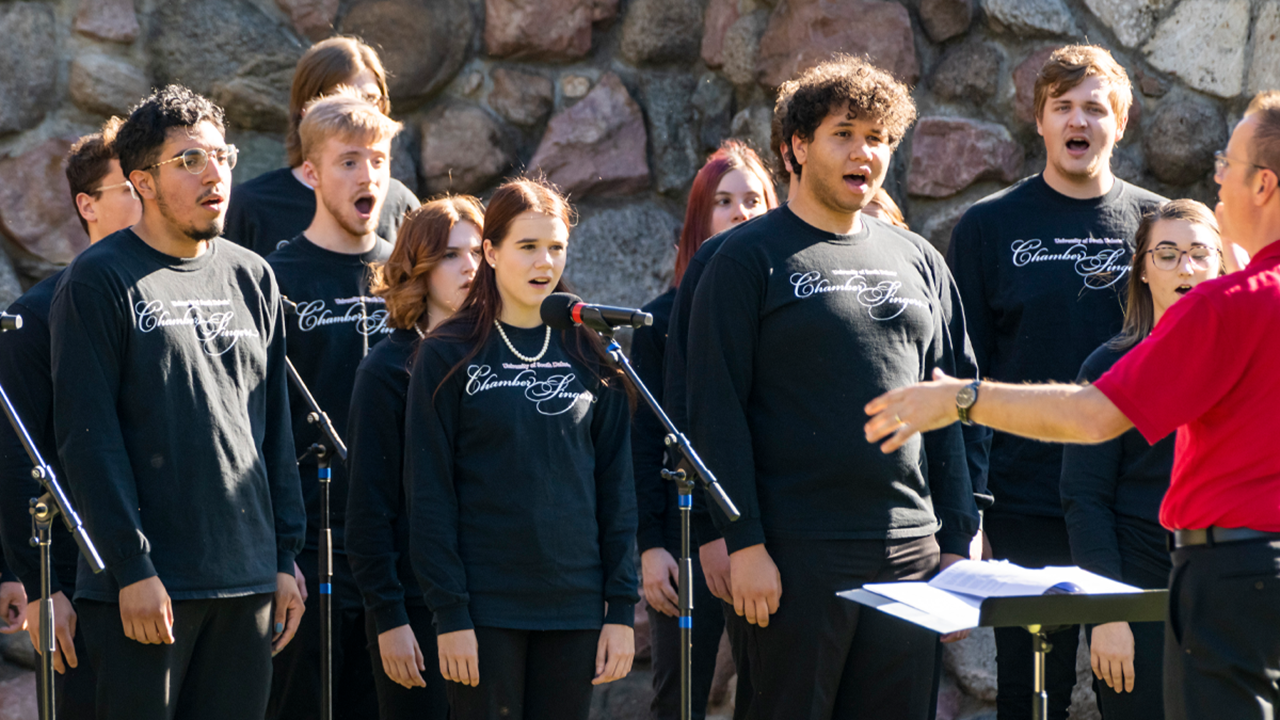 For the 16th consecutive year, the Chamber Singers will return to 1st Congregational Church in Sioux Falls (300 S. Minnesota Ave.) upon their return for a 7:30 p.m. performance on March 24. Admission is free to the performance; however, a freewill offering will be collected.
"Our students will have an opportunity to perform in multiple venues with different acoustics," said Holdhusen, associate professor of music and Director of Choral Activities at USD. "Because we are on the road for the entire week, the students have the opportunity to work like professional performers. I think that is an important experience for our young musicians, and something they will really enjoy, especially as we travel through the amazing churches in Italy, including a stop at St. Peter's in Rome.
"The Sioux Falls venue is so special to the ensemble. It is very exciting to close out our tour in front of family, friends and alumni. Nothing is more moving than to look into the balcony and see our former Chamber Singers holding hands during the O Day Full of Grace. There is rarely a dry eye at that point," he added.
This year's musical program features music from Italy and the choir will bring American genres with them to share. The program includes classical and contemporary musical selections spanning Italian music history, featuring composers like Palestrina, Gabrieli, Monteverdi and well-known Italian folk songs. The second half brings traditional American choral music, folksongs and spirituals, by renowned American composers like Eric Whitacre, Randall Thompson and F. Melius Christiansen. The idea behind this year's program is to expose the audiences to each other's choral music.
"We start the program with church music from Italy, building through the historical time periods to demonstrate the choral art's development in these areas," Holdhusen said. "The second half focuses on genres of American Music, from Southern Gospel to Jazz to the African American spiritual. I think it is a tremendous journey told through the magic of musical expression."
The Chamber Singers have developed a strong reputation among critics for their artistry and expressiveness. They were honored by the American Prize for their sustained excellence, heralded by critics for their recordings and have been selected to perform at state and regional conferences. 2022 brought a new honor as their latest album, "Lux Aeterna," was selected as a finalist for the Petrichor International Music Competition.
"To be recognized internationally for the excellence of our choral performance is truly exciting," Holdhusen said. "It is a testament to quality musicians at USD and the dedication and artistry these singers exhibit in preparation for performance."
The Chamber Singers is the premiere vocal ensemble at USD. It is comprised of graduate and undergraduate students selected through audition from the entire university student body. Known to critics for "creating a choral concert of stunning beauty and musical understanding," its repertoire, which is primarily a cappella, includes music from the Renaissance to the present in a wide variety of styles.
The ensemble presents formal concerts on campus each semester and its annual tour has taken the group throughout the United States and Europe. They have performed for state and regional conventions of the American Choral Directors Association and the Music Educators National Association for Music Educators and have appeared on the public radio program "Going Beyond Words."

The Chamber Singers, on several occasions, have been selected as a finalist for the American Prize in Choral Performance (College and University Division) and were named an Honored Artists by this organization for its "sustained excellence."
Get more information about USD's Department of Music online. For information about the Chamber Singers' 2023 Spring Tour, please contact David Holdhusen at 605-658-3467 or email David.Holdhusen@usd.edu.