From Farming to Family Medicine, Alumna Meghan Grassel Balances It All
Living on a farm just outside Mission Hill, South Dakota, with her husband, two-year-old and newborn sons, two foster children and countless farm animals, Meghan Grassel '23, M.D., is already busier than most. This self-admitted lover of all things agriculture not only manages a full house and farm, but she also just graduated from the University of South Dakota with an M.D. and MBA – and she makes it look easy.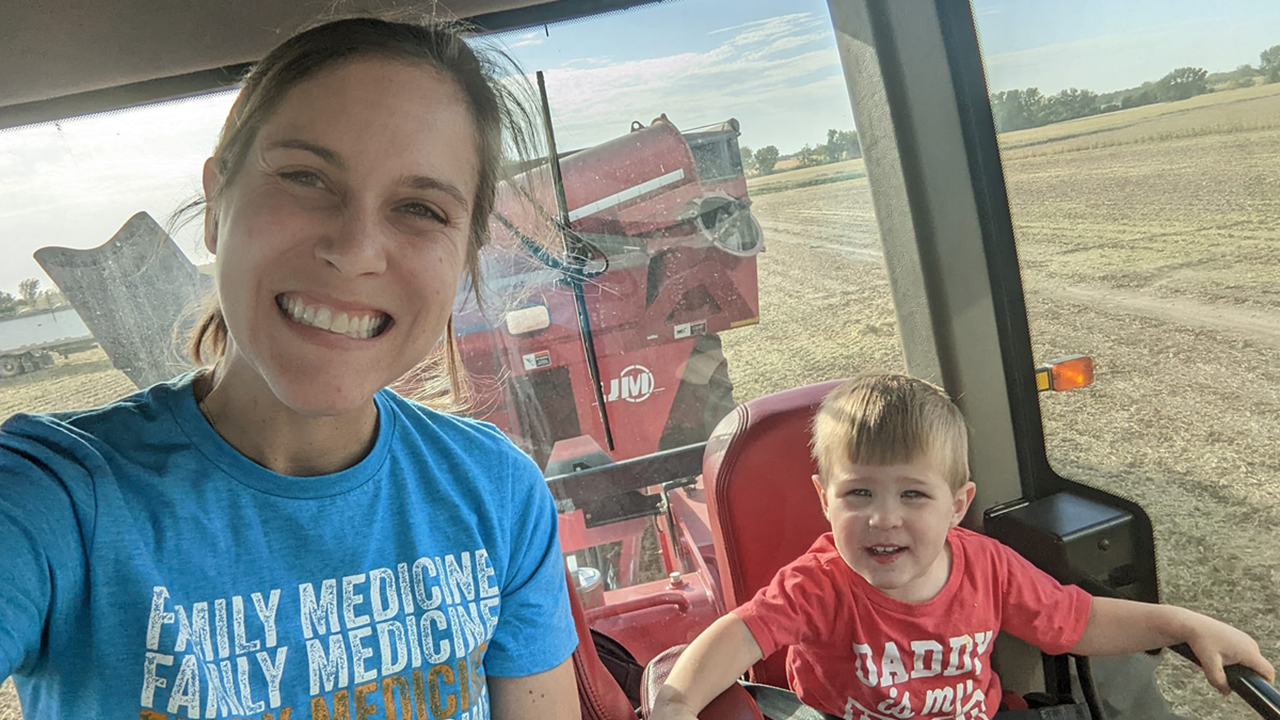 The daughter of a farmer and family physician, Grassel always had an idea that she would go into health care. While it might be easy to say her mom's career in medicine was her major influence, Grassel said that her dad's health played a significant role in steering her toward becoming a physician.
"My dad was diagnosed with pancreatic cancer when I was a senior in high school," Grassel said. "My mom and the doctors who cared for my dad showed such compassion, and I remember thinking that this could be a way to use my talents for others and my love for science for other families like mine."
After graduating from Elk Point-Jefferson high school in 2015, Grassel attended South Dakota State University. There, she earned a Bachelor of Science degree in human biology in 2018 and Master of Science in 2019, graduating summa cum laude from both programs. From there, she transitioned from a Jackrabbit to a Coyote and enrolled at the USD Sanford School of Medicine (SSOM).
She excelled in medical school, but not without the occasional speed bump. She was pregnant most of her first year, and her son, Teddy, entered the world a few weeks early – the day before her cardiovascular block final, in fact. As if the challenging medical school coursework and preparing for her USMLE Step One board exam were not enough, she also had a premature baby back home relying on her. However, she credits the medical school for helping her get through it all.
"The school has always been so supportive of our family planning, and they were such great resources," she says. "My medical school class has a ton of parents, and I'm so proud to be from a school that supports that. I firmly believe motherhood has made me a better student, doctor, and probably person overall. I think the school recognizes this and does a great job being family friendly."
After passing her first board exam, she began her Pillar 2 clinical rotations at the Yankton campus. There, she confirmed her passion for family medicine. "Family medicine was really the only choice for me," she said. "I found that whenever I was in a specialty that only saw one cohort of patients, like women, children or babies, I was always missing the other groups. I also found that I had a really hard time not trying to optimize blood pressure or diabetes care. Family medicine does it all."
Grassel also credits Yankton as being the "perfect spot" to hone her clinical skills. She said all her attending physicians knew she would be going into family medicine, so they made efforts to allow her to explore that in their own specialties, such as rounding on newborns even if she was in her obstetrics rotation.
Grassel served as the president of Alpha Omega Alpha, a fellow of Aequitas Health Honor Society and a leader in countless other organizations inside and outside medical school. However, she said that her work with Yankton's Servant Hearts Clinic, a free clinic that serves patients with limited access to health care, was one of her most rewarding experiences. Serving as the chief medical student representative, Grassel recruited and trained new volunteers, planned and conducted flu vaccine clinics and helped develop a fund for free patient transportation. Her favorite part, though, was simply seeing the same people over and over again.
"I had a patient who saw me multiple times in a row and would recognize me in the clinic and around town," she said. "It was just so awesome to have that relationship continue to grow and to really make a difference for her."
Her holistic view of health care also traces back to her home. Following the advice of some close friends, Grassel and her husband decided to take foster and adoptive parent training courses and take in two long-term foster children. "We couldn't think of a reason to say no other than that we were nervous," she said. "The kiddos have been such blessings, and we are firm believers that anyone can do this. Farming and medical school are not low time commitments by any means, but figuring out our busy schedules has been more than worth it."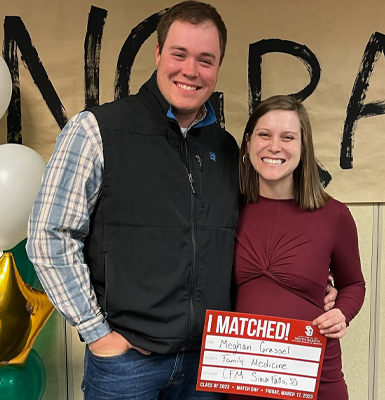 The aspects of continual care and holistically implementing social work, counseling and other programs into health care are what eventually attracted her to different residency programs. But in the end, none could compete with what her home state had to offer. Last spring, Grassel matched with the Center of Family Medicine – Sioux Falls program, where her dream of practicing medicine in South Dakota finally came true.
Grassel's busy schedule will not come to a stop anytime soon. She's been busy with her newborn son, moving her growing family to Sioux Falls and tackling her first months as a resident physician. Whether it's a question about motherhood, hog barns or blood pressures, Grassel will most likely have an answer.
This story was written by Cole Tessendorf, Callie Olson and Autumn Hurd, students in the USD Sanford School of Medicine Student News Group.