Integrating Kindness into the Medical School's Curriculum and Culture
The University of South Dakota Sanford School of Medicine is incorporating "kindness" into its programs, culture and strategy, identifying and elevating kindness as a fundamental component of healing and happiness. This is unprecedented. No other medical school in the country is undertaking such an approach to medical education.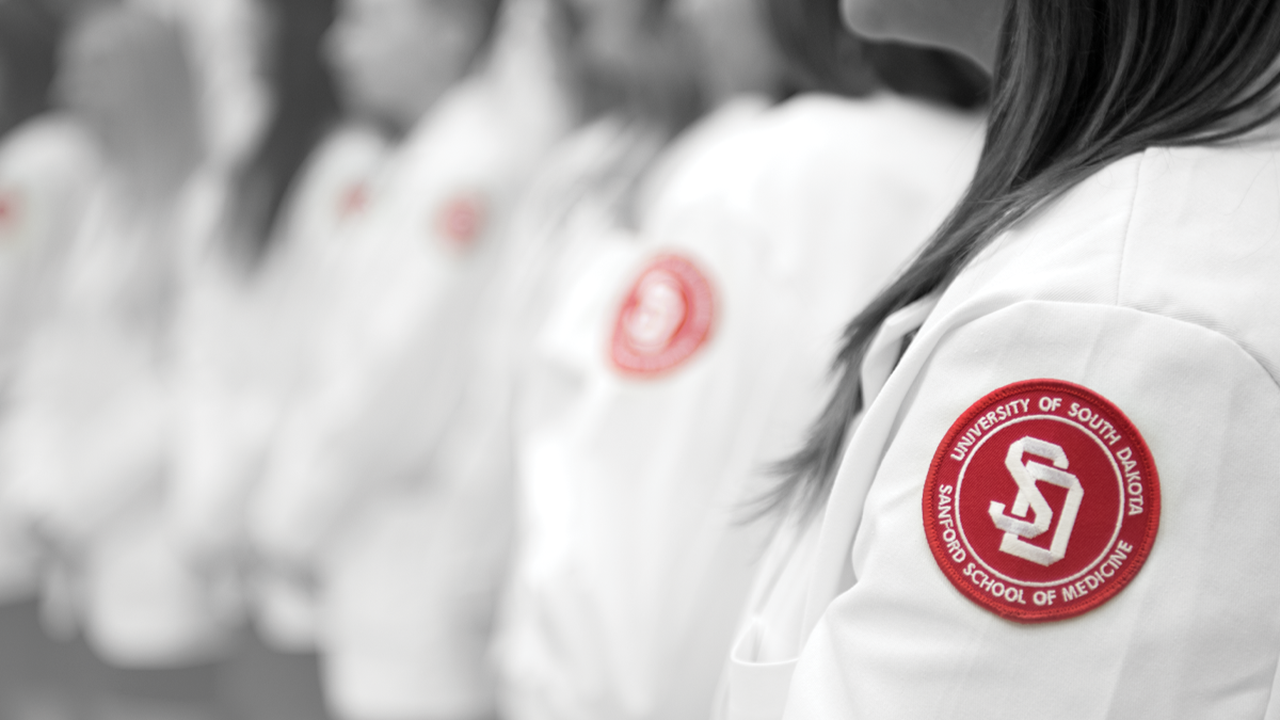 In the opening passages of his 2014 book, Bringing Kindness to Medicine, Dr. Jerome Freeman, a Sioux Falls neurologist and chair of the medical school's Department of Neurosciences, described a shortcoming in the delivery of health care: "There is not enough kindness in medicine," he wrote. "There is plenty of science and technology," added Freeman. "Some clinicians, at times, seem to pride themselves on both the superiority of their technical abilities and their calm detachment from those being treated. It can be tempting to dabble in the fray of illness care while remaining remote from its consequences."
Throughout his book, Freeman, a writer and poet with several other publication titles to his credit, makes the case for more kindness in medical care as a means to better serve patients and the entire medical community. He related the story of a sick and troubled patient who resisted a request by a nurse that he leave the comfort of his hospital bed and make the journey to have X-rays performed. Freeman was present for that interaction and admitted to being impatient with the man. Then the nurse calmly and kindly encouraged the patient, securing his compliance before gently assisting him as he painfully rose from his bed and settled into a wheelchair. "For many patients," Freeman wrote, "there are times when high tech medicine is simply not enough. On such occasions, the patient is not asking for more than we can give, but for what we may not think to offer."
Several years after observing and writing about this incident, Freeman is now leading efforts aimed at integrating "kindness" into more aspects of the medical school curriculum and culture, a responsibility assigned to him by medical school Dean Dr. Mary Nettleman. "Dr. Nettleman has emphasized this, and she made it a focus of the medical school's strategic planning session, and I am delighted to help her make it happen," said Freeman.
"It's time to start formally training medical students about the values and importance of kindness in health care," Freeman added, "so medical students learn about the fundamental necessity and benefits of kindness in their medical practices."
Freeman reported that kindness isn't just for future physicians to learn and offer to their patients. "Kindness in health care extends not just from physicians to patients, but from physicians to staff and from physicians to physicians. Our goal is to make kindness a transformational force in medicine."
For some physicians, Freeman explained, focusing on kindness in their medical practice can restore the enthusiasm that they originally felt when entering the health care profession. "Most medical students begin medical school with kindness objectives," said Freeman, "but for a variety of reasons that lofty desire is altered as they enter into the actual practicing part of their careers. We need to change that."
There's also a "wellness" factor for students and physicians that kindness influences. "We believe that 'kind' physicians are healthier physicians," explained Freeman. "The medical school's wellness program," he added, "agrees that students learning about and applying kindness will be healthier students." Healthier, happier physicians translate into better outcomes for patients, Freeman observed.
Freeman didn't possess clearly articulated beliefs about kindness in medicine when he began his own medical practice or when he started instructing medical students. "The development of my interest in kindness in health care has been gradual," he explained. But his tendencies have long leaned toward compassion and ethics, and this led him to contemplate the values and the contributions of kindness in health care. Freeman helped establish seminars emphasizing medical ethics that are presented to the school's Pillar 1 students (the first 18 months of medical school). Those seminars introduce the role of kindness to future caregivers. Pillar 2 students benefit from required coursework discussing ethics and humanities, and Freeman teaches those courses. During Pillar 3 (the student's final 18 months) online electives are offered that allow students to complete a 12-credit certificate in Bioethics. Freeman helps direct those electives.
In 2011, Freeman and Dr. Wendell Hoffman, a clinical professor at the medical school and an infectious disease specialist in Sioux Falls, co-authored a paper that appeared in South Dakota Medicine. They appealed to their colleagues for a greater application of kindness in medicine and acknowledged the challenges so inherent in doing so.
"While the type of health care a patient is able to access is important, the way in which service is delivered is also a critical variable," they wrote. "Collectively, the values of professionalism and the principles of bioethics all endorse what a clinician should believe. These elements provide less direction as to how desired objectives should be achieved. One manner of approaching the 'how' aspect of clinical care is to promote behaviors that exemplify kindness. Kindness is understandable. Virtually every person, seemingly by instinct, knows what it means to be kind or to be treated with kindness."
They asserted that kindness, though understood and appreciated, cannot be measured with the scientific rigor of a diagnostic test. They also acknowledged that although a person recognizes when they are treated kindly, the concept of kindness is tricky to define.

"Kindness represents a conscious choice in a world of competing responses," Freeman and Huffman stated. "Elements of professionalism or bioethics may deal with attitudes and perceptions, but kindness connotes more than perception or feeling. …compassion is something a clinician feels; kindness is what a clinician does."
The process of integrating "kindness" into the medical school's curriculum and culture is being undertaken in a careful, systematic fashion. The process includes careful research aimed at guiding how best to accomplish this ambitious initiative. One aspect of the research has been to interview USD Sanford School of Medicine medical students to better understand their views and to collect their suggestions about the kindness initiative.
Jamie Messerli, senior clinical research specialist at Sanford Research in Sioux Falls, has special expertise regarding qualitative research, including conducting one-on-one interviews and focus groups. The medical school, especially Dr. Freeman, worked closely with Messerli to prepare her for meetings with medical students intending to collect their opinions and insight.
Messerli reported that approximately 660 minutes of data (the actual recordings of interviews and conversations) were gathered during meetings with nine individual students and 31 other students participating in the focus group portion of the research. Focus groups typically consisted of four to six students and lasted about 90 minutes. One-on-one sessions required 30 to 60 minutes. Student participants came from all three pillars in the medical school.
"The students were eager to take part in the research," said Messerli. "Their involvement is confidential. Each student was very articulate and helpful. We are satisfied that we saturated all three pillars of the school in terms of obtaining input and touching on relevant themes. Everything that was said during those sessions is part of the data." Preparation of a transcription of all interviews and focus groups is underway, and an analysis of that transcription will take place. Dr. Freeman is also conversing with faculty and medical school officials to gather ideas and suggestions.
"We're not establishing a rigid timeline regarding specific implementations," explained Freeman. "We're in a discovery process, but we're determined to eventually move this process toward implementation of ideas and applications that will enrich our school and the physicians we train."
Dr. Nettleman understands and welcomes the challenges and opportunities associated with this innovative, meaningful pursuit. "People want a physician who is not only competent, but also kind, so we will work to elevate this value throughout the school," she declared. "Our students are inherently kind, but the high pressure of acquiring medical knowledge and the bust clinical rotations are not designed to develop and recognize kindness. By approaching this intentionally, we hope that students will learn how important kindness is in medicine and how they can incorporate it into their everyday practice. The emphasis on kindness also means we have to demonstrate kindness throughout the medical school. It is a large task and to some extent it is an untested frontier, but we think the benefits are enormous."
The uniqueness of this effort and its weighty ramifications have ignited excitement throughout the medical school. "No other medical school explicitly champions kindness as an overarching value and expectation intended to transform how patients, students, staff and colleagues are treated," explained Nettleman. "A culture of kindness can make us exceptional."
Press Contact
Hanna DeLange