Logue Retires After 34 Years at the Center of Clinical Foundations Course
On May 19, Cathy Logue's last day of employment with the Sanford School of Medicine, she reflected on and celebrated 34 years of helping students gain skills and confidence in foundational learning.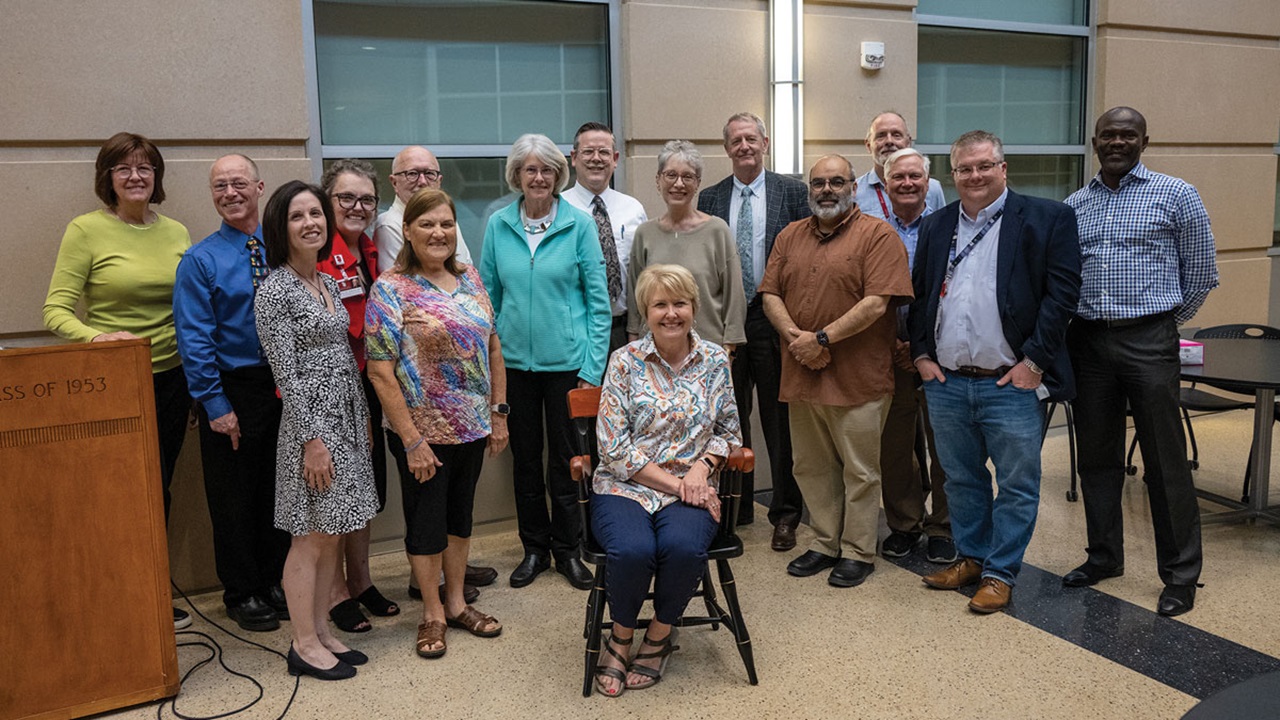 A well-known face in the SOM, Logue has influenced hundreds of learners over three and half decades at the medical school. She's handled the day-to-day administration duties of Clinical Foundations 1, 2 and 3 for first- and second-year medical students and unfurled the myriad details of scheduling faculty small group sessions and student one-on-ones with clinical professionals in Sioux Falls, Vermillion, Yankton and Dakota Dunes.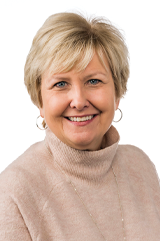 Logue began her career as an RN at Viborg's Pioneer Memorial Hospital, where she worked for a decade prior to joining the med school. In 1989, Logue made the move to the SSOM as education coordinator for the Intro to Clinical Medicine course, and in 1999, added coordinator for student support services to her responsibilities.
"I was familiar with what the position entailed, as all the lead coordinators at SSOM had been nurses, like me," she explained. "I'd helped a friend, Kim Moser, when she needed help teaching a clinical skill session while I was a practicing RN, and when she left, I got her job. I was comfortable getting started in it because I'd already had an introduction to the position."
Logue received an associate degree in nursing from USD, followed by a BSN in nursing at Clarkson College in Omaha. In 2002, she earned a master's degree in counseling from USD.
She has fond memories with medical school stalwarts such as Drs. Robert Talley, Bruce Vogt, Susan Anderson and Roy Mortensen, and Geri Loecker, an RN, as just some who have helped her along the way.
"Years ago, before the Parry Center was built, teaching occurred in the hospitals with actual patients; floor rounds with the clinical faculty at Avera Sacred Heart in Yankton and physical diagnosis teaching with clinical faculty at the Sioux Valley, McKennan and VA Hospitals in Sioux Falls," Logue explained. "They were very good mentors and their teaching and dedication to medical education and student teaching is admirable. You can really tell they want students to learn and are interested in the students. I look upon those early years very fondly."
Experiences like those and small group sessions are aspects of her position she's enjoyed the most. "I really loved scheduling student clinical experiences and teaching IV sessions in small groups," she said. "Patients have been so willing to be part of teaching our students. Those experiences are a bright spot for students during Pillar 1 so it's nice to be a part of it."
In the span of 34 years, Logue has seen two generations of students come through the SSOM, and a few former students have even become her bosses over the years. "Dr. Anderson and Dr. Mortensen were two students I helped teach in clinicals," Logue said. "It's kind of surreal."
Dr. Anderson remembers Logue as someone who has made a tremendous impact on all the med students who came across her. "Cathy has impacted hundreds of medical students in such a positive way," she said. "She is always kind, patient and generous with her time. Clinical Foundations is a complicated course and Cathy has become an expert in creative scheduling to get it all accomplished."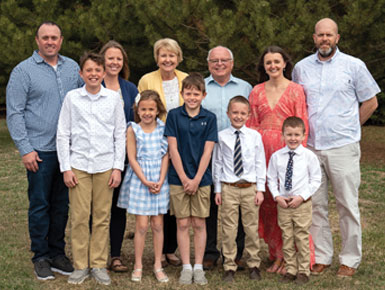 Logue doesn't have grand plans for retirement—at least not yet—but she does know she will immerse herself into her family and hobbies. Photography is one of her biggest passions and she often combines that with another passion, her five grandchildren, who are her favorite subjects to capture. She also enjoys camping, cross stitch and reading. She and her husband of 44 years, Charlie, live in Wakonda, South Dakota, where they raised their two daughters, Ashley and Emily, who all live in the area with their families.
She says she will miss all the faculty, staff and students of the SSOM dearly.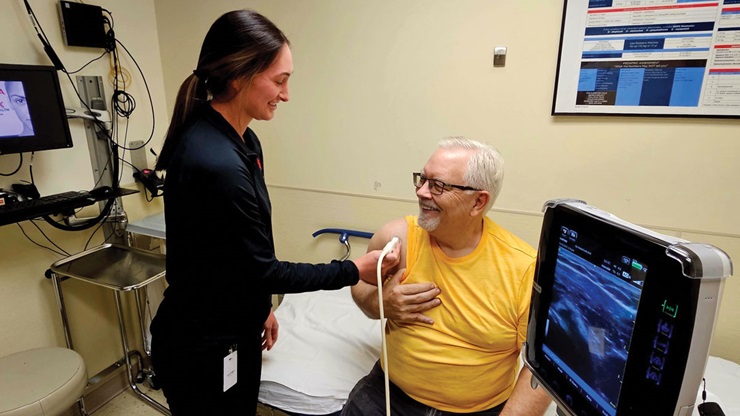 Sanford School of Medicine research centers move the needle in South Dakota rural health improvement.