Medical Student Keely Walker Seeks to Bridge Gaps in Disability Care
Growing up in the "frigid north" of North Dakota, University of South Dakota Sanford School of Medicine (SSOM) student Keely Walker said she's always aspired to challenge herself. While she admits her brothers may have had the more difficult jobs growing up, as they were responsible for shoveling the feet of snow every winter, Walker always dreamed of going into medicine.
When Walker was young, loss struck her family when her mother was diagnosed with a rare brain cancer. While her mother's death may have been that initial spark that inspired her work ethic in academics, she also excelled in athletics. Walker competed as a shot-put thrower for the track and field team at the University of North Dakota (UND) in Grand Forks.
"I love sports, but I am shockingly uncoordinated," Walker said. "So if you asked my dad, he might attribute my passion for medicine to all the visits to sports medicine doctors." Whether it was one event or a combination, Walker's love for medicine continued and put her further on the path toward medical school.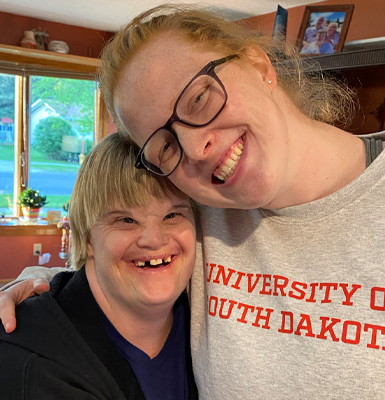 While at UND, she found a passion for working with people with disabilities. She regularly volunteered with the Special Olympics and worked as a direct support professional in a small residential facility. Walker came to notice that despite being an organization dedicated to those with disabilities, there was still room for improvements to be made on combating internal biases and misunderstanding of the disability community among those who worked and volunteered there.
"For example, I noticed that volunteers would often talk to the adult patients as though they were children, simply because they had a disability," Walker said. "And I would see bias tendencies from health care workers when I would accompany people with disabilities to visits. Health care workers would hand forms to me instead of the individual or would look at me when they got frustrated during a visit."
Rather than let it discourage her, Walker took her experiences as motivation to improve awareness and education among those with disabilities. Currently, she is working on a Scholarship Pathways project with Eric Kurtz, Ph.D., at the USD Center for Disabilities.
Walker explains that those with disabilities often utilize health care at a higher rate than those without disabilities, and yet they are often receiving a lower quality. This includes being recommended for screenings less often and having a higher incidence of secondary conditions. Her Scholarship Pathways project is looking to bring these disparities to light and increase education around this topic.
"I hope that by educating future health professionals about disabilities and ways to counter these disparities, we can help to improve the care persons with disabilities receive," Walker said.
Along with her Scholarship Pathways project, she also serves as president for the Coalition of Addiction Students and Professionals Pursuing Advocacy campus organization. This organization works to increase awareness of addiction and recovery for those struggling in surrounding communities, and she has been working to promote harm reduction and de-stigmatization at the legislative level for those struggling with substance abuse disorders.
Like most medical students, juggling research, leadership responsibilities and studying can be a challenge. After passing her USMLE Step One exam this past spring and learning to knit squares during her down time, she started her Pillar 2 rotations on the Yankton campus.
Walker will undoubtedly continue to advocate for those with disabilities through health care awareness and help those with who struggle with addiction. While she is unsure on a medical specialty at this point, she says that her next major goal is to graduate from knitting squares to sweaters.
This story was written by Cole Tessendorf, Callie Olson and Autumn Hurd, students in the USD Sanford School of Medicine Student News Group.