Scholarship Pathways Research Symposium
Scholarship Pathways is an elective program that enriches student experiences through projects related to research, community service or education.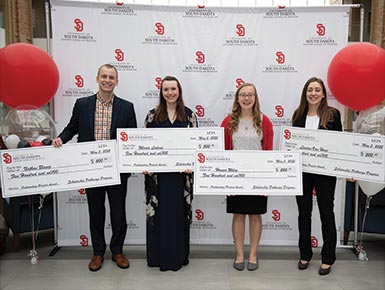 On May 5, 23 fourth-year SSOM students presented that research during the Scholarship Pathways Research Symposium poster sessions, the culmination of their years of research during medical school.
Four were selected to make 10-minute podium presentations and received a financial honorarium, while all presenters were given a medallion and framed certificate of completion.
This event is visited by mentors, students, medical school faculty and other medical professionals.
• Nathan Blaseg: "Simulation-based Interprofessional ICU Bedside Rounding Course"
• Maria Ludens: "Digital Initiative to Improve Patient Health Literacy"
• Hanna Wiley: "Kidney Transplant Outcomes in indigenous People of the Northern Great Plains of the United States"
• Lauren Van Hove: "A Cannabinoid Type 2 (CB2) Receptor Agonist Augments NOS-dependent Responses of Cerebral Arterioles During Type 1 Diabetes"