The Art of Image-Guided Procedures
There's a pioneering element in Dr. AJ Gunn's chosen field of medicine. Gunn, a 2009 graduate of the medical school, is an interventional radiologist emphasizing cancer care.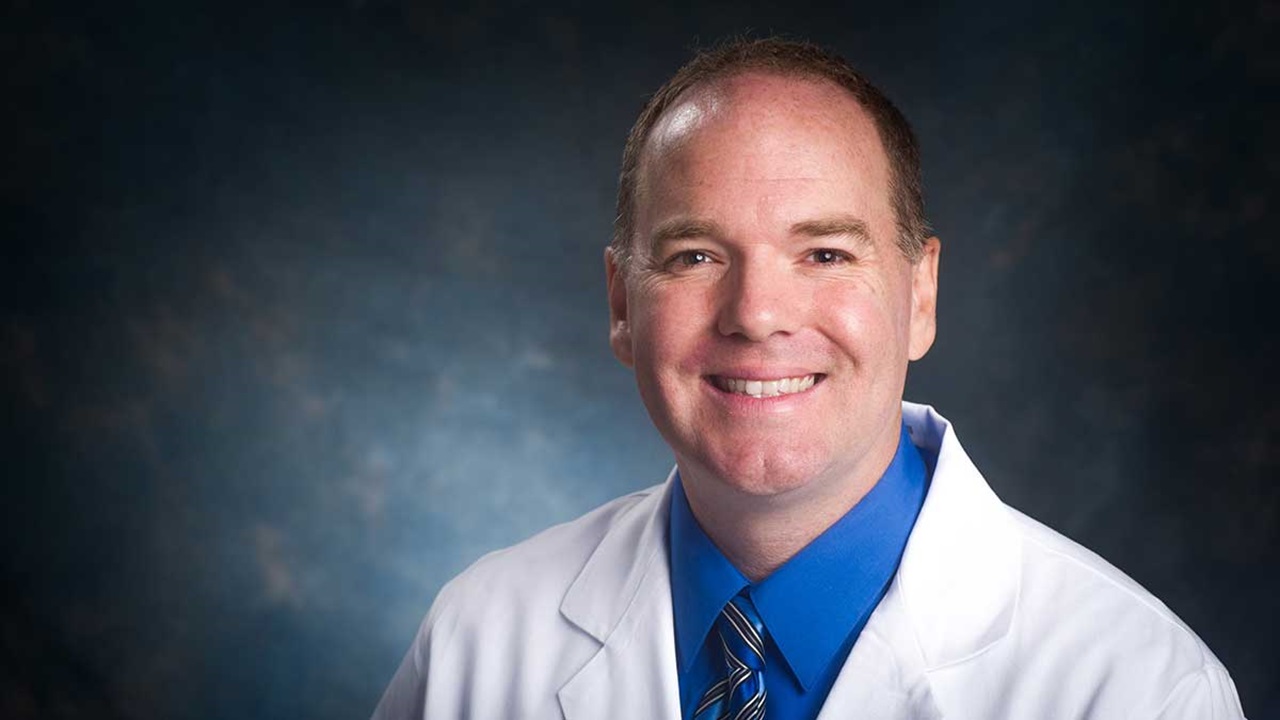 "There aren't many of us," said Gunn, referencing the overall field of interventional radiology. "It's a relatively young specialty."
Gunn was drawn to medicine as a young man in part because his father was a psychologist at the Sioux Falls Area Veterans Administration Hospital. That exposed him to the rewards and dedication necessary to be a health care provider. After graduating from Brigham Young University with a degree in exercise physiology, he began his medical studies at USD's school of medicine.
During his first year of medical school, Gunn's father suffered a serious stroke, and his mother battled sickness as well. "It was a challenging time for me," Gunn said, "and that included trying to continue my studies as a medical student."
Gunn needed some flexibility in his class work and other aspects of his medical training so he could attend to family needs. "The administration and faculty at the school of medicine were very accommodating to my situation," Gunn indicated. "The school took a real interest in my life, and without that it would have been even more difficult for me as a student."
After his second year of medical school, Gunn participated in the yearlong competitive Howard Hughes Medical Institute – National Institutes of Health Research Scholars Program and was awarded the Donald L. Alcott, M.D. Award for Clinical Promise.
Gunn points to his hands-on experiences in years three and four at the medical school as having contributed significantly to his training. "In the critical years of medical school, the third and fourth years, I was working directly with physicians. As a third-year student I was working as a first assistant during procedures. This was invaluable experience," he explained.
"At USD's school of medicine," Gunn stated, "the physicians who taught me really wanted to teach. They took an interest in me and in all their students. I felt like I was part of a team, and that sense of teamwork continues to be a part of my practice and my approach to delivering health care to this day."
While a student, Gunn discovered that the treatment of cancer was an aspect of medicine he found particularly interesting. That led him to learn about the applications of interventional radiology in helping oncology patients. "What caught my eye," said Gunn, "was learning that using a minimally invasive approach allowed for doses of chemotherapy to be directly applied to tumors."
Gunn completed a diagnostic radiology residency at the Massachusetts General Hospital of Harvard Medical School in Boston, followed by a fellowship in vascular and interventional radiology at Johns Hopkins Hospital in Baltimore, Maryland, where he served as chief fellow. He then took a position as an attending interventional radiologist at the Washington University School of Medicine in St. Louis, Missouri.
Since 2017, Gunn has lived and practiced in Birmingham, Alabama, where he directs the interventional oncology program, is program director of the interventional radiology residency and serves as an associate professor in the division of interventional radiology at the University of Alabama at Birmingham, Heersink School of Medicine.
"We have 10 residents and some medical students rotating through," explained Gunn. "We lecture, but it's mostly clinical teaching."
Gunn, his wife, Lyndsay, and their daughter moved to Alabama because Lyndsay is an Alabama native and has family there. "I wasn't sure what to expect, but I've discovered that the people of Alabama are a lot like the people in South Dakota," said Gunn. "They're friendly, hospitable and genuine."
Gunn was also impressed with the medical school and clinical capabilities at the University of Alabama at Birmingham. "I was surprised at the size of this institution and the quality of the hospital," said Gunn. "It is one of the nation's busiest trauma centers, a highly rated cancer treatment center, and it is also a leading transplant center, especially for liver and kidney transplants."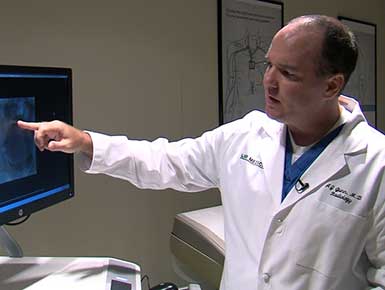 In addition to his academic responsibilities, Gunn helps conduct research about interventional radiology. His clinical practice covers the full spectrum of interventional radiology, including working with transplant teams, but his special focus is treating cancer patients.
"For a variety of tumors," Gunn explained, "we do minimally invasive therapies delivering treatments directly to a tumor under imaging guidance." He performs embolization procedures that occlude blood vessels supplying tumors using chemotherapy or radiation labeled beads and ablation procedures that use needles to freeze or burn cancer cells.
Oncology patients are a very special segment of the patient population, Gunn described. "We're trying to save some patients. Some patients we're trying to palliate, and some patients don't respond to treatments. I am as honest as I can be with my patients."
The field of interventional radiology is only about 40 years old, said Gunn. "We're still making inroads with technology, and we're developing more data to support the work and results of this field. We view ourselves as having a collaborative interest in patient care, as part of an interprofessional team of providers."
Applications and treatments using interventional radiology are expanding, and Gunn is working to spread the word about the field. He has written extensively and lectured nationally regarding image-guided therapies for cancer, uterine fibroid embolization, bariatric embolization, image-guided therapies for trauma, IVC filter retrievals, and patient centered care in radiology. And he is helping to train the newest interventional radiologists.
Interventional radiology is a field he knew nothing about when he entered medical school. Now, he is standing at the forefront of what can be described as an exciting, meaningful and relatively new development in modern medicine. "It's good to feel needed. I find much value in what I do," said Gunn. "I frequently think back on the reasons I became a doctor. It's being involved with patients who are making and undertaking major decisions in their lives. That is something special, and something I never take for granted."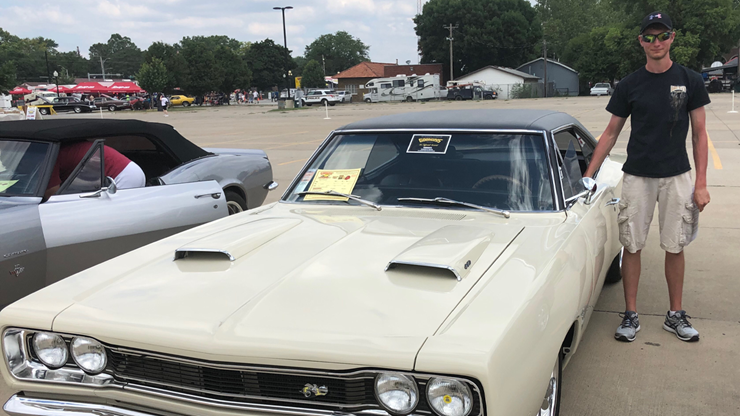 Restoring classic cars, helping out on the family farm and beating his friends in Mario Kart tournaments are just a few of third-year Sanford School of Medicine (SSOM) student Gaven Bowman's favorite pastimes. Restoring cars, a family affair for Bowman since his early days, has proven to have several parallels to the art of medicine in his eyes.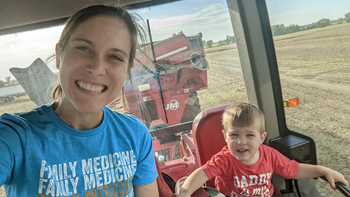 Living on a farm just outside Mission Hill, South Dakota, with her husband, two-year-old and newborn sons, two foster children and countless farm animals, Meghan Grassel '23, M.D., is already busier than most. This self-admitted lover of all things agriculture not only manages a full house and farm, but she also just graduated from the University of South Dakota with an M.D. and MBA – and she makes it look easy.
As the stage of training following graduation, residency programs offer medical students opportunities to focus on their fields of specialty.