Transition to Residency Course Prepares Pillar 3 Students
A new weeklong course, Transition to Residency, gives medical students at the end of Pillar 3 a little extra preparation for entry into internship.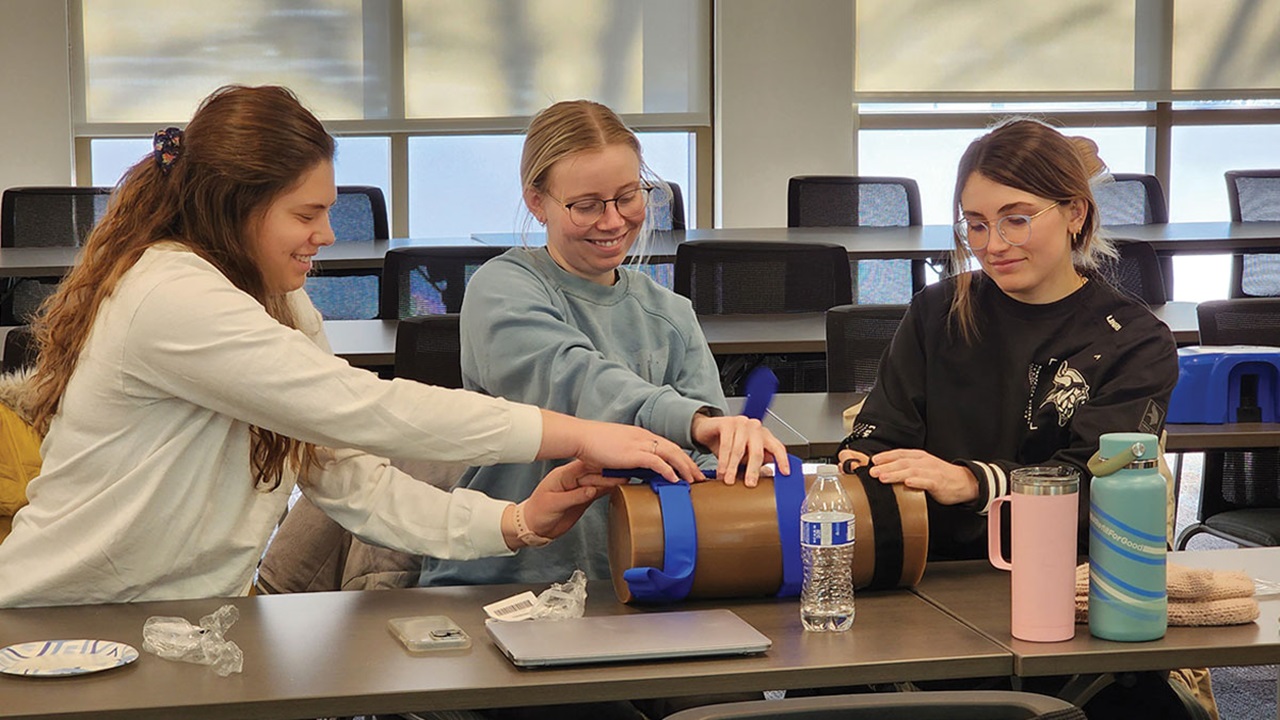 Transition to Residency courses have become an established part of the curriculum for most medical schools over the last five to 10 years to provide some "just in time" education to help prepare graduates for their new roles as interns. This year's Transition to Residency course was led by Dr. Jennifer Hasvold, specialist in internal medicine and pediatrics. She has been a clinical associate professor for USD's medical school since 2019 and has served as course director for Transition to Residency since 2021. The first Transition to Residency course at SSOM began in 2020, launched by Dr. Michelle Schimelpfenig.
"In the course, we go over essential skills that are universal to the art and practice of medicine such as strategies for effective communication, avoiding medical error and medical decision making," explained Hasvold. "We also work through some common general medicine calls interns are likely to receive through an interactive paging simulation followed by a whole class discussion."
Students are also able to select from a menu of small group clinical skills sessions such as antibiotics 101, a neurology crash course, and lines and airways simulations. By doing this, they can create a schedule they feel will best meet their individual needs.
"Dr. Gary Timmerman laid the foundation for Transition to Residency programs at our institution with his surgical bootcamp, which has been extremely successful, so we try to offer curriculum that complements that content for students going into surgical fields," Hasvold said. "Dr. Roy Mortinson coordinates a point of care ultrasound series to help students brush up on those skills as well. Dr. Adam Mark does a lecture on delivering difficult news at the beginning of the week, and over the course of the week, every student participates in a standardized patient encounter where they practice delivering difficult news."
As the students near graduation, there can be apprehension about the financial transition to residency as well. Many have student loans that will go into repayment and are looking at relocating or possibly buying a home for the first time, and the course can equip students with knowledge and resources to make this process less overwhelming.
"This year we had a life skills series with a realtor, mortgage specialist and physician recruiters to speak to students on these topics and field their questions," Hasvold said. "There was a presentation on how to build a budget on a resident salary and a three-part lecture series advising students on how to manage loans upon graduation."
"Transition to Residency was a well-coordinated curriculum that gave me the opportunity to refresh some clinical skills applicable to my intern year," said Pillar 3 medical student Meredith Keith. "I appreciated the financial lectures given as well, not having a background in business or financial planning. Both the panel and the remarks made by the various presenters throughout the week were helpful in preparing me mentally for what the experience as an intern will be."
"There is only so much anyone can learn in a week, and being a physician really means a lifetime of learning," said Hasvold. "My hope is during the Transition to Residency week we can help students feel confident in the foundations they have built for their new careers."