Avoseh Selected to Join The Fulbright National Screening Committee
The University of South Dakota's School of Education is pleased to announce Mike Avoseh, Ph.D., professor in the School of Education, has been selected by the Institute of International Education (IIE) to help select future students for the Fulbright U.S. Student Program.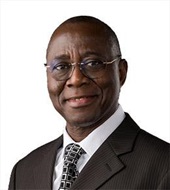 "The selection speaks to national recognition of one's subject matter expertise and quality of research," Avoseh said. "The Fulbright selection process is rigorous in its quest to select the best of the best. It is an honor to be entrusted to select the best."
The IIE annually administers the competition for the Fulbright U.S. Student Program, sponsored by the United States Department of State in partnership with foreign governments and universities. The Fulbright U.S. Student Program offers recent college graduates and graduate students opportunities for research, study or teaching assistantships in over 140 countries.
As a part of the binational selection process, IIE convenes National Screening Committees (NSC) in the subsections of academics, arts and English Teaching Assistantships to review applications by world region or discipline. These committees nominate applications for final consideration by the supervising agency in the host country and the Fulbright Foreign Scholarship Board.
Avoseh's responsibilities include serving on the committee for Fulbright U.S. Student English Language Teaching Assistantships for a term of three years beginning with this year's competition. The process involves reading and rating approximately 50-60 applications before a one-day virtual meeting with fellow committee members to recommend a select number of candidates for further consideration.
"Lifelong learning is crucial in my discipline and to me," Avoseh said. "My experiences from previous similar exercises show that there is always something to learn especially from the proposals and project statements. I am amazed by the diversity, depth and profundity of the quality of work others are doing in my discipline – including graduate students. This is another opportunity to learn."