KSM Students Benefit from Experiential Learning Opportunities
Through an assignment in the University of South Dakota's Introduction to Kinesiology/Sport Management course, kinesiology and sport management (KSM) students are getting invaluable experience through experiential learning opportunities and creating meaningful connections across campus and the broader Vermillion community.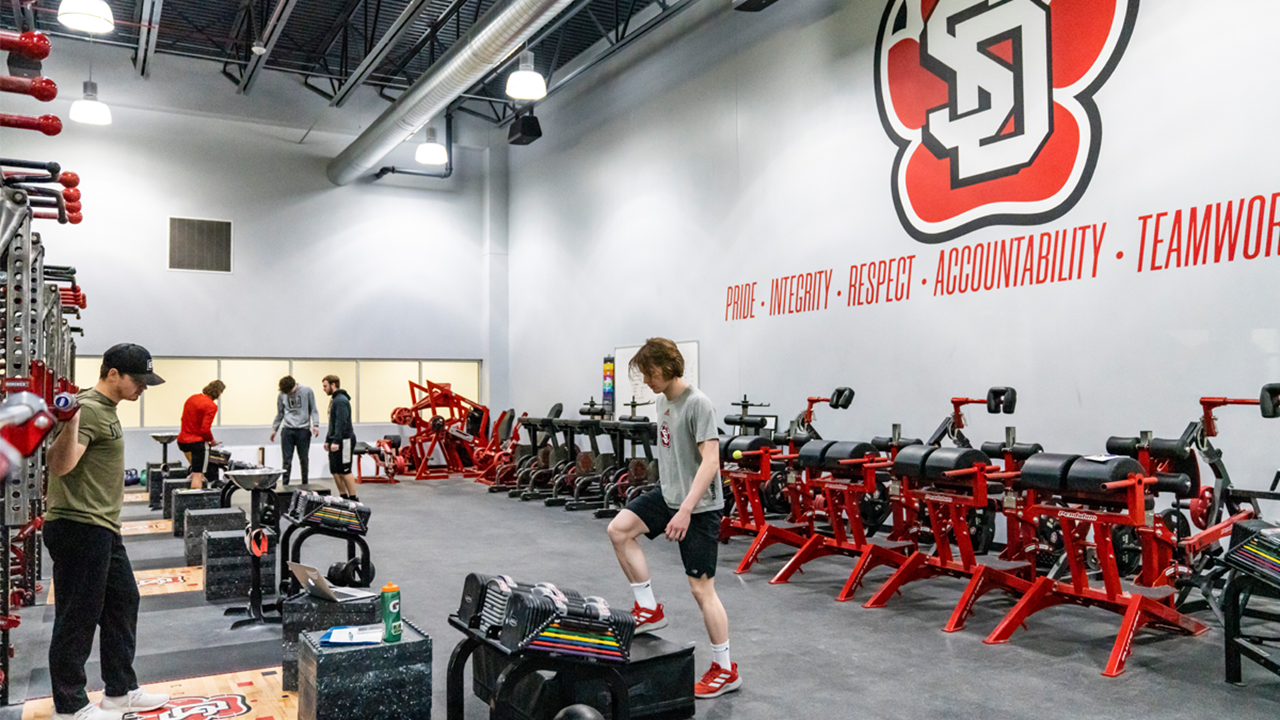 In the course, taught by instructor Wendy Johnson, students get an inside look at what a career in KSM might look like. Throughout the semester, Johnson has brought in guest speakers from across campus and the Vermillion community to discuss their educational experiences and careers and share opportunities for students to get involved.
Another large component of the class is a behind-the-scenes learning assignment, which is broken into two segments. First, students observe an activity, such as a sporting event or a group fitness class, and write a reflection about their observations. Then, the students shadow a KSM professional.
"Essentially, we want students to get practical experience that allows them to take the knowledge they've gained through their coursework and apply it to a real-world setting," said Johnson. "This assignment starts their exploration in the field and helps them make connections within the university and community."
Johnson helps the students make the initial connection, then the students are responsible for reaching out to the professional and setting up a time to shadow them in their work environment. The purpose of the assignment is for students to learn more about their future career interests, so they can choose which specific area of KSM they want to explore. Some of these areas include physical therapy, strength and conditioning, facilities and management, coaching, athletic training, marketing and more.
"When students can relate their coursework to the field, they get really excited about their future in KSM," Johnson said. "We also think that this helps them have a more successful career because they can start building their resume and developing transferrable skills that they can use in their future careers."
While students only have to shadow once for the assignment, many students have continued this experiential learning beyond the course requirements, and the connections they've made have opened doors for new opportunities.
For freshman Brooke Parker, a connection with the head coach of the USD swim team led to her becoming the student manager of the team.
"This opportunity has led to me being included in the amazing team culture and has allowed me to be involved with something bigger than myself," Parker said.
Parker also said her experiences in the introduction course have opened her eyes to the vast opportunities available through KSM.
"Before this class, I never realized the depth of the KSM field, and there are so many career choices and experiences I didn't know existed," Parker added. "I have really enjoyed having opportunities to get involved with the community and learn the different aspects of this major."
Another student, freshman Kaia Elonich, had a similar experience, and a connection she made through the class presented her with a job opportunity helping organize and run USD swim meets. Prior to this course, Elonich was not sure if KSM was the right choice for her, but through her experiential learning experiences, she found that this field is exactly what she wants to pursue.
"Getting hands-on experience helped me realize that sports management is the right major for me, and I fell in love with this field," Elonich said.
Students in KSM can choose between two specialization tracks: exercise science or sport management. Students within the exercise science track learn skills in exercise assessment, prescription and programming, while students in the sport management track focus on the expanding industries of athletics, sport entertainment and business. As a university with Division I athletics, Johnson sees the unique opportunity USD has to extend experiential learning opportunities to students across the entire breadth of KSM.
"All of the various tracks and career fields within the KSM program pretty much embody what is happening within USD Athletics," Johnson said. "Whether students want to go into athletic training, sport management, strength and conditioning, ticketing, marketing, facilities and operations, administration or something else, they can explore their options right here on campus."
In early October, the KSM students in Johnson's class were able to get a look inside USD Athletics through a field trip to the Hultgren Family Weight Room, a 7,500-square-foot facility located inside the Sanford Coyotes Sports Center. The weight room serves as the home for USD Strength and Conditioning, and students were able to hear from Head Coach Clete McLeod and observe student-athletes.
"Students were sitting on benches and in between the racks, getting the full-experience of what it would be like to work in a strength and conditioning room at a university," Johnson said.
In addition to USD Athletics, Johnson has collaborated with a variety of other entities across campus and the community, including the Wellness Center, Vermillion Parks & Recreation, the USD Department of Physical Therapy and more.
"The collaboration has been excellent," Johnson said. "Everyone has been really excited about helping the students and providing the best opportunities and experiences for them.
"That's what I think is super special about all these collaborations – that they really care about the students," Johnson added. "The connections students make with these professionals keep them interested, and when students know they have people in their corner that are here for them, they feel really grounded here at USD."