Personal Experiences Inspire School of Education Graduate Student to Become School Psychologist
For University of South Dakota School of Education graduate student Hser Lar Kpaw Htoo, the quote, "The meaning of life is to find your gift. The purpose of life is to give it away," has served as inspiration in his pursuit of a career as a school psychologist.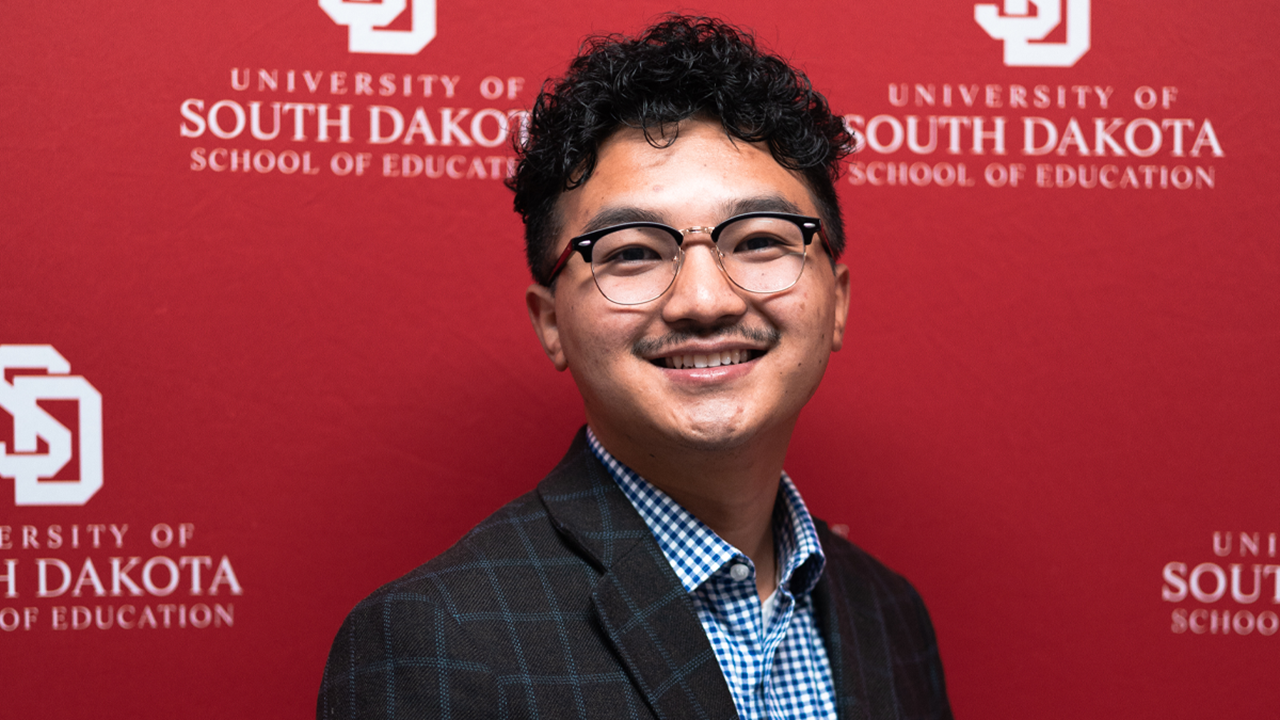 This quote serves as a powerful reminder for Htoo to reflect on the blessings and gifts in his life and inspires him to focus on how he can use his abilities to make a positive impact. For Htoo, becoming a school psychologist is the perfect way to do so.
"I feel so passionate about helping students reach their full potential as a school psychologist because I understand the importance of education in shaping one's future and the impact that it can have on an individual's mental, emotional and social well-being," Htoo said. "My own experiences have taught me the importance of support and understanding in helping students succeed. I want to give back to the community that helped me in my own journey by making a difference in the lives of other students."
Currently a highly successful student in USD's school psychology program, Htoo has experienced an educational journey that has been filled with hardship and uncertainty. After being forced to flee to a refugee camp in Thailand in 2006 due to ongoing ethnic conflict and civil war in his home country of Myanmar (formerly Burma), Htoo and his family were presented with the opportunity to settle in the United States as refugees in 2013.
Upon his arrival in the U.S., Htoo spent his middle school years in St. Paul, Minnesota, where his education primarily focused on developing his language, writing and social skills.
"Struggles like poor academic performance and a language barrier hindered my ability to reach my full potential," Htoo said. "Nevertheless, with the aid of school psychologists and other educators, I received the necessary support that allowed me to catch up with my classmates and improve my English language proficiency, ultimately fostering a sense of belonging in the classroom."
In 2015, Htoo and his family relocated to Marshall, Minnesota, where he began his high school education. As a freshman, he faced challenges, but with the help of his guidance counselors and teachers, he was enrolled in appropriate classes and was able to keep pace with his peers. Htoo graduated high school in 2019.
The early experiences and struggles Htoo faced and the ways in which he was able to overcome them instilled in him a deep appreciation for educators and the school psychology profession, ultimately leading him to pursue a career as a school psychologist.
"As a refugee who has faced various challenges, I am aware of the significance of the support provided by school psychologists and educators within the system," Htoo said. "That is why I have chosen to purse this career, as I can relate to the struggles of students and understand that sometimes all they need is someone who cares enough about them to ensure they receive the appropriate support to reach their full potential."
Htoo's dedication to making a difference in the field of school psychology resulted in him recently being selected as a recipient of the National Association of School Psychologists (NASP)-ERT Minority Scholarship, a highly competitive scholarship aimed at supporting the graduate training of minority students who are pursuing careers in school psychology. Htoo was one of only six students in the nation selected for the program.
"This esteemed scholarship provides minority students with the opportunity to showcase their aspirations and passions in the field of school psychology, and as a recipient, I am privileged to serve as a role model and inspiration to others," Htoo said. "Through this opportunity, I aim to demonstrate that individuals from diverse backgrounds can attain success in the field of school psychology.
"Furthermore, the scholarship not only enables me to further my education and professional goals, but also empowers me to make a meaningful and lasting impact on the field of school psychology and the communities it serves," he added.
The scholarship awards $5,000 each to selected scholars. In addition to the fund, the scholarship provides students with the chance to actively participate in professional development activities, mentorship programs and networking opportunities at the NASP Annual Convention held in February in Denver, Colorado. Htoo will also be officially awarded with his scholarship at the convention.
Htoo graduated with a degree in psychology from South Dakota State University in the spring of 2022 and enrolled in USD's graduate school psychology program in fall 2022. He said that he chose to pursue his degree at USD because of their supportive community and the emphasis on best practices in school psychology through hands-on field experiences. Small class sizes and the program's accreditation from the NASP were additional factors aiding in his decision.
"As I familiarized myself with the dedicated staff members at the program, I felt that USD's school psychology program was like a home to me," Htoo said. "These professionals are committed to helping students achieve their goals and fostering their personal growth."
"Lar's kindness, enthusiasm and commitment to excellence in all that he does exemplifies the mission of the school psychology program at USD," said Kari Oyen, Ph.D., assistant professor of school psychology. "We are so honored to have him in our program and cannot wait to see what he does for the field of school psychology."
After he completes the graduate program, Htoo plans to assume a role as a school psychologist. His goal is to collaborate with other education professionals to conduct research on the behaviors of minority students with the aim of identifying areas for improvement and implementing additional resources to enhance communication and engagement between the education systems and the families of students.