School of Education Alumna Receives Prestigious Educator Award
University of South Dakota School of Education alumna Abby Turbak '10, '11 recently received a 2022-23 Milken Educator Award. Hailed as the "Oscars of Teaching," Milken Educator Awards inspire and uplift with the unique stories of educators making a profound difference for students, colleagues and communities.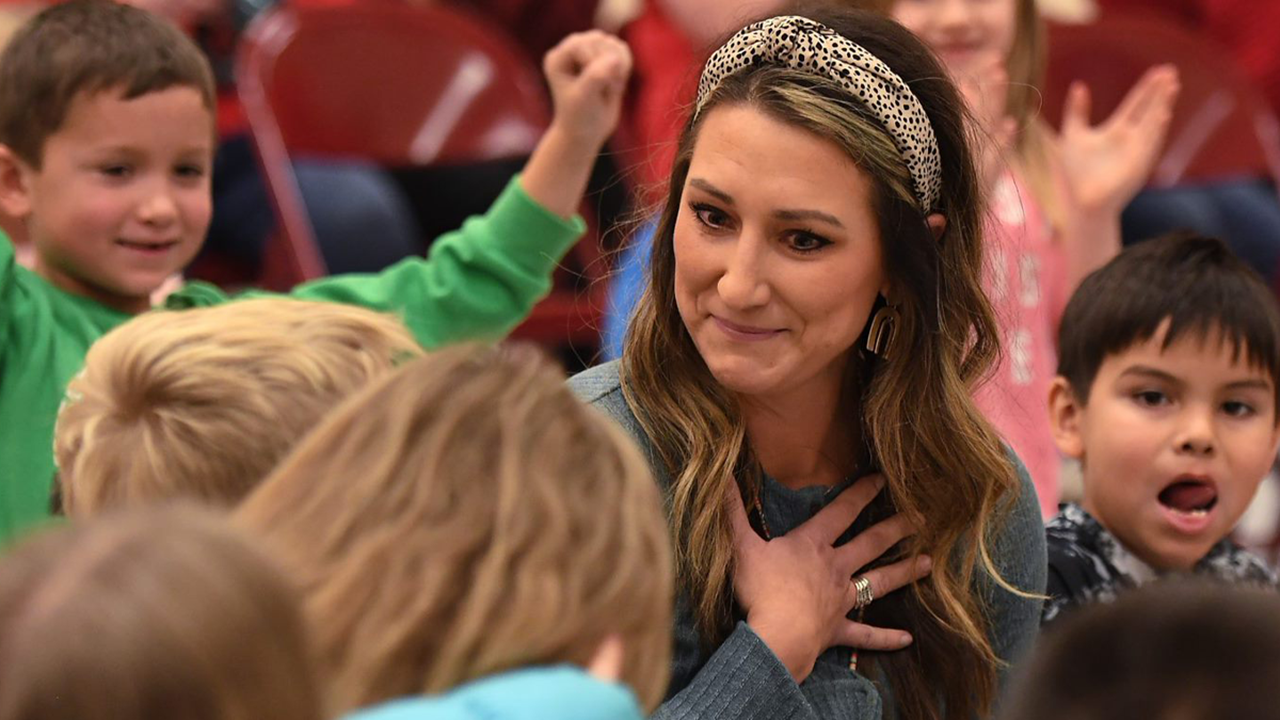 The Milken Educator Awards, presented by the Milken Family Foundation, target early-to-mid career education professionals for their already impressive achievements and for the promise of what they will accomplish in the future. Turbak was announced as a recipient at a schoolwide assembly and received a $25,000 cash prize.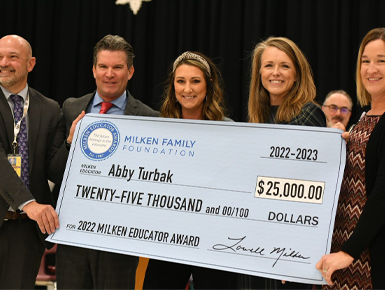 "Receiving this award has been quite the experience," said Turbak. "I'm very honored to have been recognized for such an amazing award. I work with amazing people and students every day which makes my job an easy one."
Along with the financial prize, recipients join the national Milken Educator Network, a group of more than 2,900 top teachers, principals and specialists. The network serves as a resource for fellow educators, legislators, school boards and others dedicated to excellence in education.
Turbak was chosen for the award because of her effective teaching practices targeted at helping student excel. In her first-grade classroom at McKinley Elementary School in Watertown, South Dakota, Turbak differentiates instruction in all subject areas, breaking students up into small groups for math, reading, writing and phonics and by creating Student Learning Objectives (SLOs) to identify goals and measure growth.
"I meet the students' needs every day," Turbak said about her teaching style. "I take students where they are and move them forward. If they are high functioning, we continue to grow and develop skills at their level. Same for students who may need some extra assistance."
Turbak received her bachelor's in elementary education in 2010 and a master's in elementary and early childhood education in 2011, both from USD. She credits her time at the university for giving her valuable hands-on experiences that shaped her style of teaching.
"USD helped me become the teacher I am today by providing opportunities in the community to grow and learn through doing," Turbak said. "I had many opportunities to get into classrooms through field experience, volunteering and more.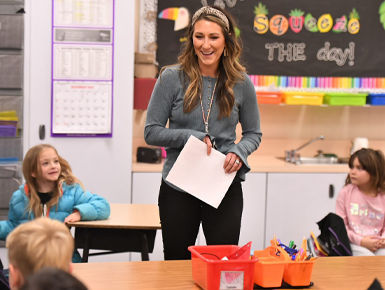 Turbak is the first educator in the Watertown School District to be presented with a Milken Educator Award. In the classroom, she holds high expectations for her students and promotes a growth mindset.
"I'm inspired by my students. I want to give them the best opportunities to succeed and be the best they can," Turbak said. "My favorite part about teaching is making connections with my students and watching them learn and grow."
Photos courtesy of the Milken Educator Awards website.