School of Education Hosts Educators Rising South Dakota
On Sept. 25, the University of South Dakota School of Education hosted members of Educators Rising South Dakota for an event aimed at inspiring high school students across the state to consider a career in education and introducing them to the opportunities available in the USD School of Education.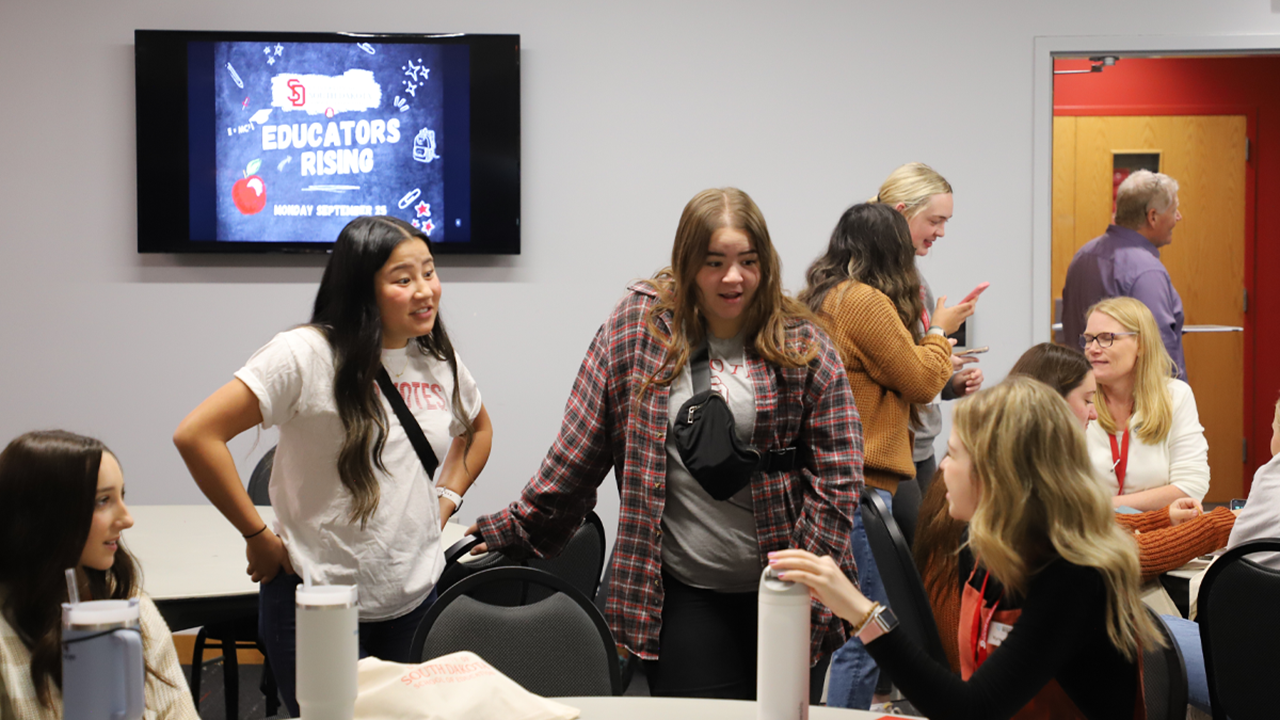 Educators Rising is a national organization comprised of high school chapters that encourage students into university teacher preparation programs and into the teaching field.
School of Education Dean Amy Schweinle, Ph.D., welcomed the Educators Rising students to campus, and the event commenced with a series of speakers, including Travis Lape, state director for Educators Rising, and high school student state officers.
A key highlight of the event was a student panel comprising current USD School of Education students, many of whom were once members of Educators Rising during their high school years. These panelists provided firsthand accounts of their educational journeys, giving candid insights and practical advice on pursuing a major in education at USD.
"It was uplifting to meet so many bright, passionate and engaged South Dakota high school students who are interested in becoming teachers," said Jackie Wilber, Ed.D., who coordinated the event with Dajshon Keel, School of Education recruiter, and USD Admissions. "It was also inspiring to hear our students share how they evolved from high school students in Educators Rising to USD Coyotes who are now completing their degrees in education and soon to become teachers. I felt like I was seeing the full impact of Educators Rising South Dakota right in front of me."
In addition, Educators Rising offered practical information about USD's School of Education programs and the admissions process, ensuring that students left with a clear understanding of how to obtain a teaching degree at the university.
Student ambassadors from USD Admissions and the School of Education led walking tours throughout the Vermillion campus. The event concluded with an area college fair in the Muenster University Center, where students gathered information about various higher education institutions and educational pathways, broadening their perspective on future academic possibilities.
The USD School of Education hosts high school students from Educators Rising annually. For more information on Educators Rising, visit edrisingsd.org.
The University of South Dakota School of Education was ranked No. 149 on U.S. News and World Report's 2023-2024 "Best Graduate Education Schools" list, ranking the highest in South Dakota and North Dakota.