School of Education Student Seeks to Fill Gaps in Summer School Instructional Strategies
University of South Dakota undergraduate researcher Talia DeWitte, a senior double majoring in elementary education and special education with a reading endorsement, completed research to expand the knowledge base regarding effective instruction during extended school sessions.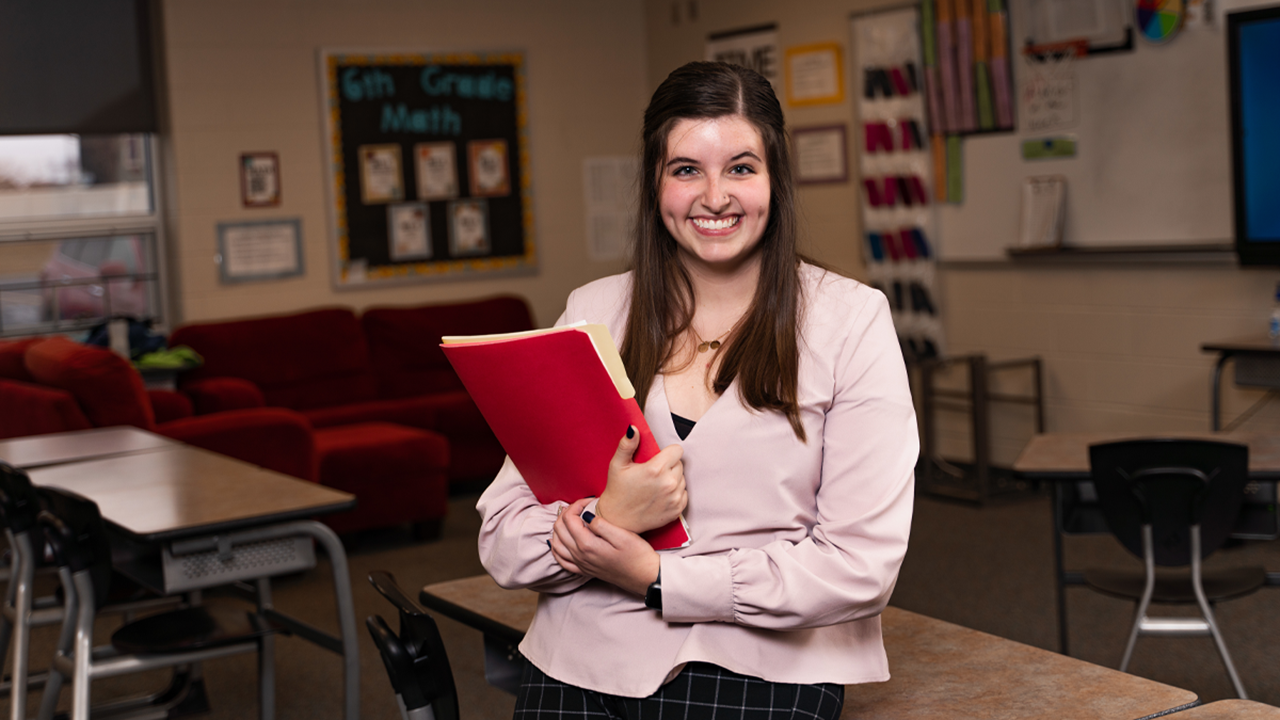 Basic reading skills are a foundational element of a child's academic journey and are critical for future academic success. However, for students with educational disabilities, additional instructional support is often necessary to better develop these skills.
Some school districts have addressed this need by hosting extended school year sessions during the summer months, but there is little research related to the effectiveness of repeated reading instruction during these sessions.
By implementing repeated reading strategies and Precision Teaching measurement approaches during extended school year sessions, DeWitte hopes her research will help fill this gap and enhance foundational knowledge regarding best practices for additional instructional periods.
"My research is helpful in suggesting more information to teachers regarding effective instruction during summer school," DeWitte said. "My research also provides information and interesting ideas about education and instructional strategies to those who are not currently educators."
DeWitte, a Sioux Falls native, has presented her research at several conferences, including the Upper Midwest Regional Honors Conference, hosted by USD in April 2022, and the Applied Behavior Analysis International Conference, held in Boston in May of 2022.
"I am proud of what this research has provided for me and others in terms of learning and networking opportunities," DeWitte said. "I have learned more about the field than I thought possible in my undergraduate years, and I believe this research has equipped me with the skills and tools I need to be an effective and passionate researcher.
"In turn, I think I have also gotten the chance to show others what I have learned about the field and the things I have done in the classroom," she added. "I have gotten to meet and learn from so many people at conferences, which has been incredibly eye-opening and enjoyable."
Upon graduation, DeWitte plans to teach in the Sioux Falls area. Within her first five years of teaching, she plans to earn her master's degree in either special education or reading intervention. DeWitte is currently completing her yearlong teacher residency in the Harrisburg School District.
"I hope to start my career in this community, as I have really enjoyed the opportunity to grow and learn as an educator here so far," DeWitte said.
"Each new experience will yield so many chances for me to grow as both a person and an educator," she continued. "USD has showed its dedication to reaching local schools and has provided me with rich field experiences early on."
DeWitte began her journey in USD's School of Education through Teacher Pathway, a program that facilitates opportunities for students in the Sioux Falls School District who are interested in becoming teachers. She said she has received significant support from the School of Education and its faculty and staff, some of whom inspired her to take on this research project.
"I worked with Dr. Bill Sweeny in the School of Education for this project and thoroughly enjoyed it," DeWitte said. "On top of great support from the School of Education faculty, my inspiration to do the research simply came from a desire to dig deeper and learn more about my field coupled with my passion for working with students.
"I learned so much about effective teaching strategies in-practice, and I believe this active instruction aided me in becoming a more well-rounded educator," she continued.