Social Science Methods Course Project Allows Students to Learn About the Experiences of Veterans
University of South Dakota education students completed a class project that allowed them to explore the theme of war and peace through veterans' experiences.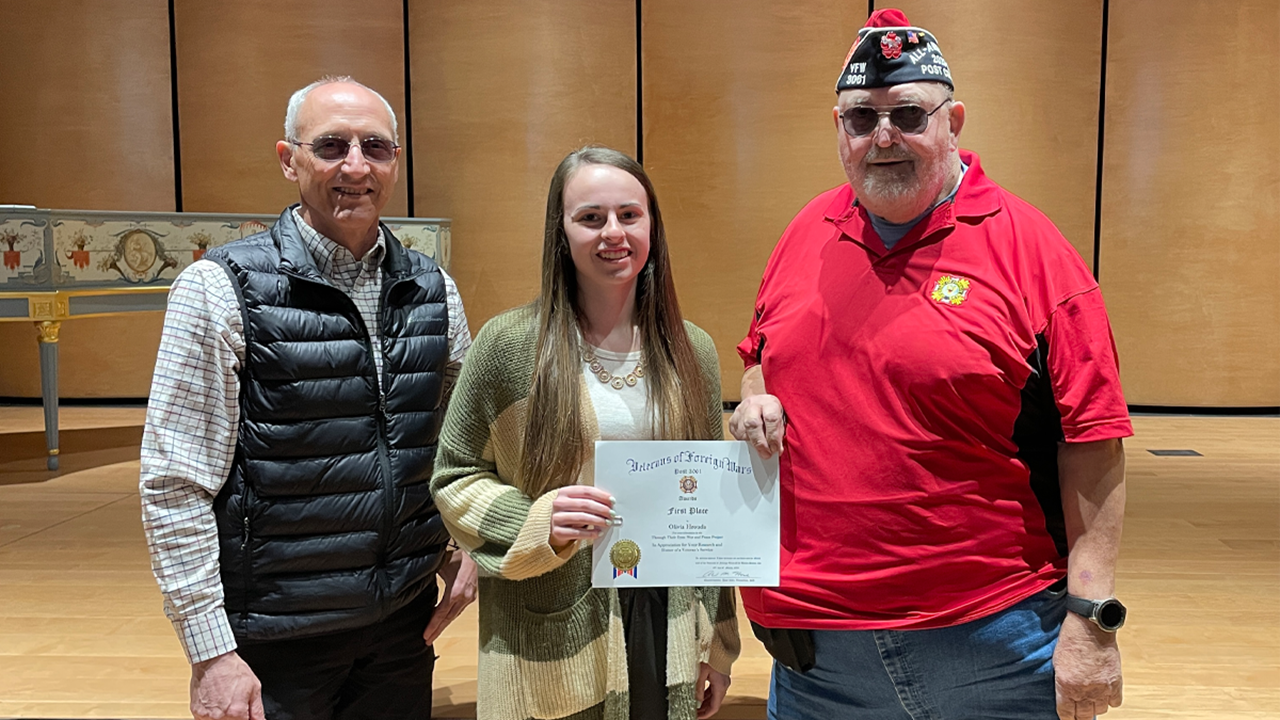 The project – completed in a social science methods course taught by Jing Williams, Ph.D., associate professor in the School of Education – aimed to enlighten future secondary social studies teachers to teach war from a human perspective.
"I've been doing this project with my students since 2020, and it's been a great way to increase their awareness of veterans' contributions and sacrifices to our country," said Williams. "It also helps show students how to implement similar research projects in their own classrooms."
"Dr. Williams does a wonderful job of teaching us how to implement a variety of different projects into our own future classrooms," said junior secondary history education student Olivia Hrouda. "The oral history project was particularly inspiring, as it allowed each of us to get to know a veteran on a much more personal level. It also helped us to see particular wars through a more human perspective, which is something that cannot be gained from a textbook."
Students collaborated with the South Dakota Oral History Center and Veteran of Foreign Wars (VFW) Post 3061. The project required each student to interview a veteran who had been deployed overseas and write a biography about that veteran.
Isaac White, a junior studying secondary history education, interviewed his uncle, Rick Leeds for the project. "I didn't know how impactful this project would end up being for me," said White. "The most impactful part was the reflection that I did after my interview. I realized that it was truly important to show how war impacts people as individuals and isn't just borders and colors changing on a map."
After completing the project, the students presented their work to a panel of veterans from VFW Post 3061. The panel then evaluated the student presentations and selected the top three projects. The first, second and third place winners received $150, $100 and $50 prizes, respectively.
The top three placing students include the following.
First place – Olivia Hrouda who interviewed Clair Hamar, a South Dakotan who served during the Korean War.
Second place – Isaac White who interviewed Rick Leeds, a U.S. Army National Guard who was a tank commander.
Third place – Nick O'Connor who interviewed Arthur "Bucky" O'Connor, a retired member of the South Dakota National Guard who served during the Operation Desert Storm.
Education students Benjamin Kohls and Harrison Kieffer also presented their projects and received $20 honorary awards from VFW Post 3061.