Teacher Pathway Program Leads to Hire in the Sioux Falls School District
When she graduates with her degree in Elementary Education this weekend, Alisa Larsen, a Sioux Falls, South Dakota, native, will become the first student to complete the Teacher Pathway Program at the University of South Dakota School of Education.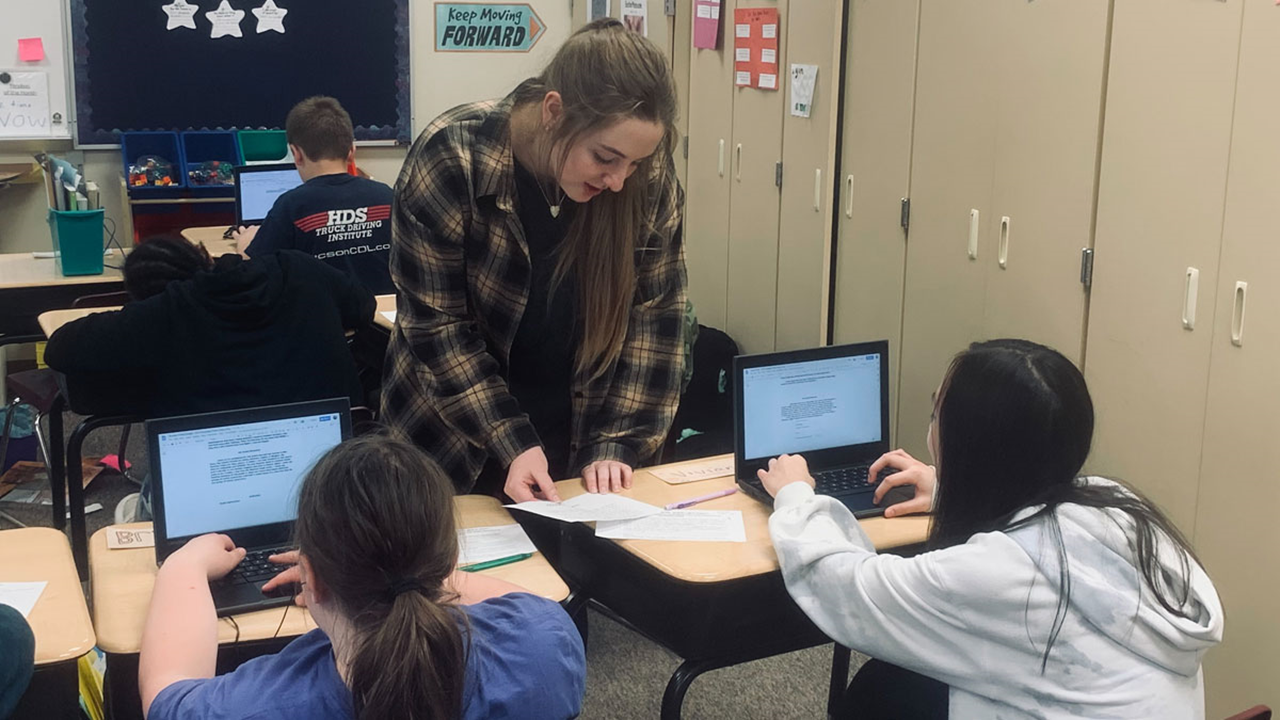 The Teacher Pathway Program is a partnership between the USD School of Education and the Sioux Falls School District that allows high school students to experience firsthand what it's like to pursue a career in education and be guided by highly effective teachers in the district.
"It has always been a dream of mine to be a teacher, and the Teacher Pathway Program definitely influenced me to make that dream a reality," Larsen said. "I learned the importance of building relationships with students and how big of an impact it can make. I also got to create engaging lessons and even look at student work. The program showed me a new side of teaching that I had never seen before, and that made me fall even more in love with this career."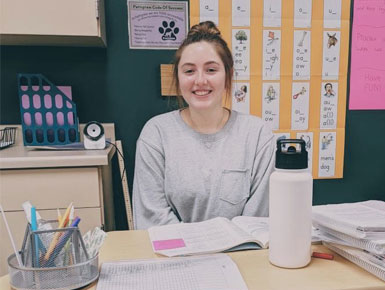 The Teacher Pathway Program was created to increase interest in the teaching profession, increase diversity in the teaching population and encourage teacher employment in the Sioux Falls School District. Through the program, students are introduced to Teacher Pathway coursework in high school. These courses can be taken for USD credit, giving students a jump-start on the teacher education program in the USD School of Education.
"I am excited to watch the Teacher Pathway Program start completing its cycles," said Amy Schweinle, dean of the School of Education. "Sioux Falls schools are committed to excellence, and we are thrilled to partner with them to support the community. I can't wait to watch the program grow and watch more and more pathway teachers enter classrooms."
Larsen was a part of the first Roosevelt High School Teacher Pathway Program. She came to USD having completed several AP and dual credit courses, and she earned her Elementary Education degree in just three years. During her time in the School of Education, Larsen was a student teacher at Pettigrew Elementary School in Sioux Falls, and upon graduation, she will return to the Sioux Falls School District and teach 5th grade at Discovery Elementary.
"I'm looking forward to taking the next steps in my career at Discovery Elementary," Larsen said. "I am most excited to help students gain confidence in their abilities and learning. Nothing beats the feeling you get when you teach a child something new and their eyes light up. I am also looking forward to creating great relationships with my students and coworkers."
"The Sioux Falls School District was truly excited to see the hiring of our first student that completed the Teacher Pathway Program," said James Nold, assistant superintendent for the Sioux Falls Public Schools. "This program is a shining example of what collaboration between K-12 schools and our university partners can provide for our students and community. The University of South Dakota partnered with the SFSD to develop the Teacher Pathway program and continues to partner with us in the success of this program. We look forward to providing our students with experiences that help them achieve the goals and careers they desire."