Teacher Residency Policy Change Allows Education Students to Return to Home Communities
To combat the state's teacher shortage, the University of South Dakota School of Education updated their Division of Teacher Residency & Education (TRE) placement policy in the fall of 2022 to allow education students to complete their residency in their hometown.
"As the demand for teachers continues to grow, our faculty are always looking for innovative ways to better serve and meet the needs of schools in the state and throughout the region," said Dan Mourlam, Ed.D., chair of the Division of Teacher Education. "One of those strategies is the idea that communities can grow their own, and this policy change supports that idea."
The TRE placement policy change increased the flexibility of the School of Education's teacher residency and student teaching programs. Now, students can request to be placed in any community, as compared to only being able to be placed in schools the university has worked with in the past. Students can also be placed in schools they attended as a K-12 student as well as in schools where their children are attending.
"This updated policy is already having an impact on our students in terms of their availability to live at home with their family, which not only assists with their financial needs during the residency year, but also provides a great support structure for them as they complete the program," said Mourlam. "This policy is also helping those students who are place bound, have children in the school district or are already working in a school district as an aide or paraprofessional.
"It's really just creating a lot of additional flexibility to ensure the students have the greatest opportunities for success," he continued.
Second-year graduate student Myah Red Horse, an enrolled member of the Cheyenne River Sioux Tribe, is taking advantage of the policy change and completing her residency in her hometown, Eagle Butte. Red Horse graduated from Cheyenne Eagle-Butte in 2017, and now, she is learning alongside some of her former teachers.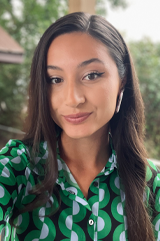 "I am learning so much every day, and I am thankful for my mentor teacher Mrs. Besty Mitchell," Red Horse said. "She was my fourth grade teacher, and it is a full circle moment to share this experience with her. I am very grateful to learn from her once again.
"It is such a good feeling to see my previous teachers in a new light," she continued. "They inspired me to join this profession, and now I am learning from them again, but this time as a colleague."
Red Horse said she chose to complete her residency in her hometown because she loves her community.
"Much like the rest of the country, Cheyenne-Eagle Butte is extremely short staffed, and I knew that I wanted to help," Red Horse said. "Also, my grandparents and great-grandmother worked at Cheyenne-Eagle Butte as teachers, maintenance staff and at the cafeteria, so I am very proud to be home and serving in my community as an educator."
Red Horse will graduate with her M.A. in secondary education plus certification in May and has accepted a job teaching history and Native studies at Cheyenne-Eagle Butte next fall.
"I am looking forward to having my own classroom in the fall and establishing myself as an educator," Red Horse said. "As much as I will be facilitating learning for my students, I know I will be learning alongside them."