Undergraduate Students Explore Impact of Education on Global Scale Through Study Abroad Experience
Eleven undergraduate students at the University of South Dakota, including nine students from the School of Education and two German language students, spent two weeks of their summer on a study abroad experience learning about education and school systems from a global perspective.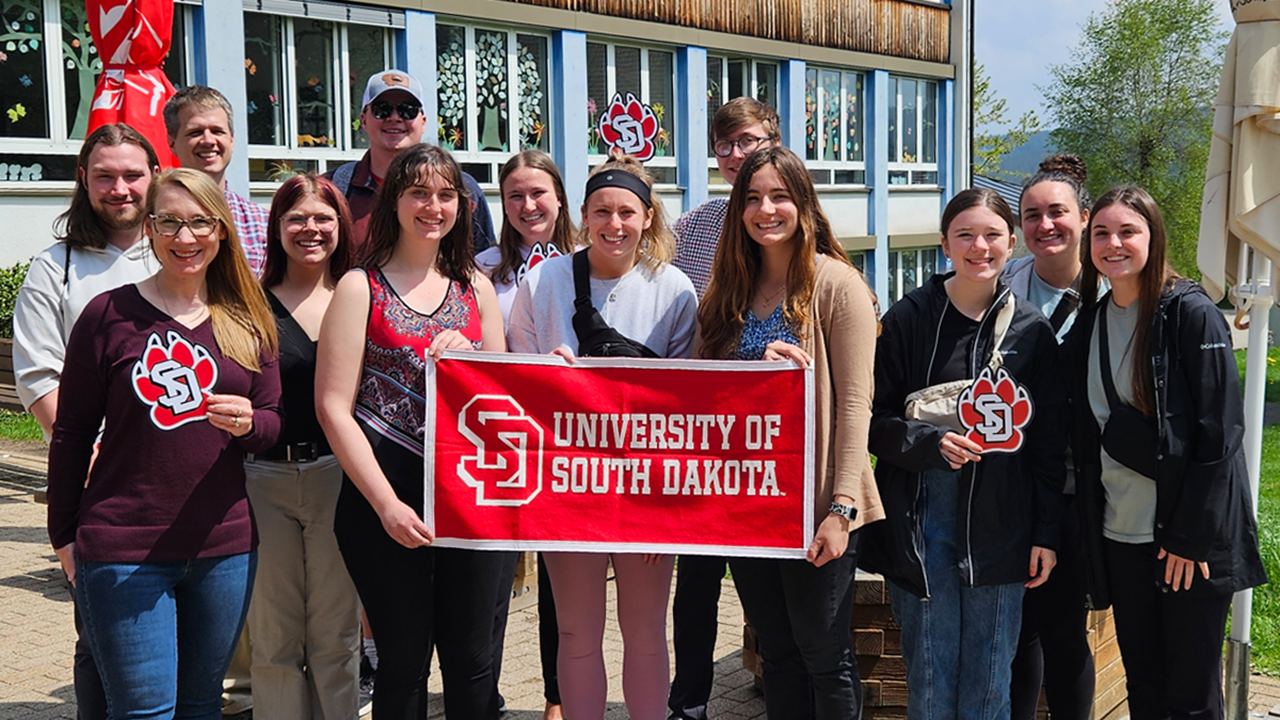 Offered through a School of Education course titled, "Germany, France & Switzerland: Exploring Cultures and Education" taught by Jill Paulson and Nathan J. Bates, Ph.D., the 14-day Faculty Led Program (FLP) gave participating students the opportunity to study school systems in Germany, France and Switzerland.
"We were beyond thrilled to be able to bring this study abroad opportunity to USD students," said Paulson, academic advisor in the School of Education. "Designed with teacher education students in mind, the primary goal of the course was to not only incorporate interactive experiences within German schools for a cross-cultural comparison of educational systems and frameworks, but also to allow students to gain a deeper understanding of the profound value and impact of education on a global scale through historical and cultural excursions.
"Students also came away from the experience with a greater appreciation for the role they can and will play within that impact as future educators," she continued.
The primary destinations for the trip were Freiburg, Germany, and Munich, Germany. The students also took day trips to Basel, Switzerland, and Strasburg, France. The students explored primary and secondary schools, learned about teacher preparation in Germany and engaged in cultural activities like trying local food, exploring nature, touring museums and more.
"This trip was a fantastic way to immerse myself not only into a different culture, but also into a different history through the innumerable museums and ruins I saw," said Quinn Henderson, a junior history education major. "Navigating foreign cities also provided me with a great deal of travel experience and independence."
The Germany, France and Switzerland FLP was made possible through USD's partnership with Pädagogische Hochschule Freiburg (PH Freiburg) – University of Education, a specialized institution that focuses on teacher training and education-related fields in Freiburg, Germany.
"While their structure and timeline is a bit different, PH Freiburg is very in line with USD in terms of its focus on hands-on residency experiences.," said Paulson. "We are very grateful for our partnership with PH Freiburg, as our friends in their international office were a critical component of coordinating school visits for our group while we were in Germany."
While in Germany, USD students were able to take a campus tour of PH Freiburg and engage with professors and students.
"I am thankful for the perspectives I gained on education, lifestyle, language and so many other topics on this trip," said Eisley Saylor, a junior studying elementary and special education. "I am also thankful for the friendships and connections I was able to make with not only my USD peers, but also with locals and with PH Freiburg students and teachers who I met along the way."
In continuation of the partnership between USD and PH Freidburg, the Gallagher International Center coordinated a visit to bring Verena Raissa Bodenbender, Ph.D., head of the international office at PH Freidburg, to USD's campus on Oct. 9-10.