Aberdeen Native and USD Dental Hygiene Graduate Chooses Public Service
Andrea (Kraushar) Bankston remembers how and when she began to gravitate towards dental hygiene as a career.
During her sophomore year at Roncalli High School in Aberdeen, Bankston was assigned to learn about a health care subject, and while conducting that research she discovered the overlooked importance of oral health as it relates to overall health.
"As a high schooler, I then chose to shadow a dental hygienist," explained Bankston. "I liked what I saw. Her work as a hygienist fit nicely into what I was beginning to understand about oral health."
That led Bankston to enter the University of South Dakota, home of South Dakota's only four-year
dental hygiene program
.
"My studies and learning at USD's dental hygiene program were excellent," said Bankston. "I enjoyed and benefited from the clinical rotations at different community facilities, especially the state and federal prisons."
After graduation, Bankston began work as a dental hygienist at a traditional dental office in Minneapolis. But she missed working with underserved populations, so she started serving at a low-income clinic.
"I'm passionate about teaching people who haven't had the opportunity to learn about oral care," Bankston said. "My patients at that clinic needed education and care and providing those services to them was fulfilling. My work at that clinic inspired me to pursue a career in the nation's public health service."
Application to the U.S. Public Health Service was difficult and demanding, requiring nearly two years of exams, screenings and interviews before she was accepted. At that point her options for service and location were plentiful.
"The three sectors in federal public health that are hardest for the government to fill are at Immigration and Customs, the Bureau of Prisons and Indian Health," Bankston explained. "I was willing to serve these assignments, and I selected a federal prison in Coleman, Florida, as my assignment."
Accompanied by her husband -- Aberdeen native and social work professional, Garrett Bankston -- Andrea relocated to Florida last June and began assisting inmates at the largest Bureau of Prisons complex in the country. With some 6,000 inmates, the facilities at Coleman house inmates incarcerated for a broad range of crimes and feature a variety of security levels.
Bankston follows a simple philosophy in her work. "Being firm and respectful with each inmate goes a long way," she reported. "I have found that this approach yields reciprocal behavior."
In October, Bankston was commissioned as an officer in the U.S. Public Health Service, a major accomplishment. She is pondering other deployments, but for now she plans to stay at Coleman to satisfy the dire needs there.
"I signed a two-year contract to serve at Coleman," she explained. "I'm also interested in natural disaster work or work in the Indian Health Service."
Bankston is the fifth graduate of USD's dental hygiene program to enter public health service. "I know I'm needed here and in many other places, as well," she acknowledged, "and that feels rewarding and gratifying."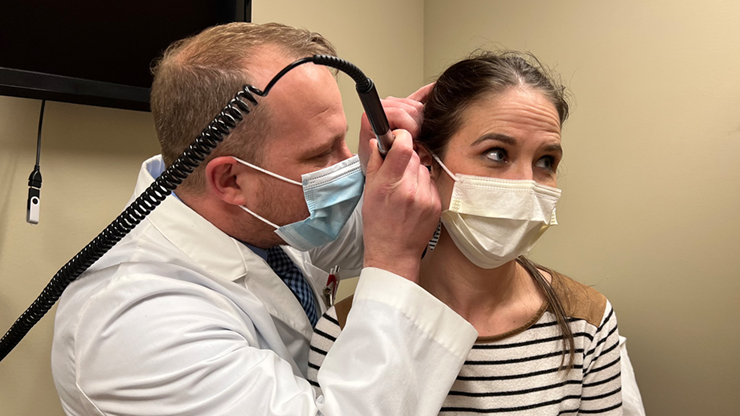 Student-run enterprise provides much-needed services and helps train future health care practitioners.