Dental Hygiene Welcomes New Chair, Poised for Exciting Change
The Department of Dental Hygiene at the University of South Dakota has named a new chair at a time of unparalleled positive change and exciting developments for the department and the School of Health Sciences.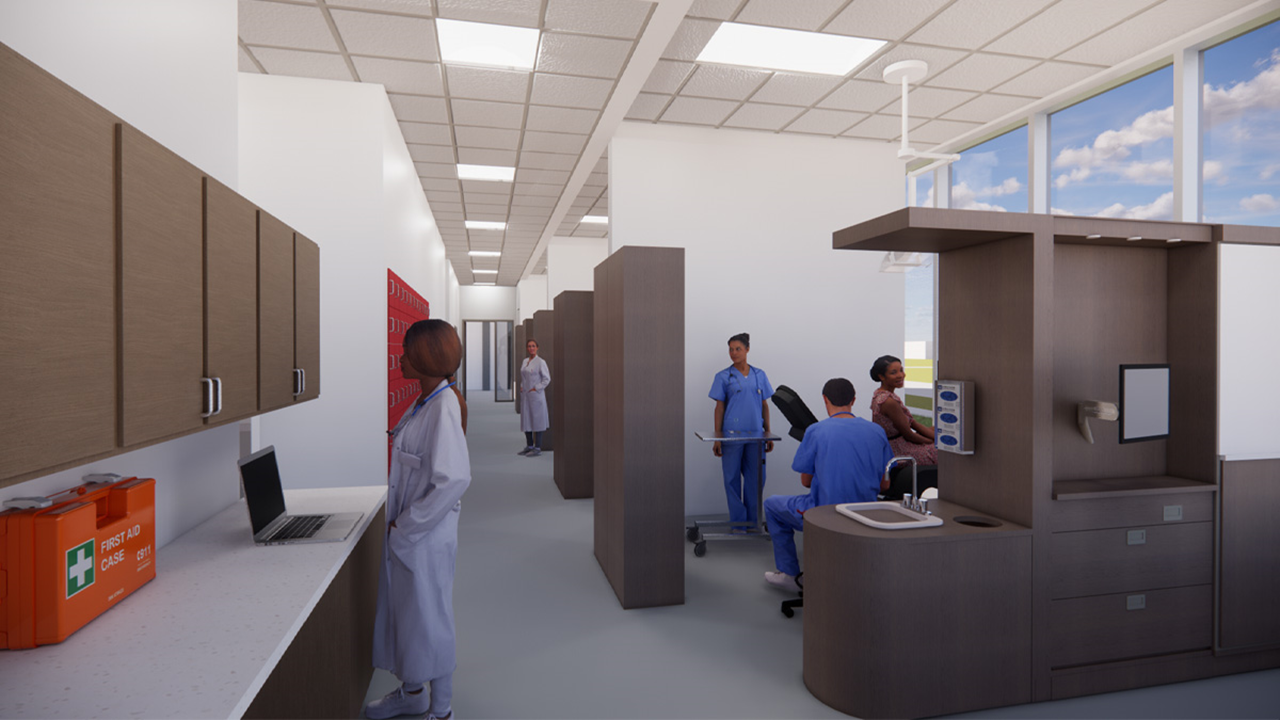 Miranda Drake has accepted the leading position, coming to USD from the University of Minnesota, where she served as a clinical associate professor and interim chair of the dental hygiene program there.

Drake's teaching experience spans seven years: 2015-2021 at the University of Minnesota and 2014-15 at Herzing University in Minneapolis, Minnesota. She's also led continuing education classes for dental hygiene professionals. Prior to that, Drake was a practicing dental hygienist in the Minneapolis Metropolitan area.

"Miranda brings expertise in the accreditation process, curriculum development and quality improvement," said Haifa Abou Samra, Ph.D., dean of USD's School of Health Sciences. "She has a solid record of research and publications and working with the industry and community stakeholders."

Drake officially joined the university in January 2022 in South Dakota's only four-year dental hygiene program and wants to make an immediate impact on its constituents.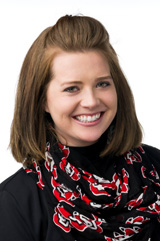 "I want to build relationships and hold team building activities so I can get to know my coworkers, as well as create relationships with employees and key stakeholders within USD, leadership and the state of South Dakota," she explained.

Drake succeeds Ann Brunick, who led the dental hygiene department from 1996-2020, when she transitioned to the position of associate dean of the School of Health Sciences; she then served as chair again on an interim basis in 2020-2021. During those years, Brunick worked to establish a prolific dental hygiene program.

"[Past chair] Ann Brunick has worked so hard to make the USD Dental Hygiene Clinic and program as successful as it is," Drake observes. "It's such an accomplishment."

One priority Drake will tackle early in her tenure is a move to the new School of Health Sciences building—linked to the Lee Med building on campus—which will occur in the summer of 2022. The new clinic will be open to clients when classes start in the fall of 2022. Moving all the offices and lab equipment like patient chairs, sterilization equipment, X-ray equipment, lighting and computers into their new first-floor home won't be any small task, but it will be well worth the effort. "The clinic, lab and classrooms will rival or exceed the facilities available at any dental hygiene program in the country," Drake said.

The impressive new facility is named in honor of a generous benefactor that made the facility possible: Delta Dental of South Dakota and its foundation, which are longtime supporters of the Department of Dental Hygiene at USD. The new facility, named the Delta Dental Oral Health Center, will house the new dental hygiene clinic and its high-end, state-of-the-art equipment.
"It will be great to be in such a visible location, to help patients find us easily and assist with student recruitment," Drake said.
"The new building and dental clinic will stimulate collaboration and innovation among our students, faculty and staff," said Samra. "We are grateful for our partnership with Delta Dental to help create a transformative and dynamic learning environment with innovative technologies."
USD's dental hygiene students and graduates alike are dedicated to lifelong learning and improving the health of the communities they serve. In addition to hands-on experience provided at the USD Dental Hygiene Clinics in Vermillion and Sioux Falls, students deliver outreach services at correctional facilities, schools, care centers and senior centers. Experiential learning is also an emphasis, as these outreach experiences provide opportunities for providing dental health services and oral cancer screenings, giving oral health presentations and completing three-week dental office internships.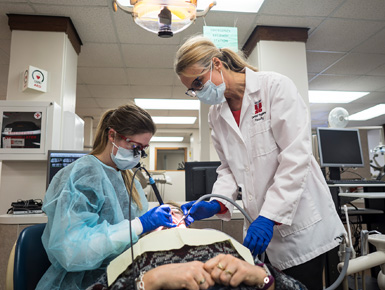 "Our future is really exciting," Drake stated. "I hope our interprofessional collaboration efforts will continue and expand. We're talking about expanding the program to more than 32 students, opening a satellite clinic on the west side of the state, as well as some other things that are in early conversations, but if they come to fruition, by working with the medical school, we could be very well known across the nation for interprofessional education."

In addition to Drake's teaching and leadership roles, she has an impressive record of research, publications, grants and mentoring. She's professionally licensed by the States of Wisconsin and Minnesota Boards of Dentistry, and she is a member of the American Dental Education Association and the American Dental Hygienists' Association. Her undergraduate dental hygiene degree is from Minnesota State University, Mankato, and her M.S. degree in dental hygiene education is from the University of Minnesota.
Drake looks forward to help shape the future of dental hygiene and build upon the successes realized by the department in its 55-year history.

"I'm proud that we have such a high passing rate on boards and clinical exams," she said. "Since 2005, our program has had an above-average national certification exam pass rate of 100%. We also have great alumni; it says a lot that USD graduates want to come back to be educators here and educate the next generation of hygienists in the same program they developed in. Our students leave our program well prepared for their careers."

All these developments will take a lot of work and a lot of time, Drake said, but the future is bright. "It's all very exciting," Drake stated. "Our staff members are on board. We all share the same mission and values in our curriculum. We all want to succeed and meet that mission."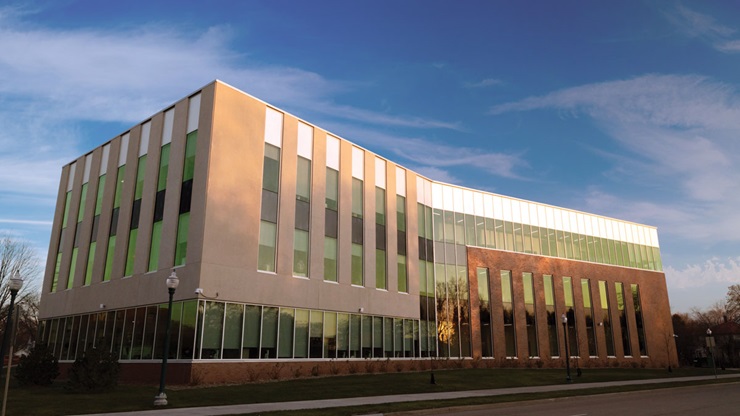 Years of dreaming, planning and anticipation culminated into jubilant celebration for the School of Health Sciences officials, students, alumni and friends on Sept. 8, when hundreds gathered at the southwest corner of the University of South Dakota campus to officially welcome students to South Dakota's newest home for health careers education, a state-of-the-art Center for Health Education building.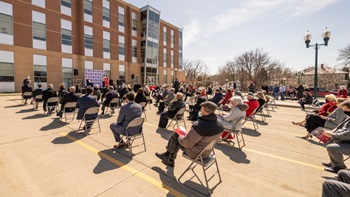 The University of South Dakota broke ground on the new School of Health Sciences building and announced a $1 million gift from the Delta Dental of South Dakota Foundation on April 1.